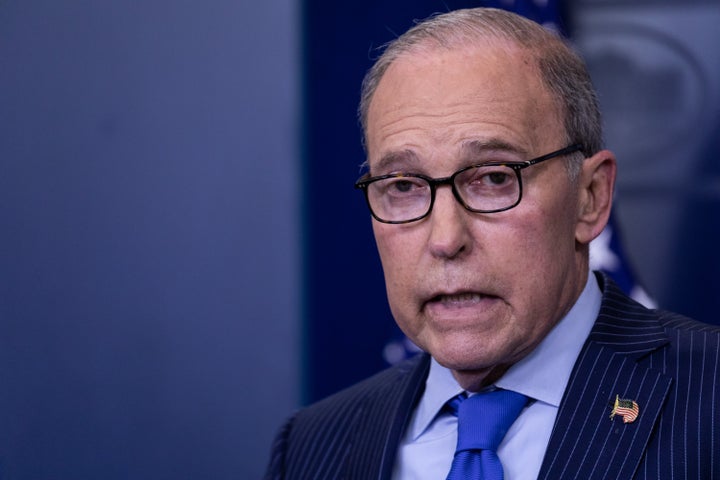 White House chief economic adviser Larry Kudlow on Sunday intensified the administration's feud with Justin Trudeau, calling the Canadian prime minister's criticisms of President Donald Trump's tariff proposals "a betrayal" that "really kind of stabbed us in the back."
"He made an error," Kudlow said on CNN's "State of the Union." "He should take it back."
Trudeau, whose country hosted a weekend gathering of the Group of Seven major industrial nations, has been highly critical of Trump's decision to impose tariffs on aluminum and steel imports from Canada, Mexico and the European Union. He termed Trump saying that U.S. national security justified the move "kind of insulting" to Canada.
Trudeau, who threatened retaliatory tariffs, also said Canada would not be "pushed around."
Trump quickly responded by personally attacking Trudeau. He also said that because of Trudeau's comments, he instructed U.S. trade representatives to not sign the communique the G-7 leaders had agreed upon expressing the need for "free, fair, and mutually beneficial trade."
Trump and Trudeau have been ramping up insults ― with Trump characteristically going further than Trudeau ― as the two countries bicker over tariffs.
"State of the Union" host Jake Tapper asked Kudlow what right Trump and other U.S. officials had to be offended by Trudeau's comments, given the dispute.
Kudlow argued that tariffs Canada imposes on U.S. goods made Trudeau fair game for the Trump response
In urging Trudeau to apologize for his comments, he also said the prime minister's statements were a "diplomatic betrayal" as Trump headed to Singapore to his high-profile summit with North Korean leader with Kim Jong-un.
Kudlow said Kim must not see "American weakness" on the eve of the Tuesday summit.
But Kudlow probably didn't help the message he was sending to the Canadian leader by once referring to him as "Pierre Trudeau." That was Justin Trudeau's late father, who served several terms as Canada's prime minister, starting in the late 1960s.
Popular in the Community