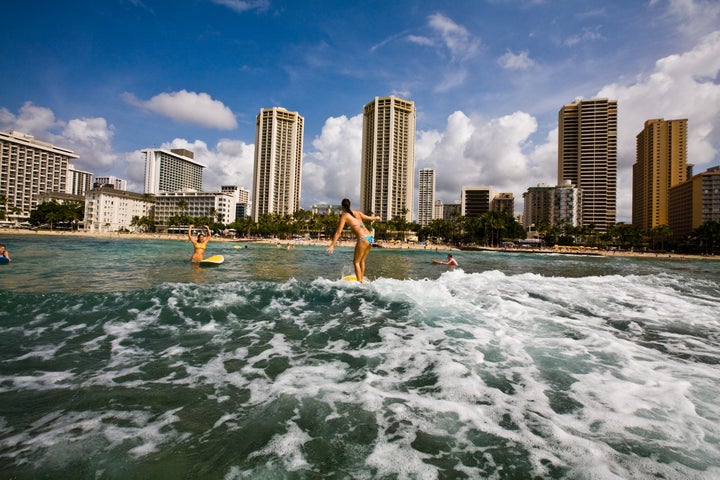 There are many ways to enjoy the views of Waikiki Beach in Honolulu, Hawaii- by airplane, boat, foot or car. But, what do you think it would be like to take in the turquoise textures of the water, the swaying palms popping out of fluffy sand and the yawning sky disappearing into the Pacific Ocean while rappelling down a 40 story (more than 400 feet!) building?
The Hyatt Regency Waikiki Beach is providing this high-thrill vantage point, via an event called Over the Edge on Saturday November 5th, to adventure-seekers able to raise more that $1,000 for the Special Olympics Hawai'i. They hope to raise $130,000 for Special Olympics Hawai'i with all funds used to benefit local athletes.
The Over the Edge event has raised over $900,000 (!) for Special Olympics Hawai'i since it was first held in 2009. The proceeds have provided services to more than 3,700 athletes statewide.
Because of events like Over the Edge, Special Olympics Hawai'i is able to offer athletes nine Olympic-type sporting events and more than 45 competitions throughout the year, for no fee. But, the Special Olympics Hawai'i dives deeper than sporting events and competitions; the purpose beneath the physical activities is to empower the athletes with intellectual disabilities to feel more included in society, and provide them an outlet to unlock and explore the true potential of their abilities.
The Special Olympics offers a transformative opportunity for participants to unleash the greatness of their human spirit. Kudos to you Hyatt Regency Waikiki Beach for helping to facilitate this greatness.
Popular in the Community