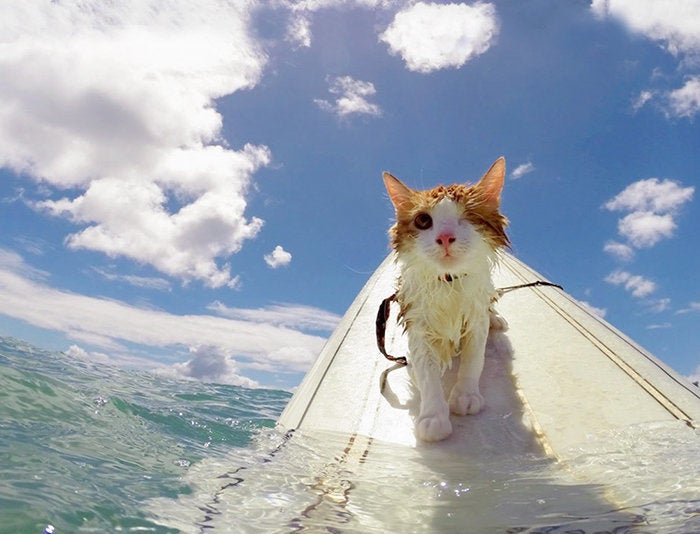 Most cats are terrified of water, but Kuli isn't your average kitty.
The cat, that is a year-and-a-half old, is making waves all over the Internet with his love for surfing and swimming.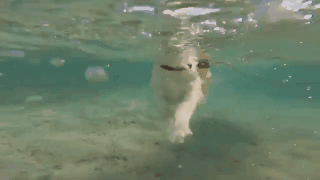 According to the feline-focused blog and resource organization, Adventure Cats, roommates Krista Littleton and Alexandra Gomez adopted the one-eyed, orange tabby when he was only 6 months old. They named their cat Kuli, short for the Hawaii city of Nanakuli, because it means "to look blind."
Kuli was found malnourished on the street and weighed under a pound. He had a horrible infection in one of his eyes and it had to be removed.
"In the first month we were concerned that our new friend was not going to make it," Littleton told Adventure Cats. "We think part of the reason Kuli is so tolerant of water is because he had to have frequent baths due to his messy health issues."
Once Kuli was fully healed, however, the two women began integrating the cat into their active lifestyles, first walking him on a leash and then taking him to the beach to learn how to swim and eventually surf.
According to ABC, the roomies first put their kitty in a lifejacket when he was learning to swim. But now that he's more confident, he only wears it from time to time.
They also took kitten baby steps when teaching the feline to surf, first putting him on their own longboards, and later upgrading him to a boogie board of his own.
"His first time in the water, we just let him float on the board by himself near the shoreline and I would paddle around with him," Gomez told ABC. "Before we knew it we were looking for waves to surf."
Kuli is not the first kitty to hang ten. Didga, another tabby, also swims, surfs, skateboards, and even uses the toilet (and flushes!).
As to how two cats can surf, we only have one theory: It must be a tabby thing, brah.