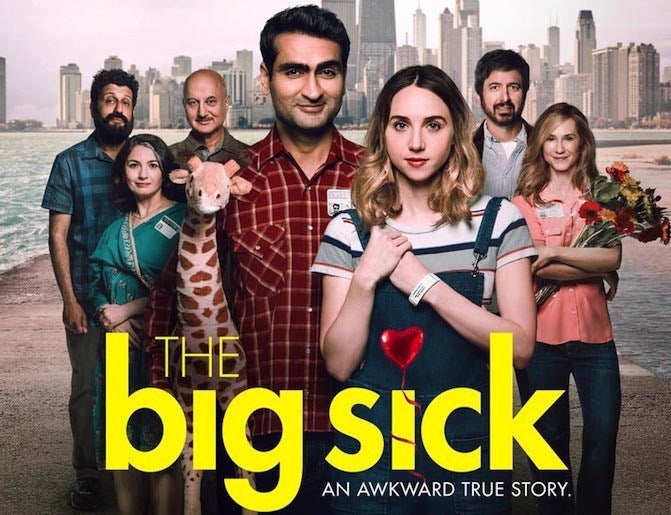 Emily V. Gordon wants you to know that her father did not cheat on her mother. You might think that he did because in the movie Gordon wrote with her husband, Kumail Nanjiani, about their romance, movie Emily's father, played by Ray Romano, confesses that he had an affair. But Gordon and Nanjiani explained in an interview that the overall story is true, and Nanjiani plays himself, but some elements were compressed or heightened for dramatic purposes.
This part is true: Gordon met Nanjiani when she was in grad school studying psychology and he was a stand-up comic. Very early in their relationship, she suddenly became critically ill. This is probably the only romantic comedy in history to have its female lead spend half the movie in a medically induced coma. And that's not even the couple's biggest obstacle. Nanjiani's Pakistani immigrant family wants him to marry a girl from their religion and culture. Gordon's character, Emily Gardiner in the movie, is neither. He hasn't told her about the parade of eligible girls his mother has "dropping by" the house when he is visiting his parents. Movie Emily, played by Zoe Kazan, breaks up with Nanjiani just before she gets sick, and then he meets her parents (Romano and Holly Hunter) for the first time at the hospital. The second half of the film is a different love story, between Nanjiani and Emily's parents. "And then we get to really, really play and create these really fun people," she said. "My parents are lovely but it would have been a more boring movie."
"This is obviously very, very autobiographical," Nanjiani continued. "I would say my character is probably closer to how I was then than Emily is." "I would say your character is pretty clueless, and you're not as clueless," Gordon added. "We had a lot of fun arguments like: character Kumail is a lying asshole, but the real Kumail is just a liar." "Yes, just a liar. And clueless. [Producer] Judd [Apatow] would ask me what I thought was going to happen, what the plan was when I was dating Emily. And I was like, 'I don't know. I haven't thought about it.'" Gordon, whose terrifically funny and wise book Super You: Release Your Inner Superhero reflects her training as a therapist and her insight as a writer, said, clearly not for the first time, "Not deciding is a decision. People don't realize that not making a decision is a decision in itself."
Nanjiani and Gordon worked on the script for three years, sending drafts to Apatow, who guided them on tempo and character. "We would write down the truth of things and then he would advise us: 'You could really turn up the drama here, you can change the situation here and kind of make this resonate more.' So we would show him what the truth was and then he would help us figure out ways to make it more cinematic, ways to make it more dramatic, more funny," Nanjiani said. The biggest departure was in the portrayal of Gordon's parents. Apatow was especially helpful in providing feedback on the story's structure. "He was like: 'this much will be Emily and Kumail, this much should be them separated, this much should be the hospital, this much should be the surgery.' He just drew these lines separating each section and we took a picture of it. And then when Michael Showalter came on as director, he said, 'Kumail in Emily's room, that's the center of the movie so everything has to come before come after it.' So we moved everything around that point because that's the point of no return. That's when I realize that I'm in love with her and that I had made a huge mistake."
Gordon described working with Showalter. "He's all heart, that's what's great. And he wears all his emotions on his sleeve. That's his strength in a way. He is so amazing to watch because he's passionate and invested in the story. And he was always very open to collaboration. It wasn't like he was ruling with an iron fist, ever. Everything felt like a collaboration. He had no ego about collaborating. That made me feel so safe and confident in giving him our story." Nanjiani said that Showalter showed them how he was subtly using different color palettes for the different characters, even different camera movements. "And Mike is very good at guiding you between movements of the movie, with silence or just following a character for a little bit or whatever it, is he's very, very adept at switching gears for the movie in a seamless way." Showalter is especially gifted in casting even the smallest roles and because they shot in New York they were able to find superb performers from theater whose faces were not familiar to movie audiences.
Nanjiani said that writing the film helped him to appreciate and understand his parents' reaction to his wanting to marry Gordon. "When people from a different culture come here you want to hold on to your own culture but you also want to be your own person. It's a complicated thing and you do lose something going against the wishes of your parents and your culture. But ultimately it has to be a personal decision."
Nanjiani is an experienced performer, including three seasons as Dinesh on "Silicon Valley." But this role presented some new challenges for him, with some dramatic moments and with the difficulty of reliving some of his most painful experiences on camera.
"I hadn't ever taken any acting classes so I started taking acting classes to sort of prepare for this. I just knew that there was this big thing coming up and it was going to be very difficult and challenging. I wanted to take some of the guesswork out of it because what I knew was comedy acting, where you can go on instinct and as long as it feels funny it works. I knew this was going to be different, especially separating the reality from the movie character and also dealing with some very painful memories. I wanted to get the tools to be able to go into different emotions because I knew that this was a very low budget movie and we had to learn work really fast. If I had to be sad in the scene knew I knew that I had to figure out how to do that like quickly."
"And if may say," added Gordon, "Old Kumail from the movie would not have done that. He just would have been like, 'I'll figure it out.'"
Related
Popular in the Community