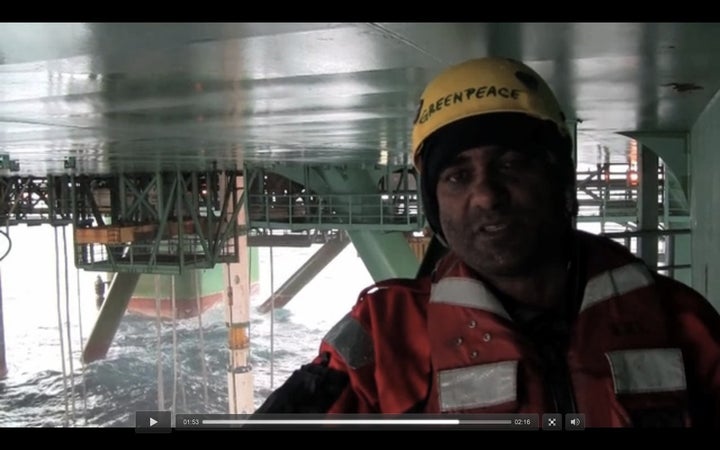 Two Greenpeace activists, including the head of Greenpeace International, Kumi Naidoo, were arrested Friday after scaling an oil rig off Greenland in protest of drilling in the Arctic.
The activists were being detained in Greenland's capital on charges of trespassing and violating a Dutch court's injunction secured by the oil rig's operator the week prior.
According to a statement from Greenpeace, the activists launched an inflatable speedboat from the group's Esperanza ship early this morning. From the small boat, they proceeded to climb a ladder up one of the legs of the rig, owned by Cairn Energy, despite powerful water cannons being used in an attempt to deter them.
Once aboard the rig, soaking wet, the Greenpeace chief demanded that Cairn halt its drilling operation and leave the Arctic. He also sought a meeting with the Master of the rig to present a petition of 50,000 people that have requested to see Cairn's oil spill response plan.
Raw footage courtesy of Greenpeace.
According to Greenpeace, Naidoo radioed the Esperanza just prior to his arrest and said:
"It looks like I'm being arrested now. They say I'm going to be taken to Greenland, but what happens after that I don't know. I did this because Arctic oil drilling is one of the defining environmental battles of our age. I'm an African but I care deeply about what's happening up here. The rapidly melting arctic sea ice is a grave warning to all of us, so it's nothing short of madness that companies like Cairn see it as a chance to drill for the fossil fuels that got us into this climate change mess in the first place. We have to draw a line and say no more. I'm drawing that line here and now in the Arctic ice."
Reuters reports that the injunction Cairn secured against Greenpeace means they could face a possible penalty of 50,000 euros ($71,800) a day if operations were interrupted. But Cairn said Friday's actions have had no impact, and prior occupations have lasted much longer.
Morten Nielsen, Greenland deputy police chief, tells Reuters, "This is business as usual." But according to Greenpeace's Ben Stewart, "This is far from over. The battle to stop Arctic oil drilling has only just begun."
REAL LIFE. REAL NEWS. REAL VOICES.
Help us tell more of the stories that matter from voices that too often remain unheard.