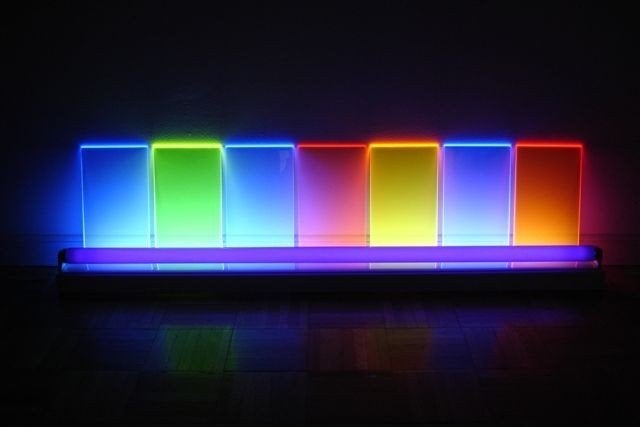 The Kunsthalle Detroit Museum of Multimedia and Light-Based Art was founded by Tate Osten, who directed St. Petersburg's Museum of Dance History and worked as a corporate art consultant in New York before deciding to hightail it to Detroit after only one visit to the city. The nonprofit will be dedicated to international multimedia and light-based art.
"I was at the point in my life where I wanted to leave a tangible trace behind," Osten said.
She said Detroit seemed like the perfect place for her to open a museum, rewarding both her and the city.
"Art is always the beginning of change," she said. "I want to bring back to life the beauty that has been neglected, abandoned."
Osten's goal as a curator and museum director is to open Detroit to the international art scene, which she believes could trigger economic changes.
PHOTO GALLERY
'Light Fiction' at Kunsthalle Detroit
Both the Detroit Institute of Art and the Cranbrook Art Museum already have large international collections, and the Museum of Contemporary Art Detroit is similar to Kunsthalle Detroit in that it also opened recently, focuses on contemporary art, features work from artists around the globe and doesn't have a permanent collection.
But Osten argues that her position as an outsider gives her and Kunsthalle Detroit a unique vision.
"I came here not burdened by anything. I knew nobody, and nobody knew me. We did not have any support from foundations, grants or the city."
Osten lives in the city, which she believes also sets her apart from those involved with other Detroit art institutions.
"You have your very established club of DIA supporters who don't even live in Detroit," she said.
In "Light Fiction," Osten makes good on her goal to bring international art to Detroit. Four of the six artists come from outside the United States: Erich Michel from France, Tim White-Sobieski from Poland, Angel Marcos from Spain, and Won Ju Lim from South Korea. The other two artists in the group, John F Simon Jr. and Kiki Seror, are from Louisiana and Chicago, respectively.
The show contains only one or two pieces from each artist, allowing each space to resonate in the mediums of video, projected photography, light boxes and sound.
Osten said she has plans for Kunsthalle Detroit that could put it on the map for international arts. She's planning a Midwest TransLUMINALE Biennale for next year, which will be a several-month event focusing on light-based projects that she intends to rotate through different U.S. locations.
Though the first -- and current -- show, "Time and Place," focuses on visual artists, Osten chose to work with light-based projects for the second show because she said they extend beyond art. She plans to focus on urban architecture and design as well in upcoming exhibitions.
For "Light Fiction," which takes its name from the work of one of its artists, Tim White-Sobieski, Osten "wanted a smooth transition into a really bold light show," another exhibit that is slated for spring 2012.
Next year she also plans to open an auxiliary wing, which she's been calling Kunsthalle Garage, with four screening rooms.
"Light Fiction" will have an opening event from 6 to 8 p.m. on Friday, Nov. 18.
Calling all HuffPost superfans!
Sign up for membership to become a founding member and help shape HuffPost's next chapter