Imagine you are invited by a former student to visit his home, Kurdistan, your friend is researching ethnic minorities in the War on Terror and wants to go, and the Kurdish representative in Warsaw hooks you up with anyone you want. You go and find surprising connections between war, ISIS, and sustainable development in a land of warm, long-oppressed people completely distinct from their neighbors, and our single best frontline ally in fighting ISIS. Oh, and their women soldiers are our shared enemy's worst nightmare. Here are some highlights of what we learned.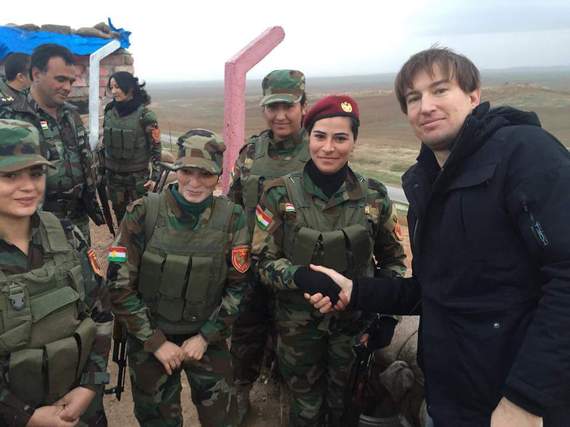 First and foremost, from their Foreign Relations Minister to frontline Peshmerga soldiers and generals, the main request to the USA is direct material support of every kind - not "boots on the ground," but primarily ammunition and equipment.
However, after pushing ISIS out of 23,000 sq km, on the Kurdish side of the 1,050 km front, Kurds and others, including expats, feel completely safe, not even fearing petty theft on the streets at night.
The chief worry (practically the exclusive concern) of business and government leaders and society is about their economic crisis, brought about by (1) an over-reliance on the oil industry and collapse of oil prices plus, (2) foreign investors getting spooked by the proximity of ISIS.
There is a broad consensus that diversification of the economy is essential, with one oil industry businessperson volunteering that he favors more hydrocarbon taxes. As a regional governor said, sitting a short drive away from Mosul: "we will not win this war with bullets alone, but with wise investing."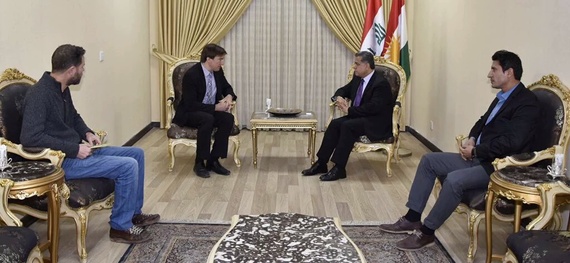 Among Kurdistan's promising industries have been and continue to be eco- and cultural tourism: the scenic Zagros Mountains are a biodiversity hotspot, Lalish is the center of the ISIS-persecuted ancient and misunderstood Yazidi faith, and the +6,000 year old citadel in Erbil is claimed to be the oldest continuously inhabited city in the world.
Another industry related to environmental stewardship - agriculture - is the other industry commonly brought up as key to Kurdistan's sustainable economic future.
Kurds were the first people in the territory of the Iraq to officially protect natural habitat, and Kurds say their ecological ethos has deep roots in the traditions of Zoroastrianism, an ancient Persian religion. The flag of Kurdistan includes green to represent their natural environment. The Peshmerga even had a special environmental protection unit, now redeployed to the ISIS front.
Taking the long view, academics and leaders in several universities highlighted the need for building up more education and skill-building in the field of entrepreneurship.
Finally, Kurdistan's culture of inclusiveness, tolerance, pluralism, and hospitality rivals or beats that of many Western countries. A woman Sunni Arab runs international cooperation for University of Duhok. Women driving cars at night without headscarves and couples holding hands is not a big deal. Alcohol freely flows. A Catholic Bishop is proud of his high school which accepts students of any faith and says he does not push his religion on them. Muslims not only promote visits to Lalish, the holy center of the Earth for Yazidis, but also cherish other religious and ethnic minorities and the Kurds' connection to Zorastrian roots.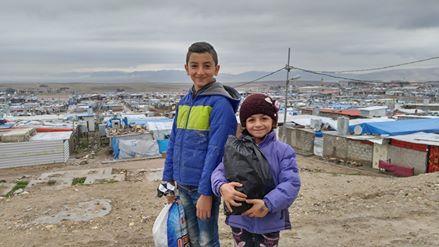 Speaking of hospitality, we also visited refugee camps. Since 2013, Kurdistan has become host to about 2 million refugees in their land of between 5.5 to 8.5 million people. Its noteworthy that while some of us roughly 320 million Americans fear allowing in a few thousand people fleeing ISIS, Kurds have welcomed millions of them - even Arabs with whom they've experienced traumatic episodes in the past - and donate voluntarily for their care and have not experienced increases of crime or violence.
To return to the issue of ending ISIS - an entity clearly feared more by Americans than those on the ground here: Kurdish women have fought effectively and died with men at the front, a concept still hard to swallow for some Americans when it comes to our own armed services. Perhaps their inclusiveness, warmth, generosity, and embrace of visitors and even their former oppressors is a consequence of having experienced 73 episodes of communal assault, including the Anfal campaign of 1988, recognized by the world as an incident of genocide.
We are using the term Kurdistan, as others have, because they have governed themselves semi-autonomously for almost a quarter century (since 1992), and are the largest ethnic group (numbering 30 to 40 million, according to their Foreign Ministry) without an officially recognized sovereign state.
My travel partner, Professor Brian Glyn Williams and I knew that the Kurds were hospitable despite their difficult history. But experiencing their warmth firsthand is unforgettable. The fact that they are inclusive and forward-thinking and now our most effective frontline ally is important for Americans to know.
Besides Mr. Ziyad Raoof, Representative of the KRG in Poland, we wish to thank President Ahmed Dezaye of Salahadin University, President Mosleh Duhoky of University of Duhok, and President Salah Saeed of Charmo University, and in no particular order: General Sirwan Barzani and General Badalbandi, KRG Foreign Minister Falah Mastafa Bakir, Governor Farhad Atrushi, Dr. Asmat Khalid, Rabban - the Bishop of Duhok, Dr. Rund Hammoudi - Director of International Cooperation at University of Duhok, Ranj Sangawi, Salim Saeed Taher, Dr. Saman Baban, Mayor Kaka Min, Dr. Tom Hill of NYU and University of Duhok, Vager Badalbandi, Thamer Alyas, who has his own charity to help refugees, and many, many more unforgettably wonderful people who shared so fully and openly with us about their culture, worldviews, history, and hopes for the future, and last but certainly not least, Diyar Jamil, my student while visiting at Warsaw University of Life Sciences who first made the invite in 2013, and Dr. Abdulkarim Karim, the most patient and good-humored host this side of the Zagros Mountains. Zor spas!
Calling all HuffPost superfans!
Sign up for membership to become a founding member and help shape HuffPost's next chapter