On Thursday, a barrage of U.S.-led airstrikes pushed back the Islamic State's advance on the besieged Syrian town of Kobani. While hardly a sea change in the fight against ISIS, it was a significant reversal in the dire and persistent battle that has become a focal point in the operation.
These ramped-up airstrikes came after the international community voiced concern over the fate of Kobani, including repeated warnings the town could imminently fall to Islamic State forces. To be sure, the loss of any territory to the militant group would be a blow to the coalition effort to contain and destroy it, but why is so much emphasis being placed on the small Syrian town?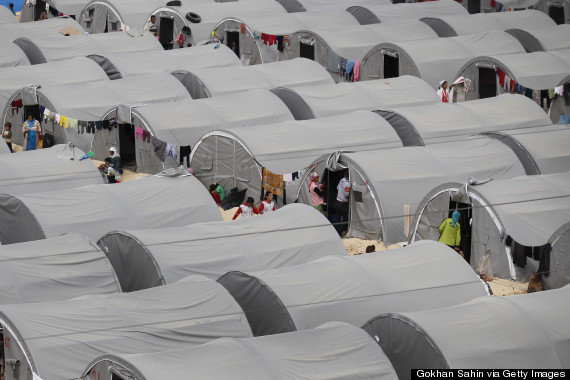 The fighting in Kobani has already caused a major refugee crisis, with nearly 200,000 people fleeing into neighboring Turkey to escape the fighting. These refugees have left behind livelihoods and lost loved ones, settling in refugee camps in southern Turkey where they can still see the smoke rising from their former neighborhoods.
Those who remain in Kobani face an even worse reality, as the United Nations has warned that thousands could be massacred should the town fall to Islamic State militants. Speaking with The WorldPost last week, former adviser to the Kurdistan Regional Government Peter W. Galbraith explained that Kurds "are saying ISIS has declared them to be infidels, and they kill infidels, so it really is a life and death battle for people there."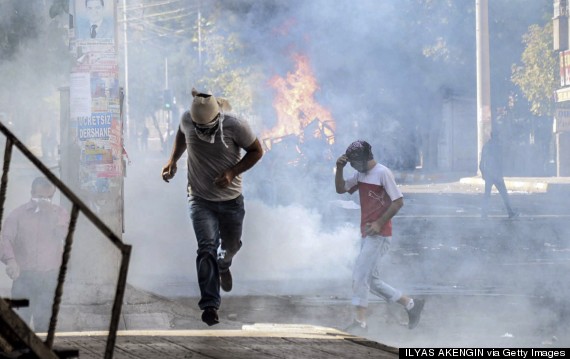 Beyond the potential for humanitarian disaster, there could be huge political implications were Kobani to fall. So far, the Turkish government has opted not to send any aid or military forces to help the embattled Kurdish forces, despite Turkey having NATO's second-largest army, and the town's location near the Turkish border.
There is political reasoning behind this: Given Turkey's proximity to Syria, it has concerns the Islamic State will target Turkish citizens and locations if it intervenes against the militant group. In addition, any troop losses wouldn't sit well with Turkey's populace. As one prominent Turkish columnist put it, "the government knows it cannot explain body bags coming from Syria to its Turkish majority with parliamentary elections only eight months away."
Turkey and the Kurds aren't exactly friends either; Turkish President Recep Tayyip Erdogan equated Kurdish militias and the Islamic State, saying they both needed to be dealt with the same way.
But the decision to let Turkish tanks idle just over the border from the fight has the potential to cause major unrest, especially if Kobani is taken over. Kurds in Turkey already have organized widespread protests against government inaction in Kobani, many of which have turned into violent clashes with riot police. The government has responded by bombing the Kurdish PKK rebel militia, its longtime opponents.
These events threaten to destroy a fragile peace process between the Kurdish militia and Turkey's government, potentially reigniting decades of conflict, as the leader of the PKK has said the peace process will be over if Kobani falls.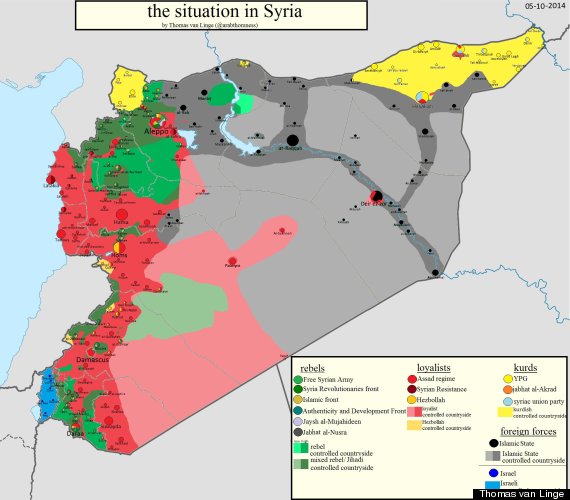 (Credit: Thomas van Linge)
Again, Kobani is right on Turkey's border. Were the town to fall, Islamic State militants would fully control a wide swath of territory there, which would increase their ability to smuggle weapons and oil, the latter being a key way they get their revenue.
This also would raise Turkey's security concerns. In the map above, the tiny fleck of yellow in the north of Syria is Kobani, a holdout inside the dark mass of Islamic State-controlled territory.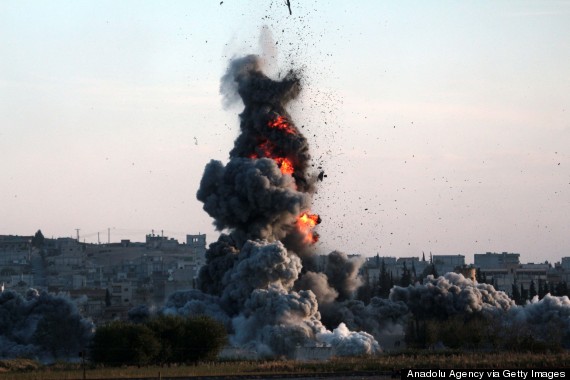 While Thursday's intensified airstrikes have stalled the Islamic State's advance, there is still much fighting ahead for Kobani. The success or failure of these strikes will affect how people perceive President Barack Obama's strategy of aerial support with no combat role for coalition troops.
Though U.S. officials have deemed Kobani to be not strategically important in the grander fight against the militants, failure to defend it would potentially be a major boost to Islamic State propaganda and a symbolic defeat for Obama's strategy.
Before You Go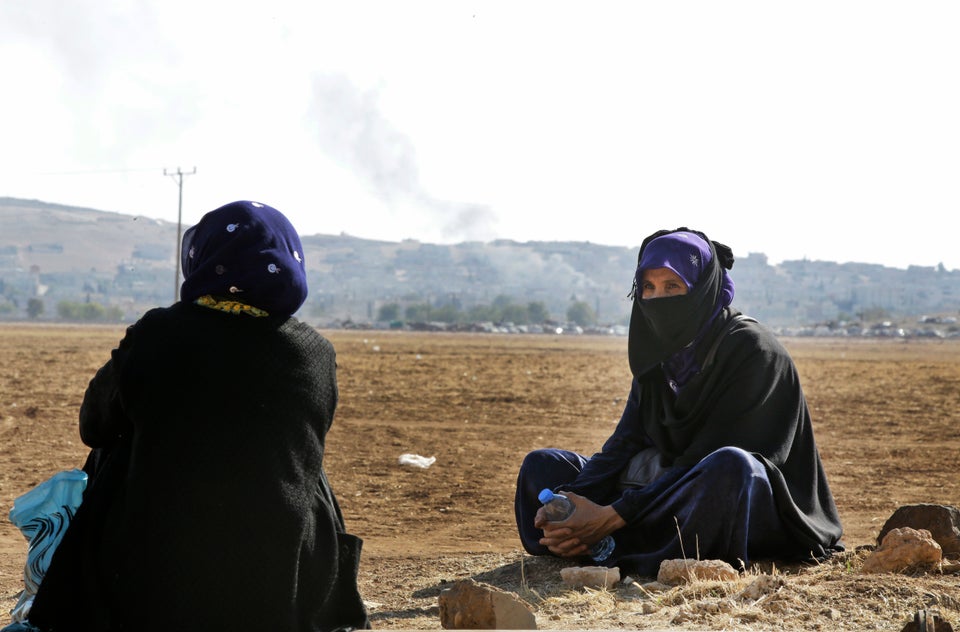 Syria War In October
Popular in the Community