All photos courtesy of Martin Girard / shootstudio.ca. Costumes by Philippe Guillotel © 2014 Cirque du Soleil
See enough Cirque du Soleil productions and you become a connoisseur of spectacle. Large ones, where a Monty Python heaven seems to open up above your head. Smaller ones, cozy, intimate, like a good surreal bedtime story narrated (and embodied) by Rene Magritte and Salvador Dali. Irrespective of scale, these spectacular shows recount the story of a Seeker who asks, Is that all there is?, and then ventures behind and beyond the city limits of Blahsville. They feature the displacement of gravity, pose the central dramatic question of Why not?, and foreground the tantalizing possibility of Anything Goes.
Written and directed by Michel Laprise, "Kurios - Cabinet of Curiosities" is of the intimate sort. It's set at the end of the 19th century. That much you can see from the start in the costumes (Halloween, here I come). It's also chronologically sweet - at that time, there was still an unknown world for hardy explorers to examine. There's an Inventor; he has a curio cabinet. In this curio cabinet reside - and then explode out with - all manner of acrobats, contortionists, storytellers, singers, and dancers.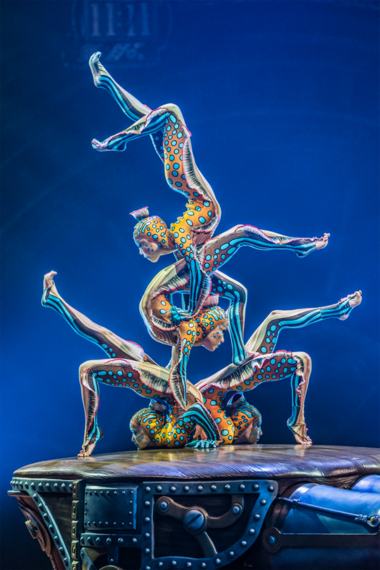 The cabinet looks like, serves as, a beehive. Better yet, an anthill. There's constant motion; no transition, no tipping of the hats, no bows between acts. We're drawn to whatever unimaginably now-imaginable feat presented. Better yet, if you watch these things carefully, you watch the performers who aren't front and center. From the sidelines they comment and observe; they react and assist. Really, there's so much going on that you find yourself lulled by psychedelic ADD, gorging on the breadcrumbs that lead to and back from something Marvelous and Divine.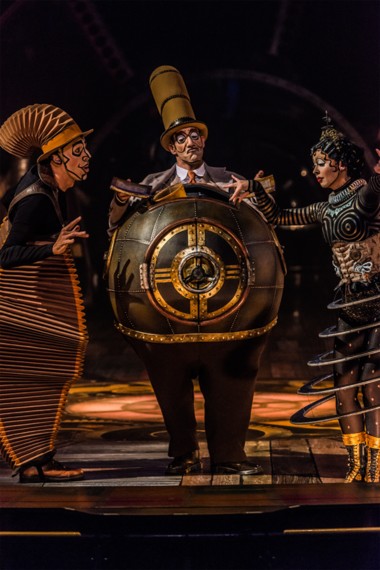 Traipsing through uncharted territory, you note but don't necessarily understand what you see. A trio of bodies that bend in ways that defy evolution. An acrobat that doesn't just do a one-arm handstand on chairs stacked to the top of the chapiteau, he does it off his center of balance with unbelievable isometric strength. An extraordinary vignette that takes place on terra firma and is then - surprise! - seen to be mirrored, upside down, off the top of the tent. A circus within a circus that is not just hilarious, it's also invisible, suggesting that it's not necessarily invisible, it's just that we haven't imagined it hard enough. Yo yos slung like bolas; a flying bicycle; some nifty gymnastic net work; a riff on a shadow box that features elastic hands - it's all here, encased like jewels within a Faberge egg.
The word "Curiosities" in the production's title, "Kurios - Cabinet of Curiosities", refers not as much to the things we see but to the proper frame of mind with which to see them. If you're a Seeker, if you wonder what happens if you imagine alternate realities and unobvious outcomes, then you understand that this Cirque du Soleil production has managed to convey, yet again, the available-for-the-taking unadulterated wonder and magic just beneath the surface of la vie quotidienne.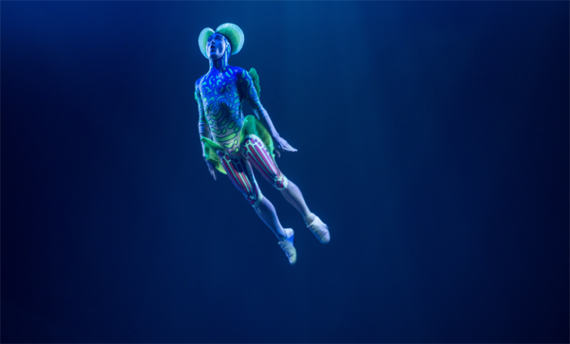 Performances are 8pm, Tuesday - Saturday, 4:30pm Saturday, and 1:30pm and 5pm, Sunday. The show runs until November 29 (then it travels to Dodger Stadium, December 10 - February 7, 2016.) Tickets are $50 - $165. The OC Fair and Event Center is located at 88 Fair Drive, Costa Mesa, 92626. For more information, call (877) 924-7783 or visit cirquedusoleil/kurios.com.
Calling all HuffPost superfans!
Sign up for membership to become a founding member and help shape HuffPost's next chapter