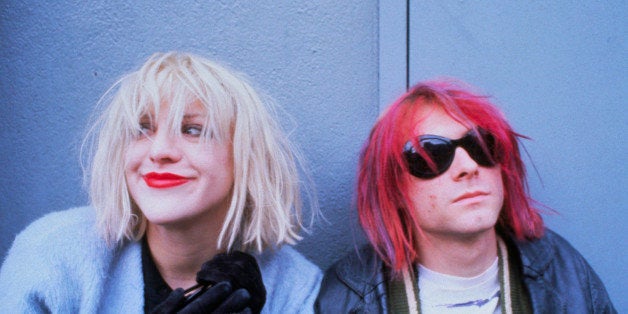 Nirvana fans can now get closer than ever to the late Kurt Cobain. The musician's former Los Angeles apartment, which he lived in with Courtney Love, is up for rent on Airbnb.
According to Vulture, the singer-songwriter and Love lived in the apartment from 1991 to 1992 during the height of Nirvana's fame. Brandon Kleinman, the current tenant who's lived in the apartment since 2011 and has been renting out one bedroom for a couple years, told Vulture his experience living around music history. "Once every 60 days or so," Kleinman said, "I'll get a weird, older gentleman, a rocker-type dude, sort of a burnout, knocking on the door, saying, 'Do you know what used to happen here?'"
But apparently the apartment's history hasn't created a high demand for renting the space. Kleinman says he's only rented out the one bedroom, one bath section of the apartment "four or five times a year" and that his landlord didn't even tell him about Cobain and Love's history there until after he signed the lease. "He kept it a secret because he wasn't getting great tenants when he advertised the apartment's backstory," Kleinman said.
In his Airbnb listing, Kleinman alleges that Cobain wrote "Heart-Shaped Box" in the home's bathtub, although the story has never been confirmed. A leak in the bathtub was apparently also the reason the couple moved out of the home when Love was eight months pregnant with Frances Bean Cobain. Reps for love were not immediately available for comment about the bathtub story or apartment listing.
Photos of the apartment surfaced online last year after a Seattle police department developed rolls of film from the scene of Cobain's death. The photos, which were reportedly taken by a press photographer after the couple moved out, show the apartment littered with trash, pill bottles and graffiti. But don't worry, Kleinman has cleaned up the place quite a bit.
If you can't make it out to LA's Fairfax district to stay in the apartment, you can always spend a little time with Cobain and Love in Brett Morgen's upcoming documentary "Montage of Heck," which premieres on HBO May 4.
REAL LIFE. REAL NEWS. REAL VOICES.
Help us tell more of the stories that matter from voices that too often remain unheard.