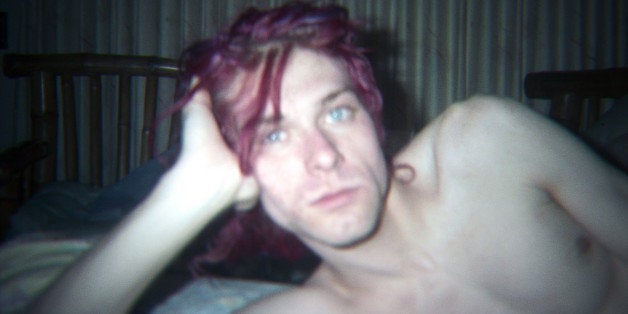 The following article is provided by Rolling Stone.
By BY DAVID FEAR and JASON NEWMAN
You would have thought that, 21 years after Kurt Cobain took his own life, there would be precious few facts left to unearth about the Nirvana frontman. Endless articles, several biographies and a few films of vastly varying quality have already walked us through his childhood in Aberdeen, Washington; told us how his parents' divorce profoundly affected him; examined how punk rock helped him find an outlet for his pain; and reminded us that he started a band, became famous and then had a hard time dealing with the fallout. What does Brett Morgen's years-in-the-making look at Kurt's world have to tell us that we don't already know, you might ask.
As anyone who saw "Montage of Heck" on HBO last night can attest, the answer is: plenty. Using the musician's own home movies, journal entries, personal recordings, notebook scrawlings and drawings (not to mention the usual assortment of vintage concert clips and TV interview footage), this left-of-center attempt to understand Cobain via his own words and works could not offer a more intimate look at the iconic figure. Put it this way: Whereas most folks would have tried to make the "Smells Like Teen Spirit" version of a rock documentary, Morgen goes the "Endless, Nameless" route — jagged, discordant, uncomfortably raw — and the result ends up being way more revelatory than your standard portrait of an artist. Here are nine things we learned from watching the film.
His slacker image was a myth. "He didn't want to just be in a bar band and play music that way. He wanted to be a success," says ex-girlfriend Tracy Marander. Throughout the film, Morgen shows various notes Cobain wrote outlining the technical and logistical steps needed for his band to get off the ground, including instrument costs and record label addresses and phone numbers. Morgen also includes a list Cobain wrote of "Things the band needs to do," including "Send some fuckin' demo tapes." Marander details a period when Cobain would ostensibly spend entire days watching TV while strumming his guitar, a process that would lead to some of Nirvana's earliest riffs.
He tried to commit suicide after being taunted in high school. Cobain and his friends used to visit the home of a developmentally challenged high school classmate to steal her father's alcohol. It was a particularly troubled period for the musician, who considered suicide for the first time. "I wasn't going out of this world without actually knowing what it was like to get laid," Cobain says in recorded audio. After he attempted to have sex with the girl, his classmates began insulting and shaming him. "A rumor started and by the next day, everyone was waiting for me to yell and cuss and spit at me, calling me 'The retard fucker.' I couldn't handle the ridicule." Cobain would later lay down on train tracks with the intention of ending his life, but the locomotive traveled on a different railway. "I just thought it was such an important part of the story," Morgen admitted, "and something that had amazingly just sat there from 1988 on."
He considered the band's first "gigs" to be playing for "two locals who hated our guts." According to Cobain, Nirvana's first "shows" consisted of playing for a few friends and random passerbys at local house parties — something footage of the singer, Novoselic and drummer Chad Channing bashing through an early version of "Mr. Moustache" for couple of lucky slam-dancing people in a living room confirms. "Just the fact that we were actually playing music live in a room was amazing," Cobain says. "If we played in a house for a couple of hours and two people stopped by, we considered that a gig...a show. That was good enough, even if it was locals who hated our guts and thought it was terrible music."
Nirvana was almost called "The Reaganites." Morgen includes numerous shots of the notebook where Cobain would scrawl various potential names for the band — including the oh-so-Eighties-hardcore moniker "The Reaganites." Other potential handles: "Elvis Cooper," "Boy in Heat," "The Mandibles," "Window Pain," "Fecal Matter" (which blessed one of their early demos), "Erectum," "Bliss" and "Nagging Rash." Finally, we see a full page dominated by a written-out announcement: "Our final name is...Nirvana."
He was devastated by the band's first review. The band's first review came after they released their debut single "Love Buzz" in 1988. "It was in this hip magazine out of Michigan these scenesters were doing," Novoselic said. "They said it was like Lynyrd Skynyrd without the flares. Kurt was really hurt by that. He hated being humiliated. If he ever thought he was humiliated, then you'd see the rage come out." Novoselic said this fear and anxiety would influence and impact how Cobain's art would be presented to the world.
When Wendy O'Connor first heard "Nevermind," she almost burst into tears — out of fear. Recalling the first time that Kurt ("padding down the stairs in his whitey-tighties") played her the master tape for what would become Nirvana's breakthrough album, his mother says she started muttering "Oh my god!" and nearly starting weeping. "Not from happiness," she clarifies for the camera. "It was fear." She could tell from that initial listen that "this is going to change everything. And I said 'You'd better buckle up...because you are not ready for this.'"
An unlikely cameraman shot the film's most personal footage. At a discussion following the film's Tribeca Film Festival screening, Courtney Love told the crowd that Hole guitarist Eric Erlandson filmed much of the footage of Cobain and Love at home. "This is weird. I used to date Eric and then he'd come over to our house and he would shoot really intimate stuff of me and Kurt," Love said. "When you realize it's Eric shooting that, it's kinda…" Morgen interjected: "Creepy."
"That freaked me out because he came over and said, 'I have this tape, but I don't know what's on it,'" Morgen added. "There was part of me that had to downplay how excited I was to see the tape because I didn't want to get jacked. At one point I stopped when it was [Love and Cobain] in the bathroom and said, 'I'm sorry, what's your relationship to them? I'm a little confused.' He's like, 'I used to go out with Courtney.' I was like, 'Oh that's fuckin' weird.'"
Kurt's mother confronted him about his heroin use. Detailing one of her son's frequent visits back home, where he'd hide from the pressures of being in the spotlight, Wendy O'Connor remembers seeing Kurt "getting sores...he was losing weight, and nodding out. I was pretty sure he knew I knew." She decided to confront him about his addiction, and — having educated herself on the effects of heroin and shooting up — asked him "if he was at the stage where he was addicted to also the needle prick. And he burst into tears. He was just...ashamed." Brett Morgen on His Astonishing Cobain Film: 'Kurt Isn't Performing for Anyone'
Courtney Love claims her near-infidelity led to Cobain's Rome overdose. Six weeks before his death, Cobain ingested dozens of Rohypnol pills and overdosed while in Rome, Italy. Love said that while she never cheated on Cobain, "I certainly thought about it one time in London," says the singer. "The response to it was he took 67 Rohypnols and ended up in a coma because I thought about cheating on him." Love said Cobain overdosed because he viewed the thought as "severe betrayal."
Calling all HuffPost superfans!
Sign up for membership to become a founding member and help shape HuffPost's next chapter
BEFORE YOU GO
PHOTO GALLERY
Kurt Cobain In Pictures