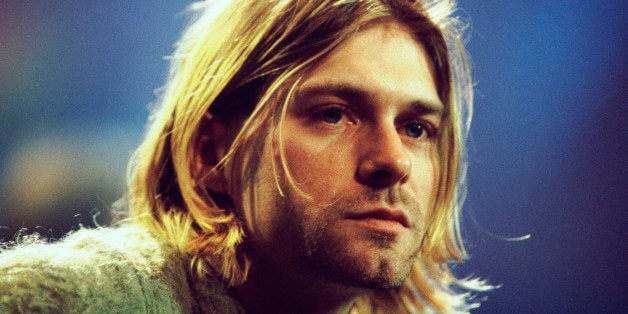 Kurt Cobain opened up about thinking he was gay as a youth in a 20-year-old interview recently unearthed by PBS.
In July 1993, the rock legend sat down for an interview with music journalist Jon Savage in New York City to discuss the topic of identity. Audio from the interview was unearthed by PBS and is featured as the latest installment on the YouTube channel, "Blank on Blank."
"Yeah. Yeah. I even thought that I was gay," Cobain responded. "I thought that might be the solution to my problem. Although I never experimented with it, I had a gay friend, and then my mother wouldn't allow me to be friends with him anymore because... well, she's homophobic. It was real devastating because finally I found a male friend who I actually hugged and was affectionate too, and we talked about a lot of things... I couldn't hang out with him anymore."
"I've always been a really sickly, feminine person anyhow, so I thought I was gay for a while because I didn't find any of the girls in my high school attractive at all," he said. "They had really awful haircuts and fucked-up attitudes. So I thought I would try to be gay for a while, but I'm just more sexually attracted to women. But I'm really glad that I found a few gay friends, because it totally saved me from becoming a monk or something."
The rocker has long been regarded as an ally of the lesbian, gay, bisexual and transgender (LGBT) community. His inclusive attitude both musically and literally helped others who felt they were different, including Patty Schemel, the former drummer for Courtney Love's band, Hole.
"When Kurt [Cobain] came along, he said -- through his music and the way he spoke about things -- that freaks are cool," Schemel told Out magazine last year. "He said that being gay is cool, and that made the climate even better for us."
Listen to Cobain's full interview with Savage below.
Calling all HuffPost superfans!
Sign up for membership to become a founding member and help shape HuffPost's next chapter
BEFORE YOU GO
PHOTO GALLERY
Celebrities Who've Faced Gay Rumors