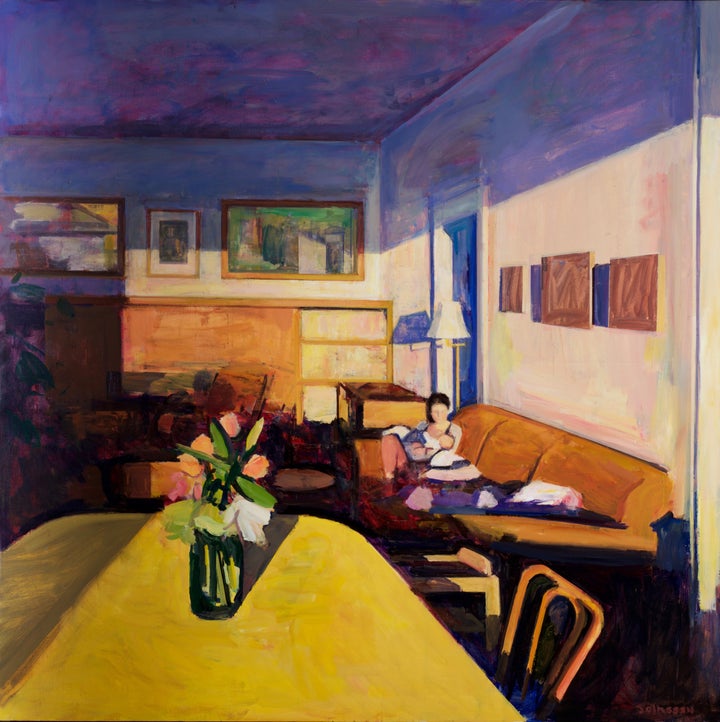 Artist Kurt Solmssen, whose paintings are currently on view at the LewAllen Galleries in Santa Fe, paints light-filled images of his life in Vaughn, Washington, a pine-studded coastal town on the Puget Sound. Broadly brushed and carefully composed, Solmssen's paintings—set both indoors and outside—artfully record and poeticize the light and shadows that color his everyday life.
John Seed Interviews Kurt Solmssen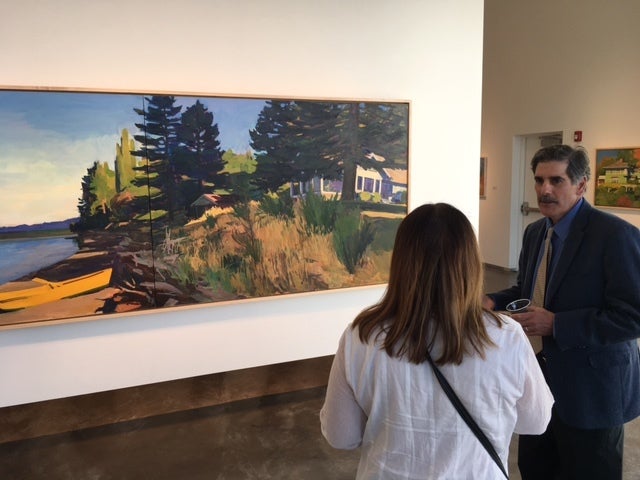 When and where did you get your start as an artist?
I grew up in the suburbs of Philadelphia. At the age of 20, I decided that I wanted to go to art school. I looked at a few schools and then saw a small catalog that the Pennsylvania Academy of the Fine Arts had published about its faculty. There was one image per artist and a short bio. In this, I saw the work of Ben Kamihira, Sidney Goodman, Elizabeth Osborne, Arthur De Costa, Louis Sloan and other great artists. I was extremely impressed by that and decided to go to the PAFA.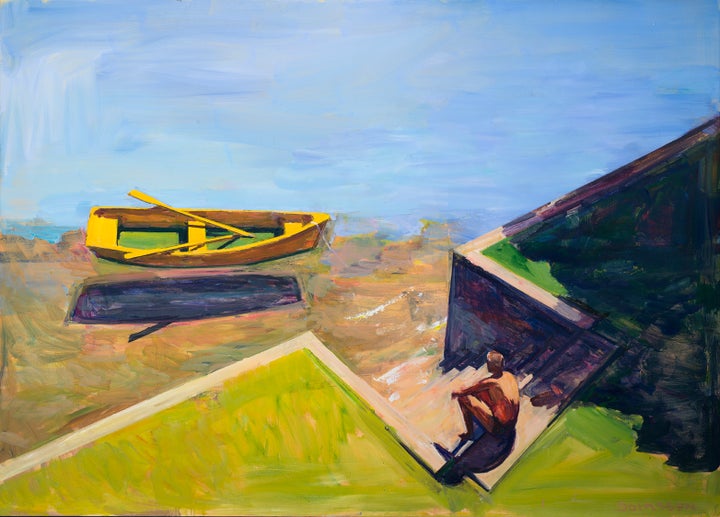 Tell me about the Academy and how your work developed there
Looking back, I see that the early 1980's was a wonderful time to be at The Pennsylvania Academy. The same faculty and the focus on painting, drawing, sculpture and print making that has attracted me, had attracted others, of various ages, who were passionate about learning to be artists. I was side by side with students who have become some of the finest figurative artists of the present day.
In those days, The Academy owned an old hotel on Chestnut St which was used for faculty and student private studios. If you were awarded your own studio (they were hotel rooms so they came with a bathroom and bathtub!) then one had a working space on floors along side the teachers and they would come around on their scheduled critiques.
Some of these colleagues of mine had attended other schools and already had skills far beyond mine, which were pretty unformed. I was eager to produce works of art and found that being outside, painting on my own, was very enjoyable. I had seen a big George Inness show at the National Gallery in 1979 and was impressed by that.
As a former high school football player, the one thing that I could do best, I reasoned, was to stay out in the bitter cold and paint the Winter landscape. I had seen some remarkable paintings by Edward Willis Redfield that he did all at one go in the Pennsylvania Winter. I liked working big and on location. Another artist that I looked at then was Wolf Kahn.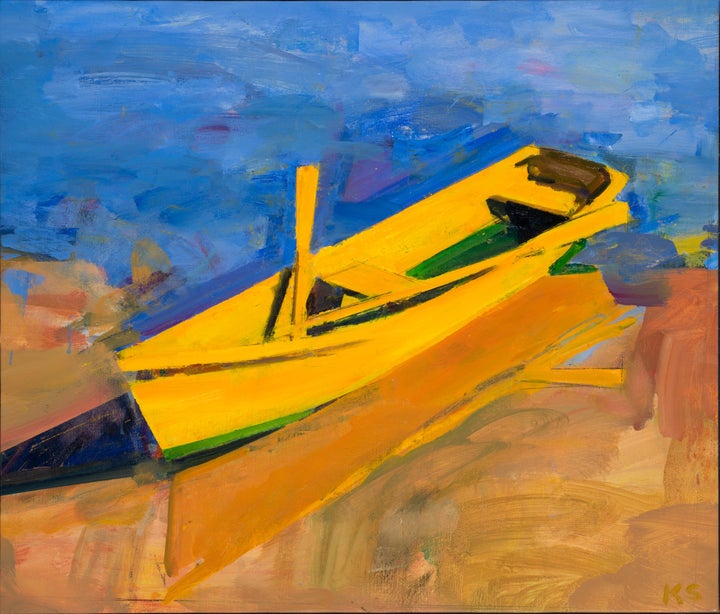 I understand that you moved around a bit after graduation...
Sometime after graduating from art school, I saw a retrospective of Fairfield Porter's work and loved that. I liked the way that he handled the paint, the freshness of the color and the fact that he used his family, friends and daily life as his subjects.
In 1986, My wife, Rebecca Schofield, and I lived and worked in Spain for 6 months and later, we painted for two months in Florida. In 1988, we moved to the Puget Sound. I built a studio and we moved into a house on the water that my mother's parents had owned and had left to her.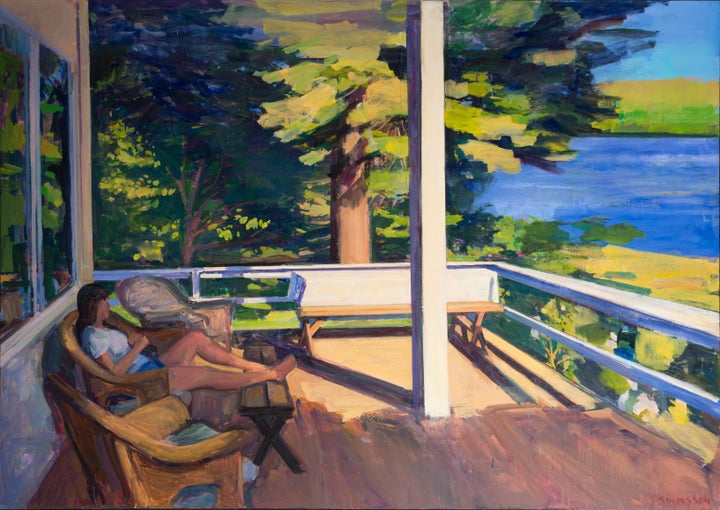 Who are some of your most important influences?
I often wonder what kind of paintings I would be doing, or if I would be painting at all, if I had gone to a different art school and had other teachers: in Kansas City or at CAL ARTS for example. Growing up in Philadelphia and then attending PAFA, I was surrounded by these great works of art by Thomas Eakins, Mary Cassatt, William Trost Richards, George Bellows etc. I looked at "The Fox Hunt" by Winslow Homer, almost every day when I was a student because it was up on the wall in the PAFA museum next to where we had the school studios.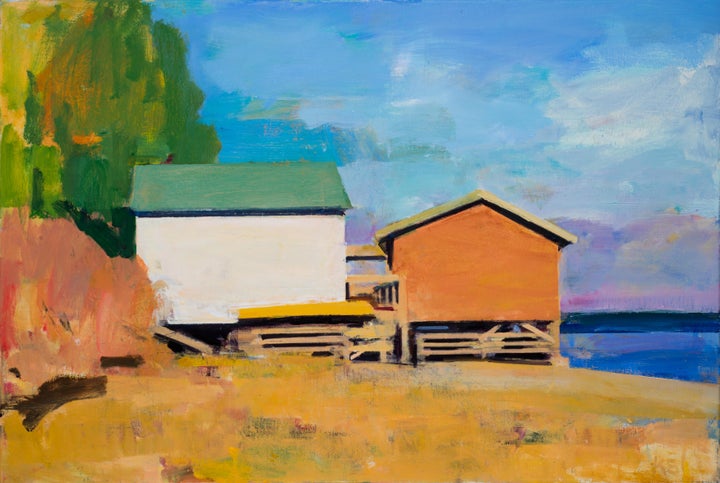 Tell me about your current work
The paintings in this show at the LewAllen Galleries are landscapes, and figures in interiors in all four seasons. They are all painted in and around our home on the Puget Sound and are painted from life. I like to show paintings from over a period of time so that each painting is about a certain time and place. I am bored by shows that look like the paintings were all lined up in the studio and worked on at the same time. I hope that the paintings in this show stand on their own. That's something that Ben Kamihira said to me: "every painting has to stand or succeed on its own"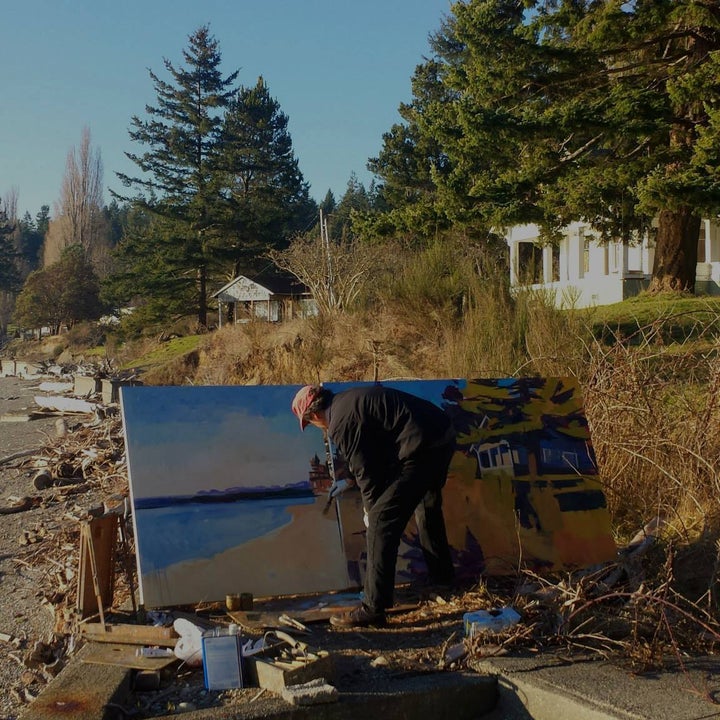 Can you walk me through one or two paintings?
My Facebook profile picture is a snap shot that Becky took of me starting the painting "The Davis House." I have two canvases propped up on the ground to make a diptych. I started painting big diptychs one winter while working on another painting of the Davis House. I had been trying fit everything into one 50" x 70" canvas.
One day, it was snowing, and I wanted to show all the area over the water. I realized that, as Antonio Lopez Garcia demonstrates in his multiple panel paintings, sometimes we have to turn our heads to take in whole subject . I had learned and been taught to focus in on a composition within a wide landscape but in this case, I wanted to see all of the wide view. So I went back to the studio and grabbed a canvas the same height but not as long, of a sunrise through fog, and put it on the left side, sitting on the ground next to the other canvas and painted the snow over the water on that.
In this "Davis House" painting, you see me in mid winter, starting the painting with big brushes and a lot of warm ochres because the sun was low and illuminating a lot of the foreground.
I had to go to the east coast to do sculpture conservation work (more on that later) and when I returned, I changed the painting to a Summer morning, bringing cool shadows across much of the painting. All the warm underpainting allowed me to keep the shadow areas feeling lit, and not too dark, the way it really feels in Summer here. I also rowed our yellow boat down there and painted it into the picture.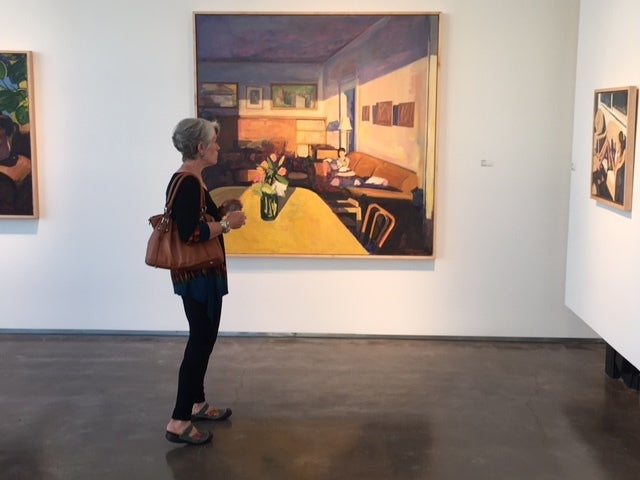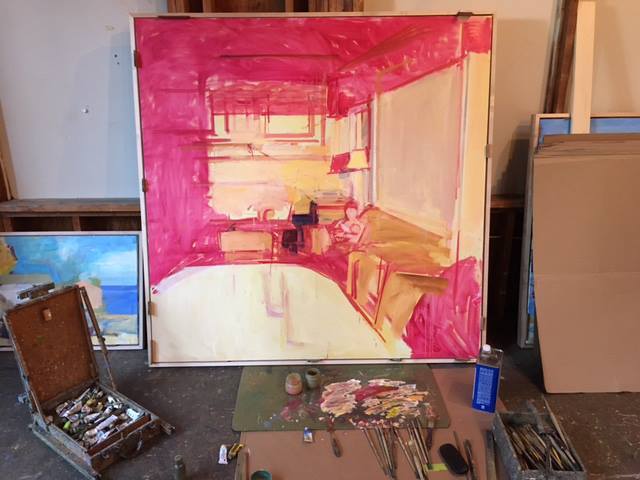 Another painting that I can tell you something about is "Sunrise Interior" I have done several big paintings of the sunrise and sunsets coming UP off the water and illuminating the front room of our house. I had been wanting to paint my older daughter with her new baby but was worried about the paint fumes.
One morning , around Thanksgiving, as the sun was coming up, I saw that the sunrise light was so strong, that I could stand outside on the porch and look in through the window even though double paned windows reflect a lot of light…. this particular time of day, I could see through perfectly well!
My daughter was not able to sit for long and the painting became a lot about that sunrise illuminating the room, and her, and the baby. The first day, I used big brushes, Cremnitz white, naples yellow and a little quinacridone rose and some green painters tape (for concrete,brick and grout!) to block in the light and shadow. From that basic, very simple layout, I work towards some kind of focus.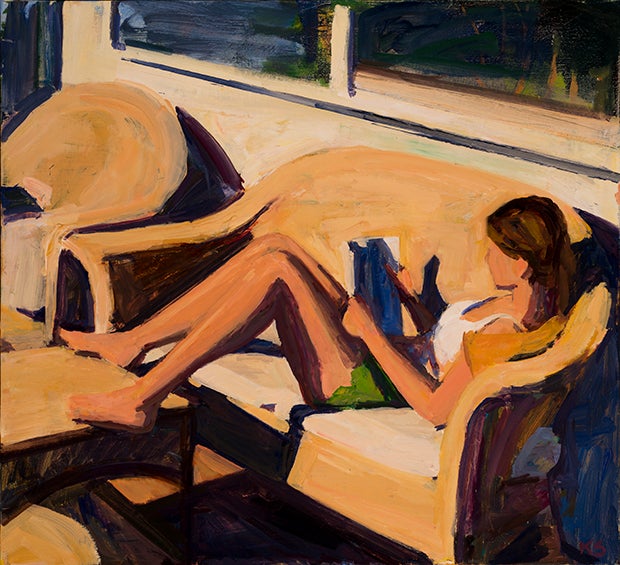 I understand that in addition to being a painter you have a background in art restoration
When I was a student at PAFA , the PAFA museum decided to restore its entire sculpture collection, one of the best collections of American sculpture anywhere. Bronze, marble, plaster, terra cotta, wood, steel etc. Under the supervision of Virginia Naude, I helped to restore that collection. Later, and for the past 36 years, I have worked for Steve Tatti, restoring and maintaining the sculptures in Fairmount Park in Philadelphia as well as public and private collections and museum collections in New York, Washington DC , Baltimore, Storm King, NY and other places.
This restoration work has allowed me to see and to protect and preserve some of the most beautiful works of art in the world and to see parts of the art world that I would not have been exposed to. When I travel to each city, I look up what shows are up and go see them. Most recently, I saw a great show in LA at the Getty called "London Calling."
Real World: Recent Paintings by Kurt SolmssenSeptember 30 – November 6, 2016LewAllen Galleries 1613 Paseo de Peralta, Santa Fe, NM 87501
Support HuffPost
The Stakes Have Never Been Higher
Related
Popular in the Community