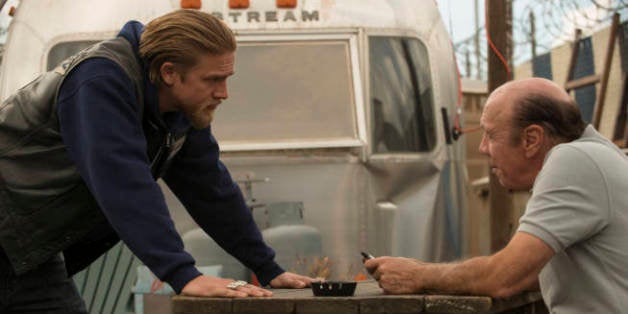 The organization quickly went after the the FX biker series, with PTC president Tim Winter issuing the following statement:
"What FX chose to show -- a scene of a young boy murdering innocent children in a school with a semi-automatic gun -- is enough of a reason for consumers to have the choice not to underwrite such horrifically violent and disturbing material. Think about the parents who have been personally affected by real-life school shootings – even they were forced to contribute to FX on their cable bills. This is an outrage, and the time for consumers to have real choice has come. Changing the channel is simply not enough -- that's a lazy excuse from the cable industry's own talking points that does not address the real problem."
"I would imagine these are not evil people," Sutter said on his Sutter Ink podcast on Thursday." But they are just not very intuitive or intelligent individuals. It's such a small and simple view of process. The fact that people want to be monitoring what my children watch is terrifying. There is no awareness of what is the bigger objective of that episode is, the bigger point of the narrative."
"Whenever that stuff crosses the line into censorship, it's just scary … not just on a creative level but a personal level," he continued. "I'm a storyteller. I'm not a social guru, I'm not a guy with an agenda politically, socially or morally. I'm a f---ing storyteller."

This isn't the first time Sutter has defended the scene. At the 2013 Television Critics Association Summer Press Tour, he argued that it was not meant to generate controversy.
"I know obviously that it would be somewhat controversial, but I feel like as much as I wouldn't do something because it was controversial, I'm also not going to do something because it is," he said, according to TVLine.
"Sons Of Anarchy" airs on Tuesdays at 10 p.m. ET on FX.
PHOTO GALLERY
Fall TV Newcomers To Watch
Calling all HuffPost superfans!
Sign up for membership to become a founding member and help shape HuffPost's next chapter