WASHINGTON ― Kurt Volker, President Donald Trump's former special envoy to Ukraine, testified that he was oblivious to the connection between President Donald Trump's desire for an investigation into the Ukrainian gas company Burisma and targeting former Vice President Joe Biden.
Volker was trying to "thread the needle" between a Burisma investigation (which Trump desperately wanted and Volker believed could help convince him to continue supporting Ukraine) and a Biden investigation (which he says he knew would be "unacceptable"). 
"I now understand most of the other people didn't see or consider this distinction," Volker said of investigating Burisma and investigating the Bidens. "For them it was synonymous."
It's common for Trump administration officials to believe that they can advance broad policy goals without becoming complicit in anything improper. An anonymous administration official has insisted to the public that they are working diligently to "preserve our democratic institutions while thwarting Mr. Trump's more misguided impulses." Respected national security officials like John Kelly, H.R. McMaster, and Jim Mattis all thought they could serve as the adults in the room. They all resigned after realizing the futility of that goal. 
Volker felt committed to Ukraine's future and the fight against Russia, he said Tuesday. He hoped that he could get a skeptical Trump to support that effort by convincing the Ukrainians to give the president what he wanted. But Volker soon learned that the only way to get Trump on board was with what amounted to a demand that a country deeply dependent on U.S. military aid help advance the president's personal political ambitions.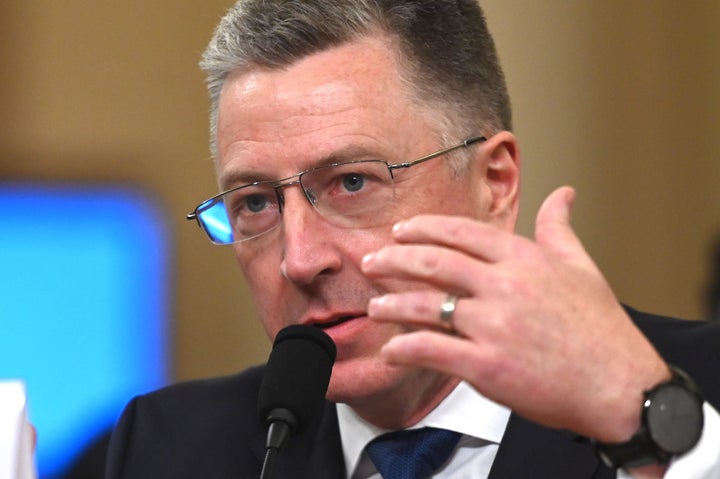 Volker claimed that he thought there was a distinction between "Burisma" and "Biden," and that he saw investigating them as "different ― the former being appropriate and unremarkable, the latter being unacceptable."
When U.S. Ambassador to the European Union Gordon Sondland brought up the investigations during a meeting with Ukrainian officials, it was an "eye-roll moment," Volker said Tuesday.
"In retrospect, I should have seen that connection differently, and had I done so, I would have raised my own objections," Volker told the House Intelligence Committee in an open hearing on Tuesday afternoon. 
Volker later admitted that he " knew that [Hunter Biden] had been a board member," but said that he believed that investigating Burisma and investigating former Vice President Biden were "very different things."
Volker is the first of the "three amigos" at the center of the Trump-Ukraine scandal to testify in the impeachment inquiry ― Sondland will appear before the committee tomorrow, while Energy Secretary Rick Perry isn't scheduled to testify. 
Volker texted a Ukranian official that they would set up a White House meeting after "President Z convinces trump he will investigate/'get to the bottom of what happened' in 2016."
Tim Morrison, a White House National Security Council official who testified alongside Volker, told lawmakers that he was hoping that Trump would have given Ukrainian President Volodymyr Zelensky more support in their phone call in July.
Volker said that he didn't think that the United States foreign policy should be focused on pursuing "conspiracy theories" he believed the Ukranians were floating.
"I don't think that raising 2016 elections or Vice President Biden or these things I consider to be conspiracy theories that have been circulated by the Ukrainians ― particularly the former prosecutor general ― they're not things that we should be pursuing as part of our national security strategy with Ukraine," Volker said. 
This article has been updated with Volker's comment about Ambassador Gordon Sondland.
Calling all HuffPost superfans!
Sign up for membership to become a founding member and help shape HuffPost's next chapter