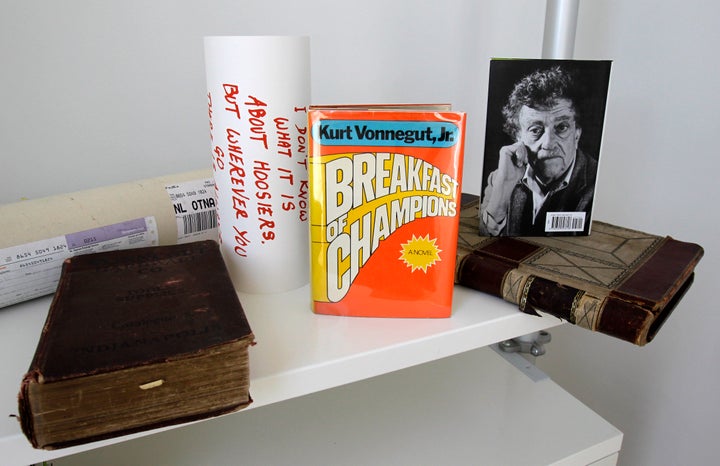 In response to the Republic, Mo., school board's controversial decision last week to remove "Slaughterhouse-Five" from its high school library and curriculum, the Kurt Vonnegut Memorial Library in Indianapolis announced that it would offer a free copy of the modern classic to 150 of the school's students, thanks to a generous donation from an anonymous donor.
Julia Whitehead, the Executive Director of the Vonnegut Library, told HuffPost that the gift was part of an effort to raise public awareness of the school board's decision, and that she hoped parents in the school district might get involved.
"All of these students will be eligible to vote, and some may be protecting our country through military service in the next year or two," Whitehead said in a statement. "It is shocking and unfortunate that those young adults and citizens would not be considered mature enough to handle the important topics raised by Kurt Vonnegut, a decorated war veteran. Everyone can learn something from his book."
The school board voted unanimously last week to eliminate "Slaughterhouse-Five," as well as Sarah Ockler's "Twenty Boy Summer," from Republic High School's curriculum and remove copies of them from its library, after a local resident publicly complained about their "inappropriate" content and said they promote values contrary to those found in the bible.
When the school board's decision was announced, The Vonnegut Library began working with Doug Bonney, an attorney and legal director of Western Missouri's ACLU organization.
Bonney said that the ACLU has been following this situation ever since a Missouri State University professor, Wesley Scroggins, wrote an article in the Springfield News-Leader last fall complaining about what he viewed as inappropriate content featured in "Slaughterhouse-Five" and "Twenty Boy Summer," as well as in another book, the award-winning young adult novel, "Speak."
The objectionable material in "Slaughterhouse-Five," Scroggins wrote, "ranges from naked men and women in cages together so that others can watch them having sex to God telling people that they better not mess with his loser, bum of a son, named Jesus Christ."
Bonney said the ACLU would be sending a Sunshine Act request to the school board, asking for all the records and minutes from the board meetings, in an attempt to determine the precise reasons for the book's removal.
"If the reason is that the district didn't like the ideas in the book," Bonney said, "then yes, that is unconstitutional."
None of the Republic school board's members, nor its superintendent, Vern Minor, have returned requests for comment, though Minor told the News-Leader that high school students could still read the removed books for "independent study," if they "have a signed note from their parents." The books would not, however, be available in the school library.
"If we don't read a book that you want your kid to read," Minor told the News-Leader, "go get it for them."
Other schools in the United States have dealt with this issue before, plenty of times. Though, as Whitehead pointed out, "in the 21st century, you'd think we were beyond all that."
Wall of Separation, the official blog of the group Americans United for Separation of Church and State, recently revisited a 1982 censorship case in a New York school district, which had also tried to remove "Slaughterhouse-Five" from its curriculum.
After the case was presented to the Supreme Court, Justice William Brennan led the charge against the book's removal, writing that school boards cannot remove books "simply because they dislike the ideas contained in those books" and "seek by their removal to 'prescribe what shall be orthodox in politics, nationalism, religion, or other matters of opinion.'"
Now, almost thirty years later, the book has come up against similar opposition. In a statement from the Vonnegut Library, Whitehead quoted Vonnegut himself, who wrote: "All these people talk so eloquently about getting back to good old-fashioned values… and I say let's get back to the good old-fashioned First Amendment of the good old-fashioned Constitution of the United States — and to hell with the censors! Give me knowledge or give me death!"

Calling all HuffPost superfans!
Sign up for membership to become a founding member and help shape HuffPost's next chapter