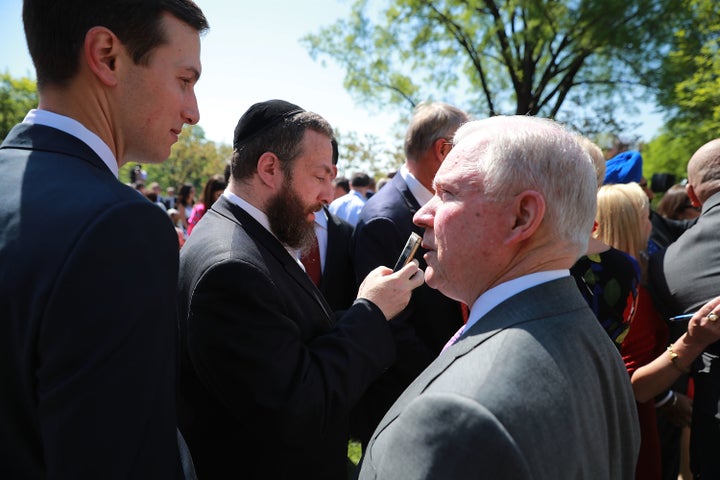 WASHINGTON ― A revamped bipartisan prison reform bill introduced this week with the backing of president's son-in-law and senior adviser Jared Kushner outlines steps to improve the lives of some federal prisoners. But it has drawn opposition from many advocates for change who want a more comprehensive reform of the criminal justice system.
The FIRST STEP Act, introduced by Reps. Doug Collins (R-Ga.) and Hakeem Jeffries (D-N.Y.) and Sens. John Cornyn (R-Texas) and Sheldon Whitehouse (D-R.I.), is expected to be marked up in the House Judiciary Committee on Wednesday. The legislation focuses on lowering recidivism of federal prisoners and would require the federal Bureau of Prisons to create evidence-based rehabilitation plans for all inmates. If passed the legislation would allow some federal prisoners to earn more credit towards reduced sentences for "good time" and would require federal prisoners to be placed within 500 miles of their homes. It would also ban the use of restraints on pregnant prisoners and encourage compassionate releases for elderly and terminally ill offenders.
Jessica Jackson Sloan, national director and co-founder of #Cut50, a criminal justice reform organization, told HuffPost that Kushner has been "a driving force behind the scenes" in support of the legislation.
"We understand that the president is willing to sign it. I hear Jeff Sessions is not very happy with it, but there's so much agreement on it at this point that he is not getting in the way," Jackson Sloan said.
A Justice Department spokeswoman declined to comment on the legislation.
Jackson Sloan said Kushner had a tremendous degree of empathy for federal prisoners and their families. "His insight as a person who was negatively impacted by the criminal justice system has been very valuable," she said, referencing the 14 months that Kushner's father spend in federal prison.
"I'm a strong Democrat, and I had no relationship with him prior to this, so it's been very interesting to see his passion for this issue, and I think that comes from a personal place, having been through that and seeing what his own father went through, and really the impact on him," she added.
Some Democrats and civil rights organizations are skeptical of legislation that doesn't have a broader impact. Todd A. Cox of the NAACP Legal Defense and Educational Fund wrote that a narrow proposal would "undermine bipartisan efforts to develop a comprehensive reform package that most Americans support." Last month, a large number of civil rights organizations came out against legislation that only addressed prison reform and said that the bill could have a disparate racial impact because it made large numbers of prisoners incarcerated for certain offenses ineligible for earning time credits.
Alex Gudich, the deputy director of #Cut50, said that his group sees the bill as a good start when it's "harder than it's ever been" to achieve something across the aisle. He added that this didn't have to be the last word on criminal justice reform.
"People who say that if Congress does this now they won't return to this for years or decades to come, I just don't buy that because I just don't think everybody is getting everything that they want here," Gudich said. "The Democrats are not getting sentencing reform, but Republicans are not getting mens rea. They're not getting civil asset forfeiture. They're not getting things that touch on the criminal justice system that are listed as their priorities."
The DOJ has so far declined to weigh in on the legislation, but Sessions ― an opponent of broader federal sentencing reform ― has come across as a skeptic of re-entry programs.
Speaking last week at a National Sheriffs' Association conference, he said that the Justice Department's inspector general had not been "complimentary" about the how the federal government had handled re-entry in the past. Sessions also begrudgingly noted the decrease in the federal prison population in recent years and the decrease in the length of the average sentence. He also suggested there was a correlation between the lower federal prison population and increased crime. While he sounded generally skeptical about re-entry programs, he did indicate that he thinks "re-entry programs can help reduce recidivism."
Kushner and Sessions had reportedly reached a compromise that allowed Kushner to push for prison reform without interference from Sessions. With the backing of the White House, Kushner wrote an op-ed for The Wall Street Journal last month that said President Donald Trump's "fight for the forgotten men and women of this country... includes those in prison."
Ryan Reilly is HuffPost's senior justice reporter, covering the Justice Department, federal law enforcement, criminal justice and legal affairs. Have a tip? Reach him at ryan.reilly@huffpost.com or on Signal at 202-527-9261.
Popular in the Community