Kushner, also President Donald Trump's son-in-law, has resisted efforts by White House chief of staff John Kelly to overhaul such interim clearances, which are given to some aides as a stopgap measure when their applications are held up as the FBI works through issues with their background checks. Kushner holds one of these interim clearances because of mistakes he made on his forms and the complexity of his financial holdings, the Times reported last week.
Kelly released a memo last Friday saying he would revamp the granting of such clearances after one of the president's top aides, Rob Porter, was forced to resign after allegations of domestic violence from his two ex-wives were revealed. The women told the FBI interviewers that Porter had physically and emotionally abused them, but he was able to continue working in the White House with a temporary security clearance.
"We should ― and, in the future, must ― do better," Kelly wrote about the overhaul, which was first reported by The Washington Post.
Kushner's close relationship to the president has given him access to highly classified information despite his own interim clearance, and he is able to read Trump's daily presidential brief. But as the Times noted, his official duties, which include managing Israeli-Palestinian peace negotiations and revising the North American Free Trade Agreement, likely don't require a top-level clearance.
Kushner has reportedly become frustrated with Kelly's new effort, saying he felt personally targeted by the memo, the Times reported, citing people familiar with the matter. The White House, addressing questions about Kushner's future clearance, said Tuesday his work would be unaffected by the overhaul.
"I can tell you that no decision within the memo will impact anything that Jared Kushner is working on," press secretary Sarah Huckabee Sanders told reporters. "In terms of specifics on security clearance, I can't get into that."
Kelly himself released a statement later Tuesday saying Kushner would still be able to continue his duties, although he didn't specify what level of clearance he would retain.
"As I told Jared days ago, I have full confidence in his ability to continue performing his duties in his foreign policy portfolio including overseeing our Israeli-Palestinian peace effort and serving as an integral part of our relationship with Mexico," Kelly said in a statement. "Everyone in the White House is grateful for these valuable contributions to furthering the president's agenda. There is no truth to any suggestion otherwise."
Kelly's new plan will revoke any top security clearance to aides whose background checks have been stalled since June 1 or before. High-level clearances will also be reviewed every month.
The changes will be implemented Friday.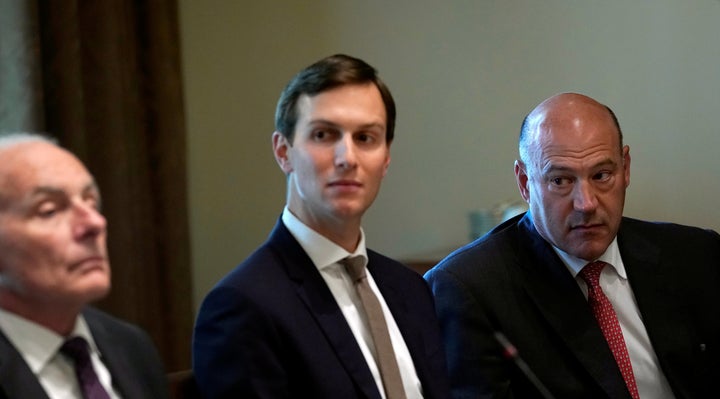 Popular in the Community