Through the heart of every true Southern Californian, there flows a passionate mixture of blood, salt water and gasoline. Kustom Kulture II is a celebration of this Life and Style. The show at the Huntington Beach Art Center with 73 artists is also a confirmation and a beautiful eulogy to an artistic movement.
In the late Eighties, there was no street art, just graffiti and a cell phone was the size of a brick. In the Arts, a million experiments, ideas and styles were exploding freely and spontaneously. The art establishment started to get a little nervous.
In 1993, the Laguna Art Museum laid it on the line with a show devoted to the art of the Southern California surf and car culture. Then, a respectability had been growing for what was defined as Low Brow art. Stick yer pinkie out when you say that! This was art born from fevered dreams and doodles in high school notebooks, not academic sensibilities. Throughout the Sixties and Seventies, artists such as Robert Williams, Big Daddy Roth and Rick Griffin were jamming the gears in a push for reputability. Something was going on, and it was building. By the dawn of the Nineties, a loud mob of artistic surfers, gear heads and rockers were waving torches, ready to rumble. Most frightening of all, many of them had gone to art school! Curators ran for cover. Finally, the bastions of High Brow began to crumble from the bombardment. Kustom Kulture at the Laguna Art Museum was as loud as a whoopee cushion and twice as fun. The fallout from this cultural blast has yet to settle. Much of what we see today, on the streets and in the galleries, radiates to this movement.
Kustom Kulture II is thorough and expansive. The show of over two hundred works celebrates its predecessor and aims for new ground. The legends and their oeuvre are well represented. Their offspring and the niche players are given context. The curators have used a wide stroke to cover their sensibility and then taken a fine pinstripe brush to fill in the details. Case in point, the show includes a series of biker gang calling cards. Those merry pranksters would stop and assist a vacationing family, stranded by the side of the road. The Good Samaritans would then present their card, laughing as they rode off. Who was that nice man? Holy Cranial Combustion! The card read, "Assisted by Colorado Deadmen Hell's Angels. Fuck the World."
The well-designed and well-curated show has two dazzling centerpieces. The most sentimental and sensational is art car king George Barris's "Munster Mobile", a hearse hot rod hybrid from the classic TV show. Up close. Every detail is to clever perfection. The second showstopper is sublime on many levels. Ed Roth designed and fabricated a sculpture, the Surfite, a nifty marriage of automobile and bikini.
The greats are thoroughly and equally represented. The curators have taken pains to make sure we see the breadth of work of Rick Griffin, Ed Roth and Robert Williams. Griffin is a magazine illustrator and painter whose drawings were essential to the surf culture. In a way, he was a waterman's Robert Crumb. His surfing electric eyeball or a doe-eyed wahini caught many an eye. Every beach town kid, bored in school, was doodling his work. Kustom Kulture shows us his humor and his emotion. His 1977 calendar is a beautiful pencil drawing of Jesus, surfing, with an expression of transcendence. The scrolled hand-rendered text reads: "Grant me Lord... Just the closer walk with thee." Many spiritualists believe that surfing is as close as one can get to Godliness. As was encouraged in the day, Griffin worked in a variety of mediums. We see his paintings and what he was thinking. The oeuvre of Roth and Williams are also equally presented in-depth and scope. Roth was much more than his Rat Fink. Williams is still smart and brave.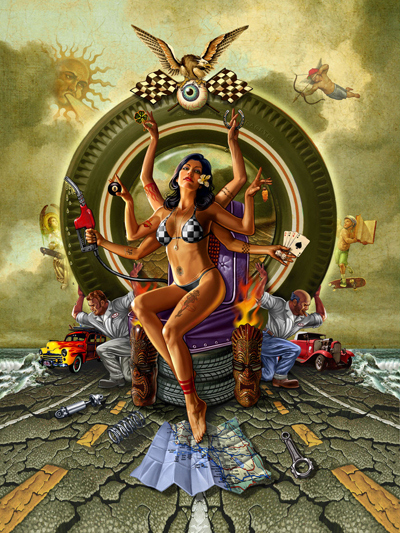 Back in their day, these forefathers had lesser known comrades and influences. Kustom Kulture nods with respect and introduces us to some very cool discoveries. Margaret Keane, and her disciples, are not overlooked. Darkly European Stanislav Szukalski was a local mad genius. His pencil drawings are sensational in every way, inspiring flights of surreal fantasy. Everyone was inspiring each other. Suzanne Williams is a painter who is often hidden in the shadow of her Art Star husband. She has a beautiful oval abstract from 1975 in the show. The painting, six months in the making, is worth seeking out.
Barry McGee, oddly and appropriately, has a piece in the show. He is a contemporary of Kustom Kulture but he is not part of the history. This show serves as a museum piece, an official collection of work to commemorate a movement. Most of the living artists are historical and fall into one of two categories: 1) Fighting the Good Fight or 2) Freebird. Today, Rick Reitveld remains a surf artist, continually impressing all with his painterly skill and humor. Anthony Ausgang keeps taking his surreal kitty-kat pop deeper into his whirling universe. The conceptual work of painter Sandow Birk bares a scant resemblance to his Kustom Kulture roots. In this show we are blessed with one of his classic velvet paintings of a rowdy LA drive-by shooting with LAPD action. Today we can look back and see his wit, smart thinking and compassion have anchored him from the get-go. One piece in the show is a very crude drawing and it will halt many who pass it. A large ocean blue monoprint by Russell Crotty from 1991features a surfer, a wave and words, thickly drawn, as if scratched quickly with a car key. "Jackson Ray Snaps It All Up" is written with great elation, as if the artist had just seem something fantastic and wanted to grab the moment. Crotty has a large, distinguished body of surf work. A lone wolf who favors nature, he turned his sights skyward with drawings of our heavens. This work is now in the permanent collections of MOCA and MOMA. I wonder what he is doing today.
The show offers much to look at. Dustin Shuler offers a photo and a very cool maquette of his Spindle sculpture where whole cars are shish kabob'd on a giant paper spindle. Billy Gibbons of ZZ Top kustomized a 1965 Fender Jaguar guitar. He brushed the faceplate and attached a Rick Surf sticker on the sleekly silver paint job. It is sexy and aerodynamic. There is a beautiful flying man sculpture that commemorates a land speed record by Jeff Decker. Kustom Kulture has a lot of surprises.
As a redux of Kustom Kulture the first, this show cements the universal rotation and aesthetics of this movement. The Huntington Beach Art Center is doing for Kustom Kulture what the Getty did for California art with Pacific Standard Time. A page must now be reserved in the international art world canon.
Kustom Kulture II also offers a beautiful eulogy for kultures that are gone or are vanishing. Money has redefined the playing fields of the surf and auto culture. The sand under a poor hut on the beach is now priced as America's Riviera. Hangdog beach bums can't afford the new rents. In 1975, a ten-year-old muscle car was cheap and affordable to modify freely. Today, the car culture is left to the rich. Today a muscle car is worth a solid six figures. That's too expensive a diamond to lower the roof and add a fin. No more hot rods. Electronics now keep the kids indoors. The computer chip in automotives took simple repairs out of the hands of the DIY family garage. It was a beautiful time. Now, what will replace it?
Kustom Kulture II has an air of melancholy, a nostalgia about it. The ranks of living artists have thinned. Technology has changed many things and redirected our interests. The party is over, but it's been such fun that no one really wants it to end. Like an exuberant child with a humorless parent, the movement has always been at odds with the academic elite. Bad Boy! A juvenile delinquent turns surly with age. Kustom Kulture II has a grin and sneer pinstriped onto it. The location of this show must be noted as significant. While a lovely site, the Huntington Beach Art Center ain't no Getty. It really is a community kids art center. Some might consider the location as a flip of the bird to the establishment.
This show is a part of the past. And what a past this is. Kustom Kulture II is fun and excitable. It urges you to go out and make something beautiful and fun.
Kustom Kulture II is well-curated and stands as a shining example to the discipline. With a wide lens for scope and a fast zoom to detail, Kustom Kulture II is very well hung. Kudos to Greg Escalante, C.R. Stecyk and Paul Frank for their refined efforts. They are like a superhero curatorial team. Each brings a fascinating set of skills and experiences to the gallery. I wonder what this group could do with a big budget? The OC Weekly covered the trio in admirable depth: Click Here.
In the mid-Nineties, I remember serving on a panel with a dozen fellow painters at the Key Club on the Strip. My work at the time edged that mix. The goal of the event was to find a definition of this custom culture movement. The public liked it; a cultured audience was building. So, whadda ya call it? At the time, the ink at Juxtapoz Magazine had yet to dry. Then, they were the cheerleading riot squad for what we now know as Low Brow. Many wanted to call this style Juxtapoz. The panel concluded without a consensus.
With a love for sleek lines and wide demarcations, the art establishment preferred to call it Low Brow. Over time, Low Brow, as a definition, withered on the vine. It was unjust.
Kustom Kulture II confirms the four-decade history of this nameless yet recognizable movement. It deserves a title. I vote for Kustom Kulture as a movement. It has a nice ring to it. Academically, it is a bulls-eye. History abides. The scope remains wide for future exploration.
The show features the work of over 70 artists, all worthy of a long, happy gaze. The Huntington Beach Art Museum offers an extended schedule for your summer pleasure. Go! Surf! Drive! Make art!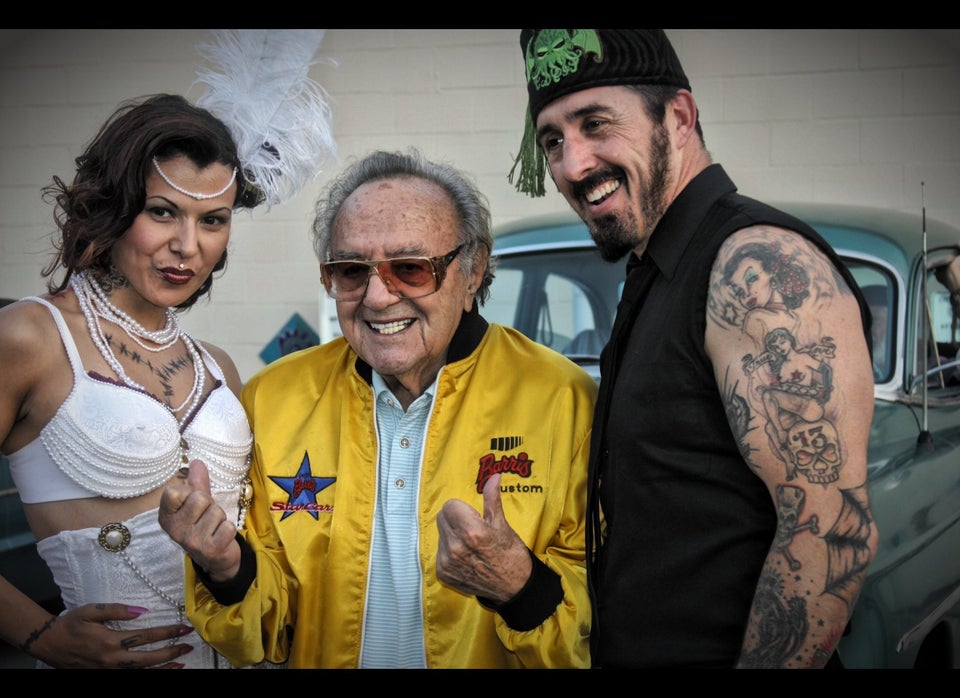 Kustom Kulture II Celebrates And Canonizes A Movement
Photos by Michael Brown. Thanks to Gia for the research help.
GORDY GRUNDY is a Los Angeles based artist and arts writer. His visual and literary work can be found at www.GordyGrundy.com
Related
Popular in the Community