Watch what you tweet in Kuwait, lest you end up in jail, or worse.
Two Muslim Kuwaiti tweeps -- one Sunni, one Shiite -- were handed jail sentences for what the courts considered highly offensive language, since their tweets were sectarian in nature, adding fuel to already simmering tensions in the oil-rich Gulf state.
Hamad Al Naqi, a 26-year-old Shiite accused of posting anti-Sunni tweets, denied the charges saying his account had been hacked, but this week got a 10-year prison term nonetheless.
Al Naqi is accused of insulting the Prophet Mohammad, his wives and his companions, as well as endangering state security and slamming the Sunni rulers of Saudi Arabia and Bahrain -- all considered anathema.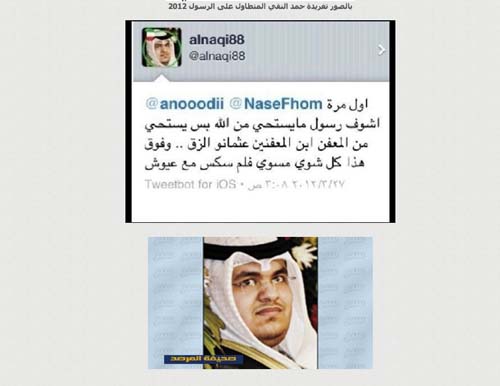 Screen shot of presumed offensive tweet by Hamad Al Naqi
Conservative Sunni members of parliament called for the death sentence, in accordance with amended legislation passed May 3 authorizing the state to impose harsh penalties (including death) on anyone insulting God, the Prophet Mohammad, and his wives.
Sunni Islamist members had proposed the amendment following repeated cases of insults of religious figures on social media networks, the pan-Arab daily Al Hayat reported.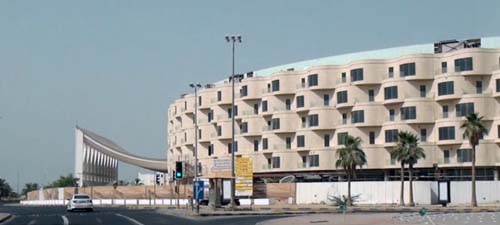 Kuwaiti People's Assembly (Abu-Fadil)
The new amendment, passed by a majority of Sunni MPs, caused a stir in Kuwait's People's Assembly, where Sunni and Shiite members have engaged in heated debates on countless issues, not least of which are religious affairs.
Sunni MP Mohammad Hayef Al Mutairi even wants free promotional magazines banned since they publish "pictures and content that counter public morals, and in order to respect our conservative Kuwaiti society," the daily Al Rai reported.
In April Al Hayat said Al Naqi was stabbed in the neck by a fellow inmate in Kuwait's central prison, pending a final sentence in his case.
News of the stabbing led to a flurry of pro and con tweets, prompting authorities, in an unprecedented move, to broadcast a report on state-run TV minimizing the importance of the incident, the paper said.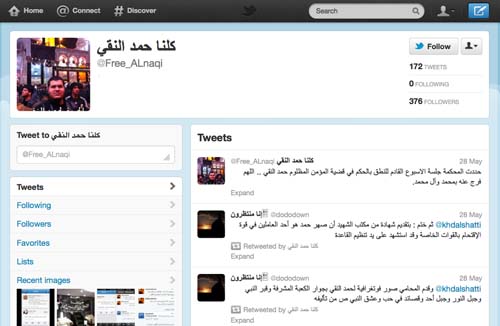 Screen shot of "We Are All Hamad Al Naqi" Twitter campaign
But that only egged on Al Naqi's supporters who launched a Twitter offensive to free him by dubbing the account "Kulluna Hamad Al Naqi" (We Are All Hamad Al Naqi).
Al Naqi denied in a tweet on March 27 he would ever consider insulting the Prophet Mohammad.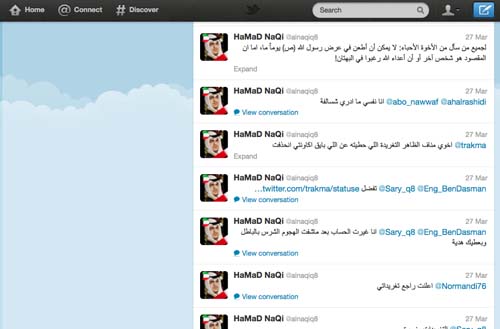 Screen shot of Hamad Al Naqi denying he insulted the Prophet Mohammad
Al Naqi's handle is @alnaqiq8, whereas the purported offensive tweet was published from an account identified as @alnaqi88 that used part of the same picture as the other account.
He identifies himself on his Twitter account as: "A free person who accepts criticism, but I don't accept anyone restricting my liberty. In solidarity with the Bahraini people and all other downtrodden people. A member of Amnesty International."
He has 4,532 followers, follows 211 and has 12,818 tweets to his name. His picture is adorned with the Kuwaiti and Bahraini flags and his last tweet was on May 26.
Meanwhile, Mohammad Al Mulaifi (Twitter handle @m_f7), a Sunni employee of the Ministry of Islamic Affairs and self-proclaimed writer and researcher/expert on religious matters, was given a reduced six-month jail sentence -- down from an initial seven-year term -- for allegedly insulting Kuwait's Shiite minority.
In March Al Mulaifi, who has 104,229 followers, follows 192, and has posted 2,291 tweets (his last was on May 31), was taped railing in front of the Kuwaiti State Security Building against Shiite detractors who he said had insulted the Prophet Mohammad.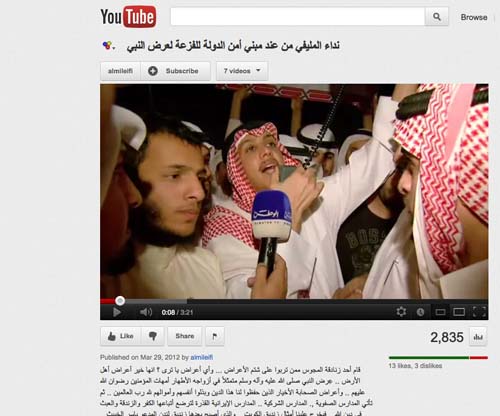 Screen shot of Mohammad Al Mulaifi on YouTube
In the video uploaded on YouTube, Al Mulaifi called on legislators to halt the insults and said any MP who failed to do so was an accomplice to the crime.
Comments posted under the video clip are particularly disparaging of Iran and Kuwaiti Shiites with an affinity to Iran.
AFP, in a front page story published by Kuwait's English-language Al Watan daily, said the reduction in Al Mulaifi's jail term came after the court acquitted him "from the charges of spreading false news about the Gulf state and promoting an illegal clandestine group, according to the court ruling."
He was convicted only on the count of disparaging the Shiite faith (sect) in an Internet article posted on his Twitter account in February, but Al Mulaifi has categorically denied all charges and insisted he did not mean to insult any faith, it added.
In April the Arabic-language Al Watan newspaper said Al Mulaifi was accused of spreading rumors and false news abroad about divisions along ethnic and religious lines within Kuwaiti society in a bid to discredit a segment of the population by claiming their loyalties lay elsewhere (Iran).
He was also charged with slandering a legislator by claiming the latter was originally Iraqi.
Iraq has a predominantly Shiite population and under deposed leader Saddam Hussein invaded Kuwait in August 1990, claiming the emirate was one of its provinces. A coalition of Western and Arab forces freed Kuwait seven months later.
Kuwait has a population of 1.18 million, with Shiites making up around a third of it, AFP reported, adding Kuwaiti Shiites staged a rally to protest against Al Mulaifi's article and demanded that authorities take action.
The internecine troubles reflect the ongoing conflict between Iran, with its predominantly Shiite population, and Arab Gulf states with their mostly Sunni nationals.
Bahrain, which has had civil unrest in recent months and is a member the (Arab) Gulf Cooperation Council, boasts a Shiite majority, but is ruled by a king from the Sunni minority.
Sectarian conflicts between Kuwaiti Sunnis and Shiites have been exacerbated by events in Bahrain and the revolt in Syria pitting the regime of President Bashar Al Assad of the Alawite minority (an offshoot of Shiite Islam) against a majority Sunni population as well as dissident Alawites and other minorities.
Popular in the Community