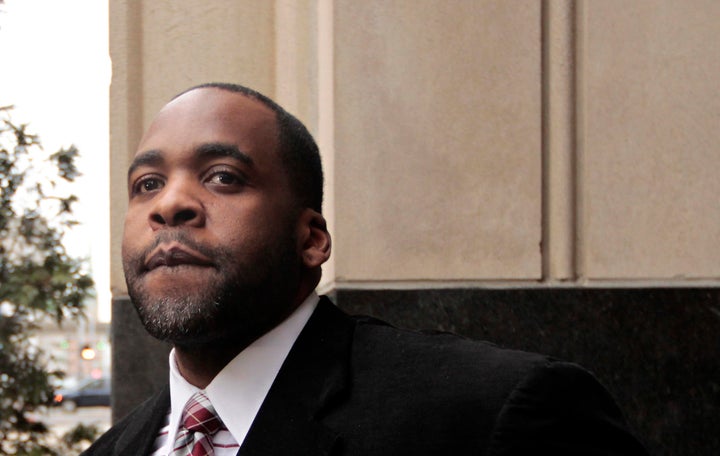 In a letter reportedly written from federal prison, disgraced former Detroit mayor Kwame Kilpatrick claims Michigan officials have known about contamination in Flint's water supply for much longer than they're letting on.
In the letter obtained by local ABC affiliate WXYZ Detroit through a Facebook message that Kilpatrick's family reportedly sent to the station, the former mayor says he knew about problems in Flint's water supply in 2004 and that former Michigan Gov. Jennifer Granholm, current Gov. Rick Snyder and several state legislators have long been aware of the contamination. 
The letter loses credibility, local media outlet MLive points out, with Kilpatrick's claims that his office and Flint officials in 2004 and 2006 attempted to switch Flint to Detroit's water system. Flint was already connected to Detroit's water system then, and switched to the Flint River as a water source in 2014.
The full transcript of the letter reads: 
FYI
Just so you all know. We (The Detroit Water and Sewage Department) were talking about the problems of the Flint Water Department (financial management, ability to perform, cleanliness of water, elimination of contaminants, mercury levels, lead levels) back in 2004. We knew (our folks in Detroit, SEMCOG, Genesee County Officials, some members of the State Legislature, and the Governor at that time) new that there were significant issues with all of those items.

In 2006 we attempted to craft a deal to put them on our water system. We were in negotiations, led by Victor Mercado, for months, and I wanted to make it work. I attended one meeting, and was on a conference call for another, expressing my willingness to make this work. SEMCOG and Judge Fiekens was also aware of this. SEMCOG was against the Agreement!

BUT, the people in Genesee County, at the table during that time (the County Drain Commissioner & his staff, a State Senator, and a State House Member all from Genesee County) wanted to keep control of the system.

Also, former Michigan Governor, Jennifer Granholm, was well aware of the issues with the Flint Water Department, and their inability to produce contaminant free water moving forward, nor afford the equipment & technology to do so.

When the current Governor of Michigan says that he "only recently was made aware of this issue", he is being misleading at best. But more than likely, he is being viciously, aggressively, and deliberately untruthful. I pray that the truth comes out. That's what everyone in Michigan wants right? The Truth! Well, my prayer is that you all will have an opportunity to warm yourselves at the fire of Truth.

I am here in prison, with a 28-year sentence, for a case where there is NO EMBEZZLEMENT, NO MISUSE OF PUBLIC FUNDS, NO BRIBERY, NO STEALING OF ANY MONEY, as a matter of fact, NO PUBLIC MONEY AT ALL. And NO CHARGES THEREOF! 99% of Detroiters have NO idea why I'm here. They don't know the charges, nor what I'm sentenced for. They sure do know the rumors.

I wonder how much time you get for knowingly & actually delivering unsafe, dangerous, and poisonous drinking water to the people you represent? Which in-turn causes deaths, permanent illnesses, and disabilities. Can you actually be hated, hurt, and imprisoned for ridiculous rumors about murder...and not be for actually killing people?

I pray for justice for the people of Flint! And I also pray that God will give to all of you in Michigan the spirit of wisdom and revelation in the knowledge of Him. That you all may have your eyes opened with understanding.
The blindness is hurting lots of people. Its even killing some. OPEN YOUR EYES!

KMK
Snyder's office described Kilpatrick's message as a diversion from the real issues.
"We are focused entirely on helping the people of Flint and making sure they get the assistance they need now, and long into the future," Snyder's press secretary Dave Murray told The Huffington Post. "We're grateful that some people are stepping up to be part of the solution. Comments from people not actively working toward a solution can only serve as a distraction."
A spokeswoman for Granholm said she believes Kilpatrick's letter contains inaccurate accusations. 
"The imprisoned mayor has his own recollections, but one fact stands out:  During the Granholm administration, Flint residents were safely getting their drinking water from the Detroit system," the spokeswoman said. "There were no comparable situations with drinking water during the Granholm administration."
Kilpatrick was sentenced to 28 years in prison in 2013 on 24 counts of racketeering, bribery, extortion, mail fraud and other charges related to his corrupt activities while in office.
This article has been updated with a comment from Granholm's office.
PHOTO GALLERY
Here Are All The People Coming Together To Support Flint
REAL LIFE. REAL NEWS. REAL VOICES.
Help us tell more of the stories that matter from voices that too often remain unheard.