The holiday season is upon us and there's no shortage of Christmas parties, or ugly sweater parties, or ugly people wearing Christmas sweaters. There is, however, only one Kwanzaa Crawl. On Tuesday, December 26, the first day of Kwanzaa, thousands of black and brown people will come together in support of the Black-owned bars in Brooklyn and Harlem. Dressed in whatever makes them feel unapologetically black, Kwanzaa Crawlers will disperse into over 30 different teams, criss-crossing from bar to bar, walking and singing their favorite black family cookout songs on the way. Given the spending power of black consumers and Kwanzaa's emphasis on supporting black culture, this crawl is an opportunity to educate people on Kwanzaa's principles, and make Kwanzaa cool again, all while supporting the local economy. Last year, Kwanzaa Crawl sold out in 7 days, with 17 bars, and over 1600 participants. This year, the crawl is expanding to include Harlem. There will be over 25 Black-owned bars, and a portion of the proceeds will go to social justice organizations Barbershop Books and the BLK Projek. Kwanzaa Crawl is the largest mainstream Kwanzaa event and it embodies each of the seven principles including unity, cooperative economics, and self-determination.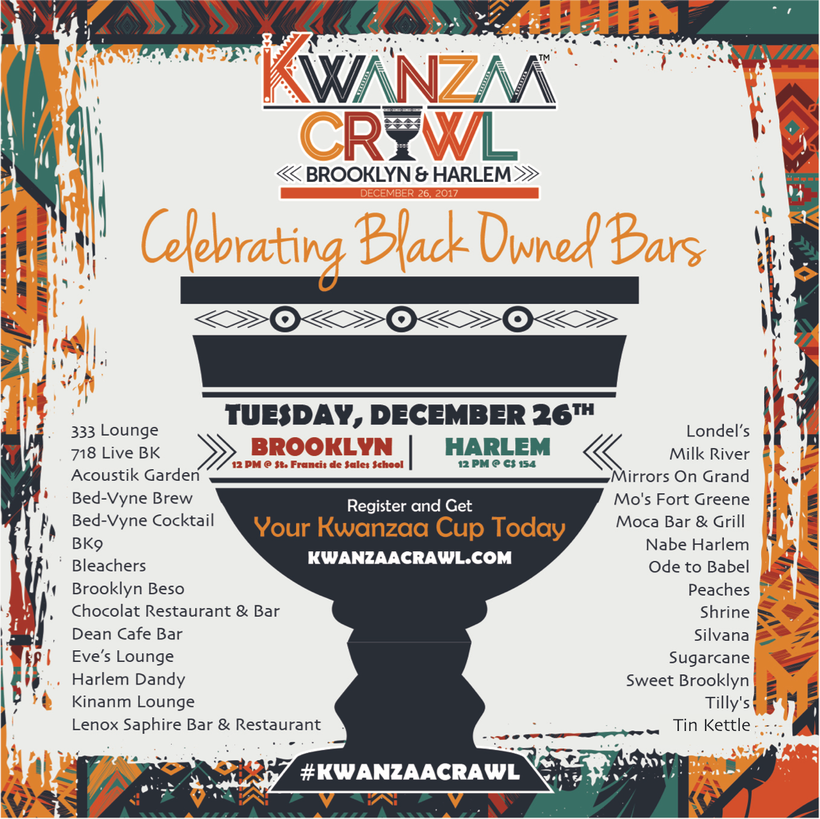 For $20, those who register will receive a commemorative Kwanzaa Crawl cup (while supplies last), a wristband, a map, and a damn good time. If you're wondering what drinking has to do with Kwanzaa, ask yourself what egg nog has to do with Christmas. Or what a turkey has to do with Thanksgiving. Or what diamonds have to do with marriage. The focus of Kwanzaa Crawl isn't to get white boy wasted---it's to foster fellowship within the community, give people an opportunity to meet their neighbors, and to support the small businesses in the community that will in turn reinvest into that community by hiring the folks that live there. The event is also supported by NYC Public Advocate Letitia James, New York State Senator Jesse Hamilton, and City Council Member Robert Cornegy, Jr., so not only does it unite the residents of the community, it also unites the community with the elected officials that represent them.
If you'll be in or near New York City on December 26, grab your headwrap and your dashiki and get your crawl on. For tickets and more information, head to the crawl's website.
REAL LIFE. REAL NEWS. REAL VOICES.
Help us tell more of the stories that matter from voices that too often remain unheard.
This post was published on the now-closed HuffPost Contributor platform. Contributors control their own work and posted freely to our site. If you need to flag this entry as abusive,
send us an email
.