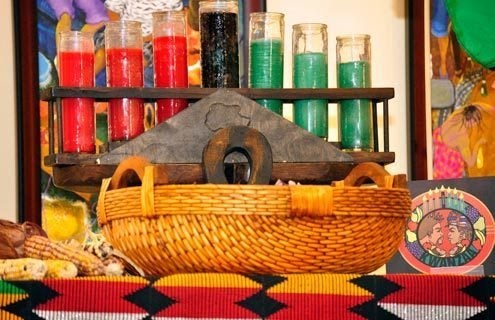 Local families will have an excellent chance to reflect on the principles of Kwanzaa this year at two ceremonial celebrations happening in Detroit.
Dr. Maulana Karenga started the seven-day holiday in 1966 "to reaffirm the communitarian vision and values of African culture and to contribute to its restoration among African peoples in the Diaspora," according to the Official Kwanzaa Web Site.
Kwanzaa takes place every year from Dec. 26 to Jan. 1. It is based on seven principles, known as the Nguzo Saba: Umoja (Unity); Kujichagulia (Self-Determination); Ujima (Collective Work and Responsibility); Ujamaa (Cooperative Economics); Nia (Purpose); Kuumba (Creativity); and Tmani (Faith).
"It is an opportunity for people to gather and celebrate these seven principles," Jack told HuffPost. "These are things from the continent, from the Black and African ancestry here in America."
Jack said own her family tries to live according to the principles of the Nguzo Saba all year long. "We actually try to center our way of being our way of dealing with people and our way of living around these principles," she said.
The Shrine of the Black Madonna will organize the first day of events centered around the principle of Umoja with a special focus on honoring the place of children in the community. Storytelling, African drums and dancing will all be part of the celebration.
Tuesday's event will promote the principle of self-determination through poetry and singing. There will be an opportunity for young people and others in the community to participate.
Wednesday will spotlight collective work with a performance by a group specializing in African drumming and dance, and Thursday will feature cooperative economics with an African and African-inspired fashion show.
Each day, there will be a 6 p.m. candle-lighting ceremony to commemorate the spirit of the holiday.
The events are family-friendly and free to the public. They run Dec. 26 - 29 from 6 p.m. to 9 p.m. The Charles H. Wright Museum of African American History is located at 315 East Warren Avenue. For more information call (313) 494-5800.
Further up Woodward, a seven day-long Kwanzaa Family Fun Fest will take place at the Considine Recreation Center. The event will feature games, prizes, karaoke, performances and a vendor marketplace, in addition to the Kwanzaa candle-lighting ceremony. Sponsors will also show the film "The Black Candle," narrated by poet Maya Angelou.
Food and beverages will be available. Children under 14 must be accompanied by an adult. The event will take place Dec. 26 - 31 from 4 to 8:30 p.m. and on Jan. 1 from 1 to 5 p.m. The Considine Recreation Center is located at 8904 Woodward. For more information call Mama Njia Kai at 313-334-5833.

Calling all HuffPost superfans!
Sign up for membership to become a founding member and help shape HuffPost's next chapter