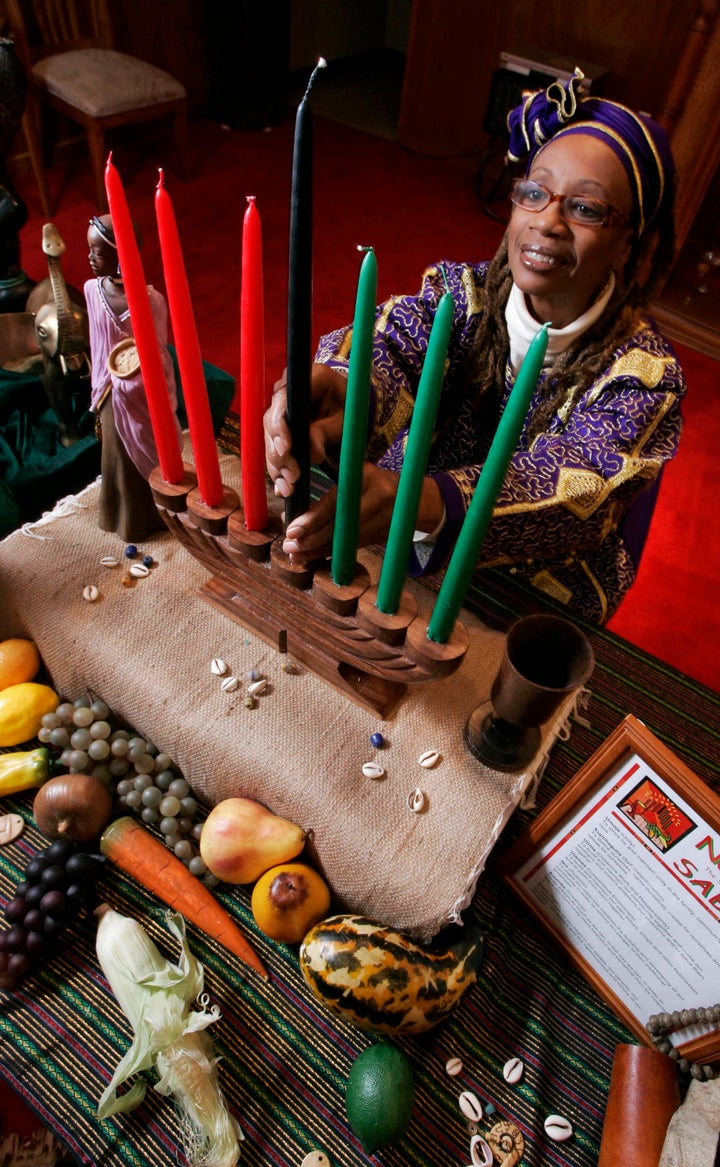 No matter how far flung Ayana Patterson or her brothers are from home, they never miss Kwanzaa with their parents. Not when she left the Philadelphia suburbs and headed to Syracuse University in New York or later when she took a job in New York City and moved to Brooklyn. Not even when her two older siblings moved to Kentucky and Connecticut.
"We'll either text or talk earlier in the day to see what people are doing. We'll check in and see the best time for everybody to get on the speaker-phone or Facetime or Skype," said Patterson, who is 28.
The Pattersons are Kwanzaa die-hards, and perhaps more the exception than the rule.

While the popularity of Kwanzaa, which begins the day after Christmas, has continued to grow, with an estimated 13 million or more people participating in the holiday to one degree or another, it has long occupied a peculiar place in African-American culture.
Kwanzaa was created as an afro-entric holiday in 1966 by the black militant history professor Maulana Karenga, and was intended to be a secular cultural celebration rooted in notions of African pride and community empowerment, rather than in any long-standing religious tradition like Christmas or Hanukkah. And in its very nature, Kwanzaa seems as appealing to many as it is appalling to others. It certainly presumes a level of self-awareness and racial identity that some can find off-putting. But at the same time, many who celebrate Kwanzaa exclusively or in tandem with Christmas say the holiday is less about being a counter to any other mainstream holiday, and more of a vehicle to celebrate African-American culture and a shared heritage.
"It's not down with Christmas, up with Kwanzaa, but this suits us," said Kelly Davidson, a mother of a 2-year-old boy from Washington, D.C. Davidson, her fiancé and a group of about 40 family members and friends are celebrating Kwanzaa together this year. Months earlier they formed a group on Facebook and put together various Kwanzaa planning committees. For Davidson and her group, Kwanzaa is mostly about instilling a strong foundation in the children.
Kwanzaa, which means "first fruit" in Swahili, revolves around seven core principles, each celebrated on one day of the week-long observance, with simple, often homemade gifts and feasts. Each day a red, black or green candle is lit in a Kinara to honor of each of the seven principles: Umoja, unity; Kujichagulia, self-determination; Ujima, collective work and responsibility; Ujamaa, cooperative economics; Nia, purpose; Kuumba, creativity; and Imani, faith.
"I want to give him a sense of family, and family tied to his community," Davidson said of her little boy. "I want to let him know that he has a role here, that he is a brother, he is somebody to everyone whether he knows them or not. That he has a job here, in terms of service, and that we are all here to be a service to your people."
Davidson said she gave up on Christmas years ago.
"Nobody's talking about Jesus' birth," she said. "It's all gifts and advertising."
A Hallmark spokeswoman said the number of Kwanzaa cards sold each year are not calculated. "We just don't track smaller holidays," said Jaclyn Twidwell, the Hallmark spokeswoman.
While libraries, churches and community centers across the country host Kwanzaa programs, still others balk at the idea of what one outspoken critic of the holiday, and contemporary black culture in general, called a "godless, racist holiday."
"This so-called Kwanzaa is a godless, racist holiday that black Americans should avoid, resist and repudiate," said Rev. Jesse Lee Peterson, a black, conservative Republican who has made it his mission to take down Kwanzaa, among other popular black targets including the Rev. Jesse Jackson and President Obama. Each year he holds press conferences, gives speeches and protests against Kwanzaa. If the holiday had an enemy, it certainly is Rev. Peterson.
"I give speeches to educate the folks. I want to wake up black people. Black Americans have enough problems as it is. Unfortunately, not all but most of them choose evil over good. Most black people don't choose anything good."
In the main, Rev. Peterson's opinion is extreme in its characterization of Kwanzaa as "evil." Other Kwanzaa critics, of whom Danielle Belton, a writer and blogger at blacksnob.com, is typical, have said Kwanzaa is "a nice idea," but one that she doubts resonates with most African Americans.
"You have entrepreneurship and education, which sounds great in theory, but how does that rival holidays that are about food, fun and love?" Belton asked. "Even if you remove Jesus from Christmas, it's still just awesome with all of the lights and music."
Belton boiled the problem down to its nut: "It's just a hard sell."
Many Kwanzaa observers don't pit the holidays against one another, but blend them together as part of the overall holiday season. The day after Christmas, the Pattersons will pull out the Kinara and candles, and on each of the seven nights of Kwanzaa, they will sit around the kitchen table (or around the computer screen), and discuss the year that they've had and the principle of the day. They use the mkekka, another Kwanzaa prop, that her father and brother made. In the past they also used a grass mat that has since frayed and fallen apart after years of use.
"When I was younger, it was just part of the holidays. But now that I'm older, I can definitely see how much it helps keep us together, no matter how far apart we are," she said. Her parents had started the tradition before Patterson and her brothers were born, and through their childhood years, it was a staple to the holidays. Her memories of her family gathered around the kitchen table each night still fill her with joy, she said. Each year there were laughs and tears, but they were always shared with her family at that table during Kwanzaa.
"I remember during my teen years. Like, 'Ugh, this is so emotional!'" she said. "In my life I think it has given me the ability to address situations and not feel alone, especially when you move out and move to different places."
Aonya Barnett, a homemaker from Witchita, Kansas, said that she was introduced to Kwanzaa by an aunt when she was about 12 years old. Now that she has a family of her own, a 7-year-old and twin 3-year-old daughters, she and her husband use the holiday as a way to connect to their heritage. But they wanted to put their own twist on things.
"I didn't want to do it in the typical way. We weren't going to dress up in kinte cloth or anything, but we were going to find a way to connect to our heritage and culture and values."
So they skip the Kinara and grass mats and instead find practical ways to share the seven principles. They donate to the Salvation Army or give food to the homeless. They join others in the community at Kwanzaa programs or readings at the local library. Recently, Barnett and her family adopted another family whose mother had recently been murdered, and in helping them in their time of need, there was a teaching moment for her daughter, just in time for the holidays.
"We don't just stay in the house and light candles," she said. "We go out into the community."
That participation on a larger stage, that feeling of being a part of something larger than one's self, may be at the core of what keeps this holiday tradition alive.
"I think it's very relevant in our community," said Dorance Kennedy, a minister and founder of Visions of Empowerment, a speakers bureau that focuses on community involvement and yes, Kwanzaa. "The principles Kujichagulia and Umoja are about unity and about building our own. In this country, we are still fighting for jobs and justice in the black community."
Indeed, the giving of simple, homemade or affordable gifts is appropriate for these tough economic times, some adherents say.
Tinselyn Simms-Hall, the mother of a 4-year-old boy in Maryland, said that she grew up as an only child, but one Christmas in particular changed her entire perspective on the gift-giving holiday. She was 8 years old and had a long list of toys that she wanted, including a Nintendo, a baby doll among other things. Her dutiful mother got nearly every item on her list and hid the gifts in the trunk of her car.
A couple days before Christmas, the car was stolen.
"When I woke up and saw my mother crying because she didn't have any gifts for me, that put everything in perspective," she said. "It just seemed horrible that she felt that way."
From that day on, she said, she has determined that material things would never define the joy she or her family would experience around the holidays.
Simms-Hall, her husband and son are joining Davidson and a larger group for Kwanzaa this year.
"Sometimes people don't want to have to deal with the stigma of celebrating Kwanzaa," she said. "But I think once people step forward and do the process, everyone can identify with the principles."
Calling all HuffPost superfans!
Sign up for membership to become a founding member and help shape HuffPost's next chapter
BEFORE YOU GO