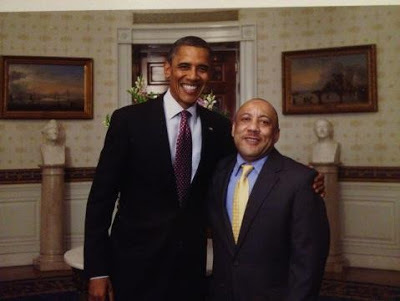 As an African-American transgender woman living in the 21st century, I recognize that the only way to get full transgender equality and rights is through laws passed by the states and the federal government. Our current president, Barack Obama, is the only United States president who has gone on record in support of inclusion for transgender people, even before he took the oath of office in 2008. The passage of laws will enable trans men and trans women to get their rights protected. I am a student of the law and recognize its importance and necessity for transgender equality.
Kylar W. Broadus is a professor, attorney, activist and public speaker from Missouri. He is an associate professor of business law at Lincoln University of Missouri, a historically black college where he previously served as the chair of the business department. He has maintained a general practice of law in Columbia, Missouri, since 1997. In February 2011 he was awarded the National Gay and Lesbian Task Force's Sue J. Hyde Award for Longevity in the Movement. He was featured on BlackEnterprise.com discussing his personal experience with workplace discrimination. In 2010 he founded Trans People of Color Coalition (TPOCC), the only national civil-rights organization dedicated to the needs of trans people of color. He currently serves on the board of the National Black Justice Coalition and was the board chair from 2007 to 2010.
I met Kylar many years ago at a community meeting and saw his passion and drive for the transgender community. I am saddened by so many suicides and murders of transgender people in 2014. But we must continue to fight for the right of our youth to safely be their authentic selves. 2015 is a new year, and the fight for transgender equality still goes on, and I appreciate legal minds such as that of Kylar, who uses the law to educate and enlighten the world about the transgender journey.
In 2012 Kylar made history by becoming the first openly transgender person to testify before the U.S. Senate. He was speaking in favor of the Employment Non-Discrimination Act (ENDA), which, if passed into law, would prohibit employment discrimination on the basis of sexual orientation and gender identity. His truthful speech touched me then, and he continues to fight for transgender people now. Here is his testimony before the Senate:
I recognize the achievements of all my trans brothers and sisters over the last year, but Kylar Broadus is my selection for Transgender Person of 2014. My message to all my trans brothers and sisters in 2015 is this: Don't give up. If you need help, reach out. Don't be ashamed to ask for help if you need it to keep moving forward. As always I say, rise, stand tall, and be proud of your authentic self.
Popular in the Community