A varsity football starter, 16-year-old Kyle Braid led naturally. A standout among his peers for an inclusive, inspirational attitude in addition to exceptional athletic ability, Kyle's positive presence created a deep, wide imprint at an early age.
Following his sophomore season, one of Kyle's Florida high school football coaches informed him that he would captain the following year's team, urging Kyle to work hard to build his speed, skill and strength.
To Colleen Malany, Kyle was much more than a leader. He was her only child, the fulcrum around which she balanced her life and a constant source of pride, joy and fulfillment. He was all that, and much more, right up until Feb. 28, 1994. In an impulsive flash during the middle of a second six-week steroid cycle as he tried to bulk up the fastest way he had heard was possible, Kyle died by suicide.
As Colleen talked about Kyle with 200 students and alumni mentors taking part in a recent University of Illinois leadership development program, I found myself frequently wiping tears, in part thinking about the horror of being a parent subjected to the worst imaginable pain and in part contemplating my own struggles with depression-driven suicide ideation as a teen. Several fellow alumni mentors, including many who had met Colleen but didn't know her history, had to leave the room. Other mentors and student Imprint leadership program participants focused intensely on every word.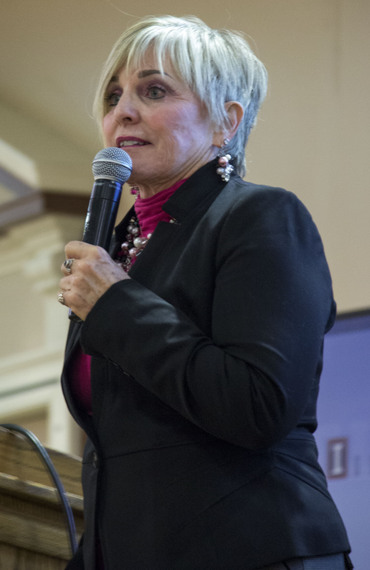 Colleen acknowledged that she still cannot accurately describe the agony that tormented every moment in the days, weeks, months and years following Kyle's loss. Colleen's story, though, doesn't just reach an ending with losing her son. It also starts there.
"We had to find a purpose, some way to take Kyle's life, to take our experience, and turn it into a gift for others," Colleen told us. "It was the only way to make sense of our pain."
As she and then-husband Ken Braid grieved, they considered the best way to memorialize Kyle's life. They found it in creating a program to provide high school student leaders with the skills to create even broader impacts within their schools and communities. Colleen and Ken created the J. Kyle Braid Leadership Foundation. They built a ranch in Colorado to host weeklong training experiences as part of two-year student leadership commitments. Over its first 20 years, the JKB Leadership Foundation trained and developed nearly 3,000 student leaders.
"I miss Kyle, but had his bigger mission not taken him, I never would have had all of these incredible young adults in my life, as well as the many adults I've met because of the foundation. Thousands of people know about Kyle, think about Kyle. This connection never would have happened had he still been here," said Colleen, who finds herself referred to by some program participants as Mama C. "I went from being dedicated to one child to having a small place in the development of more than 3,000 terrific young men and women, many of whom are now raising children of their own."
When more tough transitions faced Colleen, including the end of her marriage to Ken and the 2014 dissolution of their foundation partnership, Colleen could have considered her mission to memorialize Kyle accomplished. Instead, with the Colorado ranch no longer an option to host the intensive on-site training, Colleen searched her network for other options.
Colleen formed the JKB Experiential Education Foundation while securing hosting partnerships with Monmouth College, Western Illinois University and the Two Rivers YMCA. "The students can't whitewater raft here, but we kayak and paddle board on the Mississippi River, challenge ourselves on a low-element ropes course and tackle other physical challenges long part of our program while maintaining full commitment to the mental aspects of leadership and personal development," Colleen noted.
As she concluded her comments on dealing with transitions, networking and creating an impact to University of Illinois leadership students, Colleen made it clear why she carries on with such important work. "No one gets to chose which tragedies occur in our lives," she said, "but instead of asking myself why do bad things happen to good people, I focus on what do good people do when bad things happen."
From the worst of tragedies, Colleen Malany chose to create the gift of transformative experiences for others.
Twenty-two years after losing Kyle, she still wells up in tears talking about him. But his memory nourishes her, just as Mama C does for every student she and the foundation help develop and for every life those students touch with what they learn.
Related