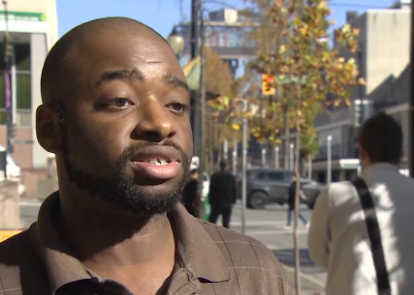 Canada has rejected the application of an African-American who applied for refugee status on the grounds he was facing police racism and brutality in the United States.
Ron Yamauchi, an IRB board member who wrote the decision, acknowledged that black people in the U.S. are "stopped and questioned by police at the highest rate compared to other racial groups," the CBC reported. But the decision argued that Canty personally did not have a "well-founded" fear of persecution in his home country.
"His removal to the United States of America would not subject him personally to a risk to his life or to a risk of cruel and unusual treatment or punishment," the decision read.
At his October hearing, Canty argued that black people in the U.S. are "being exterminated at an alarming rate" and said he feared for his life. He cited high-profile cases like the deaths of Michael Brown and Eric Garner as evidence.
Canty faces criminal charges in multiple states for misdemeanors including jaywalking, threats and intimidation, trespassing and disorderly conduct, according to reports. But Canty told Vice in October that these charges are false -- the result of police targeting him because of his race.
He told Vice in an email this week that he won't be appealing the decision because he has become disillusioned with the Canadian government. But, he noted, "I still hate America."
Popular in the Community