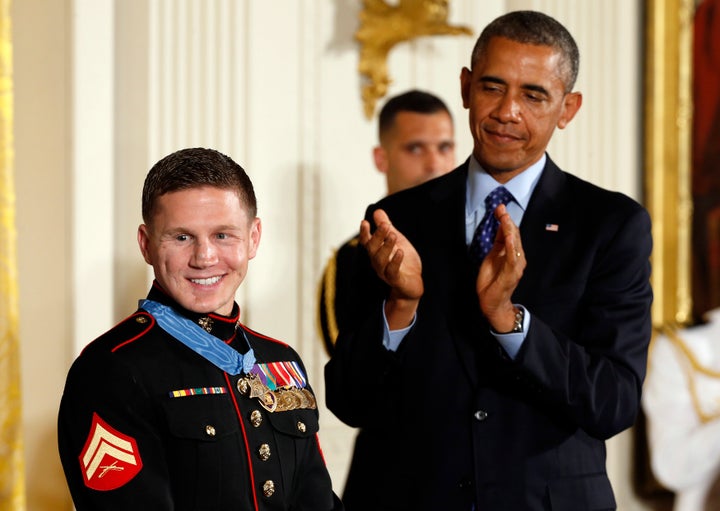 A 26-year-old veteran, who was awarded the military's top honor last year after taking a grenade blast in Afghanistan to save a fellow Marine, was charged with hit-and-run Thursday in South Carolina.
Medal of Honor recipient Kyle Carpenter turned himself in to Columbia police over the Dec. 8 incident, in which he allegedly took an improper left turn, clipped an 18-year-old pedestrian crossing the road, and subsequently left the scene.
The unidentified pedestrian, who suffered scrapes and an injured leg, refused treatment from first responders, according to The State. Carpenter reportedly pulled over and flipped on his hazard lights after the collision, but left when the pedestrian moved to the sidewalk.
Investigators reviewed surveillance videos from the intersection and all evidence pointed to Carpenter's vehicle, The State reports. Police say Carpenter has been cooperative with the investigation.
In addition to hit-and-run, Carpenter has been charged with making an improper left turn. Both charges are misdemeanors. He bailed out of jail Thursday morning.
The veteran received the Medal of Honor from President Barack Obama in June 2014. "This United States Marine faced down that terrible explosive power, that unforgiving force, with his own body, willingly and deliberately, to protect a fellow Marine," Obama said at the time.
Carpenter was wounded in 2010 at a patrol base in a small Afghan village in Helmand province. His injuries required almost 40 surgeries and multiple skin grafts, leaving him with a prosthetic eye, a new jaw and teeth, and "one hell of a smile," Obama said.
After the ceremony, Carpenter told reporters that as the president placed the blue ribbon around his neck, he felt the weight of history ― from the deadly trenches of World War I to the sounds of his fellow Marines calling for help by radio as they bled in Afghanistan.
"I accept this honor with a heavy heart," Carpenter said. "Freedom is a powerful and beautiful thing."
The Associated Press contributed to this report.
Popular in the Community