In 2013, both "Zero Dark Thirty" and "Argo" were nominated for Best Picture at the Oscars. The latter, directed by Ben Affleck, went on to win. The following year, "The Wolf of Wall Street" nabbed five Academy Award nods. And in 2015, "Carol" gained critical acclaim and competed for six golden statues on Hollywood's biggest night.
This year, Kenneth Lonergan's film "Manchester by the Sea" has landed on a bevy of year-end lists and was named the best film of 2016 by the National Board of Review. The movie has already earned three Critics' Choice Awards, four Screen Actors Guild nominations and five Golden Globe nominations. Let's just say chances for a few Oscars are pretty high.
But what do all of those movies have in common? Well, Kyle Chandler, of course.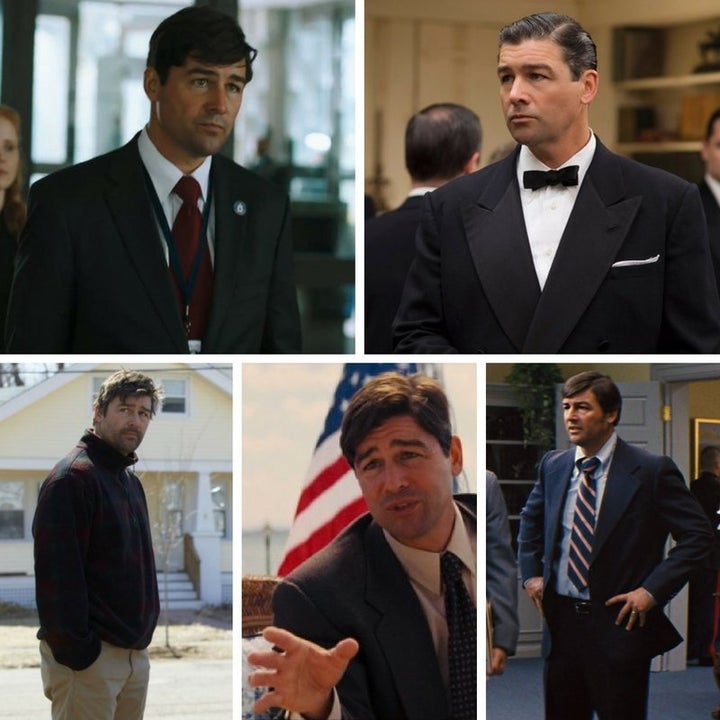 The Emmy winner, who is best known for his beloved role as Coach Eric Taylor on the TV series "Friday Night Lights," played supporting roles in the five films mentioned above. Chandler himself has never been nominated, but he's clearly earned a different prize: awards season's lucky charm.
"I don't know about that," he told The Huffington Post in a recent interview, laughing at the concept. "I'll tell you what, I'm lucky to be involved in all those films."
In actuality, five of the last seven movies Chandler was part of became Oscar hits. The 2013 Sundance prizewinner "The Spectacular Now" and the political thriller "Broken City" were the two movies that didn't compete for gold, but neither went unnoticed. In fact, "The Spectacular Now" earned two Independent Spirit Award nominations and a handful of critics' accolades. And now, believe it or not, Chandler's next indie, "Sidney Hall," is already surrounded by buzz.
These supporting roles keep being offered and the people who have been involved in the films, you can't say no to, you know?

Kyle Chandler
There's no mystery behind why Chandler is cast in notable films: the 51-year-old actor is a memorable force on screen. His voice is one of a kind. He gives amazing pre-game pep talks. He plays a great CIA chief/FBI agent/authority figure, and he knows how to be a jealous husband when it's needed. It appears Chandler always has the upper hand when it comes to playing men in charge ― he makes you believe he's got everything under control, whether it be within an agency, administration or familial structure. ("You need a guy who's grown up, and a lot of actors don't seem grown up, no matter how old they get," director Todd Haynes said in 2015, explaining why he cast Chandler in "Carol.") With his latest role, Chandler proves he's got the skills to make you feel all that plus true, wrenching heartbreak.
Chandler, oddly enough, plays Joe Chandler in "Manchester by the Sea," a movie riddled with both extreme grief and laugh-out-loud humor that you don't know which emotions to embrace as the movie unfolds. The story revolves around a Massachusetts handyman, Lee (Casey Affleck), who is assigned guardianship of his teenage nephew, Patrick (Lucas Hedges), after his only brother (Chandler) dies. Although he moves back to his hometown to care for Patrick, Lee is facing darker demons that prevent him from truly tackling the role of father-figure.
"I found the script very uplifting as opposed to depressing," Chandler said when asked about the film's somber undertones. "I find that the character I play was actually freeing my brother from a possible lifetime of imprisonment, and I was giving him the option and the choices to free himself from his past pain by being the one who's able to do the right thing for my son. And if I was going to look at the ending of the character, I would say my brother did the best he could do for who he is and that's what I wanted him to do before I passed away."
Lonergan's screenplay affected Chandler so deeply that he knew he had to be in the film. So, he did his very best to convince the writer and director to hire him. "I read the script twice in a couple of hours because it moved me so much. I thought I was being tricked or something," Chandler explained. "The next morning, I went and I sat for an hour with Kenny, [and we] talked about what I'd like to do with the character and what he did, and we had a great breakfast. I walked out of there 10 feet tall, thinking, 'Wow, I hope he chooses me for this.'"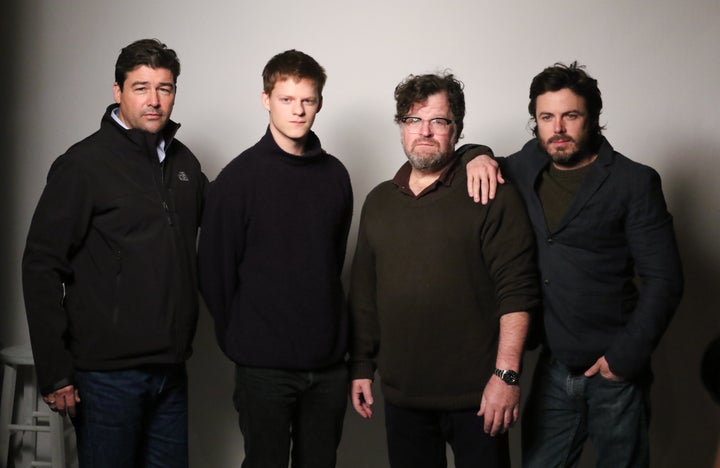 Chandler feels that way about most of the films he's involved with as of late. Although he no longer needs to audition ("I was always terrified of auditioning, to be quite honest"), the actor reads dozens of scripts and usually can't believe the immense talent behind the projects he's pitched.
"I've never truly gone against my gut feeling," Chandler said. "But a lot of these you don't even have to worry about having a gut feeling. When you meet Martin Scorsese and he says, 'Ah, I think you'd be good for this.' You feel like, 'OK! I think so, too.' I've been so very fortunate. You look at the directors on each one of the films that you mentioned, they're really impressive people who are really good at what they do."
Still, Chandler is always a supporting player in a field of lead actors, which has included Ben Affleck ("Argo"), Jessica Chastain ("Zero Dark Thirty"), Leonardo DiCaprio ("The Wolf of Wall Street"), Cate Blanchett ("Carol") and Casey Affleck ("Manchester by the Sea"). He insists he's fine with that, but it doesn't mean he's not eager to take on a headlining role. In fact, the funnier, the better.
"These supporting roles keep being offered and the people who have been involved in the films, you can't say no to, you know?" he explained, referring to directors like Scorsese, Haynes and Kathryn Bigelow. "I've never had a lead role in a feature and that's the next brass ring that I'm looking for. That's one pursuit that I have not hit yet. But until then, I'm very happy with where I am," Chandler added with a chuckle.
He's never seemed to have a problem nabbing a lead role on television, however. The actor once again played an authoritative but lovable family man on NBC's "Friday Night Lights" for five seasons. His portrayal of football coach Eric Taylor earned him numerous accolades, including an Emmy Award for Outstanding Lead Actor in a Drama Series in 2011. More recently, he stars in Netflix's original series "Bloodline" as John Rayburn, a Florida sheriff dealing with family crisis after family crisis as a protective son and brother. Again, Chandler received Emmys love, being nominated twice for a role that mirrors a lot of his past work. Hollywood has a tendency to pigeonhole him into this stern, endearing character arc, something Chandler is well aware of.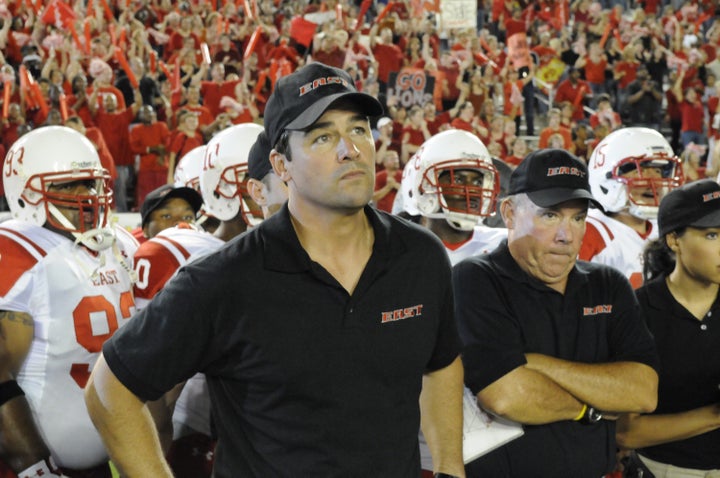 "There's this gravitas that for some reason I get hired for these heavy roles, and I love comedy," he admitted. "I cannot wait to get hold of a comedic script. A dark comedy, a situational comedy — anything comedy! Because I haven't done anything fun like that in so long."
An invitation to this year's most prestigious award show would be fun too, but that's a whole other thing Chandler isn't so sure about. Believe it or not, he's never even attended the Oscars: "They won't let me in," he joked.
Standing on the sidelines of awards season doesn't faze him, though. "When I get a chance to go, that's awesome. Fantastic. Great," he said. "But if I'm not invited, I'm not bothered by it at all."
Chandler "truly" believes the Oscar buzz surrounding "Manchester" is deserved. Despite having some anxiety about taking on a Boston accent for the film ("The thing that worries me the most is people from the area. If they don't buy it, it's just a big fail"), Lonergan's dedication, Affleck's immersion into his character and the crew's tireless efforts made Chandler quickly realize that this project was something special. If it wins, he'll be proudest of the teamwork involved.
When you go and you win an Emmy, you're not standing up there, saying, "Hey, look at me, I won an Emmy. I'm so proud of myself." You just happen to be the grinning fool who's standing up there holding the statue.

Kyle Chandler
"Within just wanting things to do well, it's not just you. You're striving for all the people who work around you and the whole project," Chandler said of awards season, admitting he doesn't "strive for nominations."
"When you go and you win an Emmy, you're not standing up there, saying, 'Hey, look at me, I won an Emmy. I'm so proud of myself.' You just happen to be the grinning fool who's standing up there holding the statue," he added. "Without everyone else, then you're on the sidelines. But in that sense, you're never on the sidelines as long as you have a job because you're always having fun doing what you want. Like I always say, that's why they call it a play. It's play. So it's a good living."
Before ending the conversation, we asked Chandler what his next Oscar-nominated film would be. The actor couldn't help but joke a bit.
"It's probably going to be a comedy and I'm going to be the lead in it. And it will be shot in black-and-white. Old, beautiful, grainy, nickel-like nitrate. That would be fantastic."
"Manchester by the Sea" is now playing in select theaters.
Calling all HuffPost superfans!
Sign up for membership to become a founding member and help shape HuffPost's next chapter
BEFORE YOU GO
PHOTO GALLERY
The 21 Best Movies Of 2016