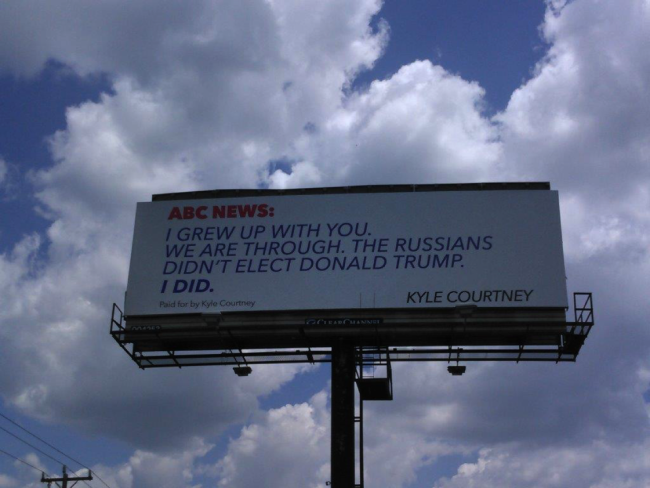 Is it a sign of the times or simply the eccentric reaction of one person?
A Donald Trump supporter in Boerne, Texas, has paid for a billboard telling ABC News he is angry they are covering a legitimate news story.
Of course, he didn't phrase it in exactly those terms.
Kyle Courtney grew up watching ABC News, but he's angry that the network keeps harping on all those pesky allegations of Russian interference in the 2016 election.
Courtney decided to make his thoughts very public this week with the billboard in the city about 40 miles northwest of San Antonio, Texas, that says:
"ABC News: I grew up with you. We are through. The Russians didn't elect Donald Trump. I did."
It should be noted that Courtney didn't actually elect Trump, the Electoral College did. Trump won 30 states and 306 Electoral College votes even though about 3 million more people voted for Hillary Clinton.
Courtney, who runs a business drilling water wells, gave a statement to HuffPost elaborating on why he's angry:
"ABC News was the only channel I watched as a child growing up in Texas but I think they have lost touch with America and forgotten the working man. They don't represent our voice anymore. Hillary Clinton's presidential campaign was funded by the Clinton Foundation in close coordination with the media, and now we're seeing them try to fix what they couldn't fix during the election. They are doing everything they can, night after night, to create narratives and sway people's direction to impeach Donald Trump. Our democracy is at stake when a major political party and the media are in bed together. I'm not asking anyone to boycott the Democratic Party. I'm not in the brainwashing business, but the liberal media is."
He says the support he's getting for his breakup billboard is overwhelming.
"I'm considering starting a GoFundMe campaign to raise money to buy up vacant billboards for various Trump supporters who otherwise couldn't afford it to make their voices known," he told HuffPost by email.
Courtney also says he won't change his mind about ABC even if the evidence proves Trump's campaign colluded with Russia.
"This was not an easy decision. For 35 years I have watched how their agenda has changed. This didn't just start with Donald Trump, I watched them systematically destroy George Bush and hand us Barack Obama on a silver platter."
Part of Courtney's issue with the media, he said, is that much of its coverage relies on unnamed sources.
"I grew up in America where we were not afraid to say who we are and what we stand for, as witnessed by my billboard," he said.
He added that he has the same negative reaction to pro-Trump stories that don't quote sources by name.
"Any story that cites an unnamed source is giving someone an opportunity to lie," he said.
A spokeswoman for ABC in New York, asked for a response, emailed HuffPost: "Thank you for the heads up. I'm sorry we don't have anything to add."
This story has been updated with additional comments from Courtney.
Before You Go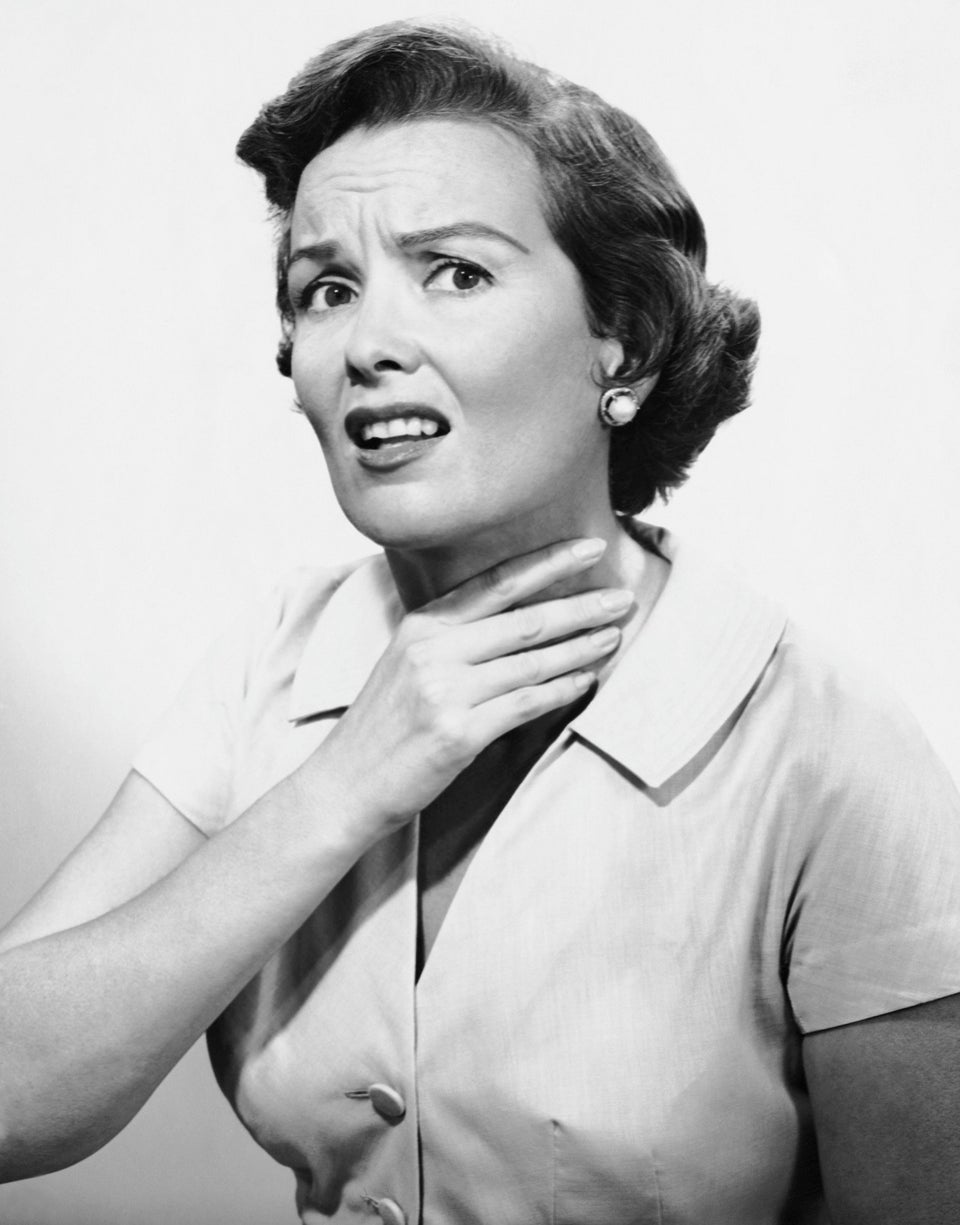 Signs You May Suffer From Being A Trump Supporter
Popular in the Community