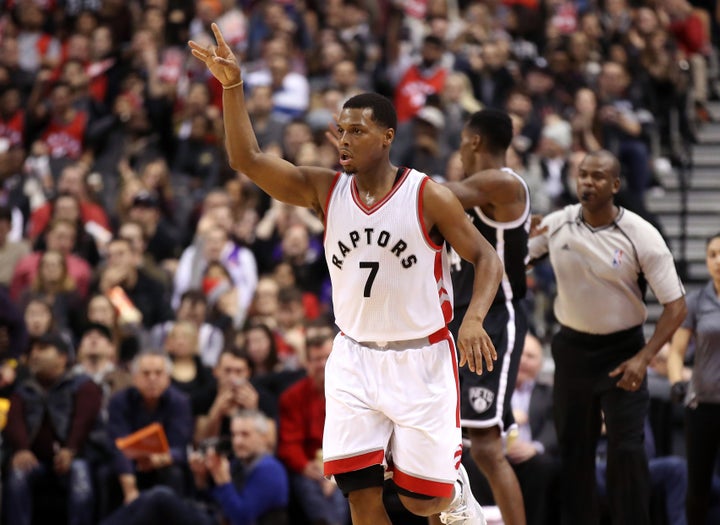 "I think it's bullshit," Lowry said Monday. "I think it's absolute bullshit."
"I'm not going to get into it too deeply," Lowry continued. "But personally, I think it's bullshit."
When another reporter asked him if he could give his opinion without swearing, Lowry declined.
"No, not at all," Lowry said. "Y'all gotta bleep that out."
The NBA scrambled this weekend to figure out how the executive order, which Trump signed Friday night, would affect two of its players: Milwaukee Bucks forward Thon Maker and Los Angeles Lakers guard Luol Deng. Both were born in what is now South Sudan ― Sudan is among the seven countries named in Trump's order ― and are dual citizens (Maker is Australian, Deng is British). Maker was able to return to the United States from Toronto on Friday night after a game against Lowry's Raptors, but the NBA still said it was seeking clarity from the State Department on how the order would work.
Deng tweeted on Monday that he was a "#ProudRefugee." 
"I would not be where I am today if it weren't for the opportunity to find refuge in a safe harbor," an accompanying statement said.
At least two NBA coaches also spoke out against the ban over the weekend. San Antonio Spurs coach Gregg Popovich called its hasty, confusing implementation "Keystone Kop-like," while Golden State Warriors coach Steve Kerr ― whose father was killed in a terrorist act in Beirut in 1984 ― went even further.
"I would just say that as someone whose family member was a victim of terrorism, having lost my father, if we're trying to combat terrorism by banishing people from coming to this country, by really going against the principles of what our country is about and creating fear, it's the wrong way to go about it," Kerr said. "If anything, we could be breeding anger and terror, so I'm completely against what's happening. I think it's shocking and a horrible idea and I really feel for all the people who are affected and the families that are being torn apart and I worry in the big picture what this means to the security of the world."