The Stanford Prison Experiment is an endlessly interesting film about the actual study conducted by a Stanford University psych professor and his grad students in 1971. The experiment demonstrated the effect prison has on human behavior. This is an urgently important piece of cinema in a world bursting with violent news headlines. I got to sit down with Kyle Patrick Alvarez to chat about the movie and his history as a filmmaker.
How'd you get started in film?
I loved movies when I was a kid, ya know? I didn't make a lot of movies growing up. I wasn't one of those people who was shooting movies in my backyard or anything like that.
I don't who those people are.
I know, right? But it's interesting, even when I got to film school, everyone kind of starts to try to show off and be like, Look at this music video I made or this short I made. And I had nothing. So there's a sort of an intimidating factor to that, but I felt what I had was watching film and really loving movies and watching a lot of movies. But the transition for me when I moved out here to make films was kinda like, 'Okay, well, wait a second, those are the movies I like.' And you ideally want to make the movies that you like watching, but at the same time you have to listen to yourself or like what is it you have in you? What is it you have to talk about or to say? And that took me a while, I think, to understand. But anyways, I just always loved film and it was really hard for me to imagine doing anything else.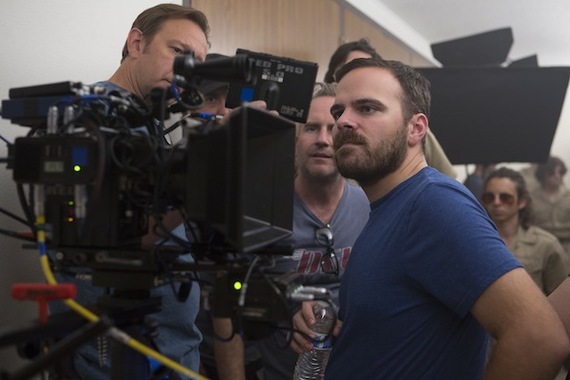 Jas Shelton (Cinematographer) and Kyle Alvarez (Director) shooting Kyle Alvarez's THE STANFORD PRISON EXPERIMENT. Courtesy of Steve Dietl. Copyright STANFORD PRISON, LLC. An IFC Films Release.
So then why do you think you make films?
There's not one reason. I think film is this great art form because it takes so many artists to create it. A painting is a brush on a canvas. You can't say that with film. Film is performance, so it's theater, it's music 'cause there's composition, it's photography, it's so many of these [elements] combined. You have all these elements that come to define the story, right? So you try to use all of those to the best effect you can to create a sense of feeling or a mood or whatever it is. And that's exciting to me because it requires the work of so many people. I'm not really an auteurist that way. I don't really think it's all about me, by any means.
Have you read that Sam Mendes article where he says that music is a superior art form?
I don't feel that way. Dustin Hoffman recently said film is the worst it's ever been now and everything.
Yeah, I want to be like, "Well, who's telling you what movies to watch? I'm sorry, did you not see Blue is the Warmest Color?" I liken it to when you listen to oldies on the radio. You're like, Oh man, music used to be so great. Wait a second, no. We're just hearing the best. So with films, we're just watching the best. People forget that studios used to make like hundreds of movies a year. Most of them are lost... I just like film because it has that increasing challenge, you're trying to capture so many different things. For me, there's certain things I prioritize. I will always prioritize actors. Because you can put three great actors in a shitty room with a shitty script and come up with something great. You can't do it the other way around.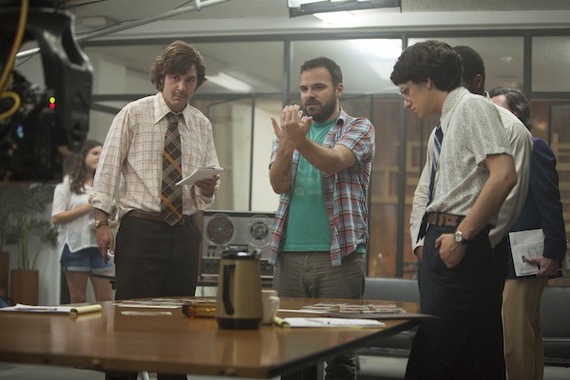 James Wolk (Mike Penny), Kyle Alvarez (Director), Matt Bennett (Kyle Parker), Gaius Charles (Paul Vogel), and Billy Crudup (Dr. Philip Zimbardo) in Kyle Alvarez's THE STANFORD PRISON EXPERIMENT. Courtesy of Steve Dietl. Copyright STANFORD PRISON, LLC. An IFC Films Release.
How would you respond to the criticism that your movies are too white?
Well, in this case, my answer to that is would just be that we followed exactly what it was. There was one Asian guy in the experiment. He was Chinese and we ended up casting a Korean guy.
What about your first two movies?
I think my first one (Easier with Practice)--it's a bit spoiler-y, but the movie's eight years old now--I think, specifically, deals with race in a really interesting way, actually. SPOILER ALERT! At the end of the film it's sorta revealed this person--he thought was a beautiful woman this whole time--was actually a shy, gay black man. And a large part of what that story was was that character feeling isolated enough to create this other persona. So I think that race played a very subtle, but important part in that. And then C.O.G. was just really about white people. In fact, it's making fun of white people a lot. Part of that movie was trying to--not so deliberately--but was trying to sort of dissect the usual, indie, white man experience film. Which is guy goes on the road and finds himself, blah, blah, blah. I was trying to make the film that was the antithesis of that. Which is guy goes on the road and ends up worse than when he started off. That was sorta the aim, so in a weird way I think it's sorta critical of that [lack of diversity]. I'm actually eager, being a minority myself--I don't wear my minority, so I don't say it as a victim--but being a first generation American it is important to me, and it's something I actively do look for in movies. It's a really tough thing, but at the same time it is something that is on my mind a lot. I do think diversity is essential, and I'm glad it's a conversation that people are having on a much bigger level. With gender and race, I think you see it come up more.
The Stanford Prison Experiment is in theaters now and on VOD July 24th.
Related
Popular in the Community