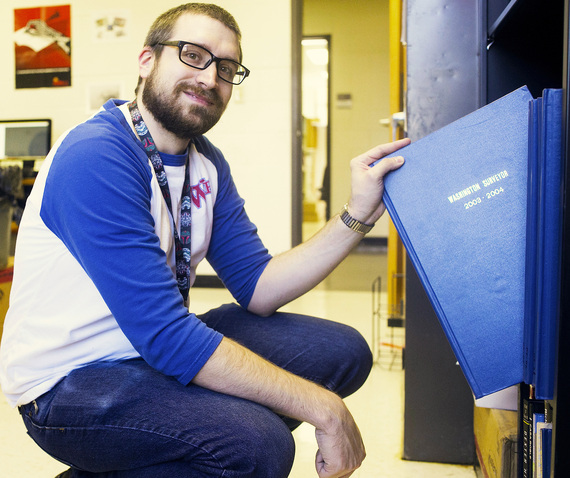 "I got into teaching knowing that I wanted to be a newspaper and yearbook advisor because I loved those classes so much in high school. I left high school thinking I would become a photojournalist, but after a volunteer opportunity in college, I found I liked working with high school students in an educational role. So after a couple of years doing that, I switched my focus and decided to get into education.
I was very fortunate -- I'm really glad that my school took a chance on hiring a first-year teacher. I get to work with students who aren't just writing a paper that I'm going to read; their work is going to be read by everyone in school. We also started a student news website my first year here, so theoretically we've got a worldwide audience for our work."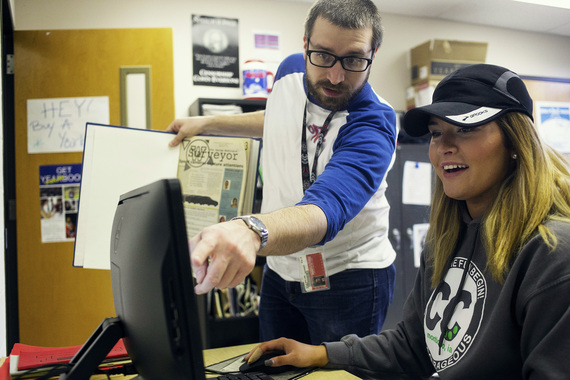 Everything starts here.

"At Wash, we've got a pretty diverse group of students. About 35 or 40 percent are people of color, and our administration has set up a culture that really embraces and celebrates that diversity. We have several events throughout the year where we interact with and learn about other cultures. If someone walked into my classroom on any given day and didn't know where they were, I doubt they would guess they were in Iowa, given the stereotypes out there.
My students are such a driven and bright group of kids. Oftentimes, I find that they tend to be taking all AP classes except for journalism or yearbook. They all have college in mind for the future. Part of the reason I love advising a publication is because it helps prepare students for working in the real world, no matter what profession they wind up going into. They develop the drive to dig for the best information possible, and understand the importance of making responsible choices and meeting deadlines. After they graduate, I love seeing when they win awards in journalism or when they show me the work that they're continuing to do once they leave high school. I've had students write for online magazines or that are members of university newspapers, so they're still practicing what we started together. That's the best part about teaching."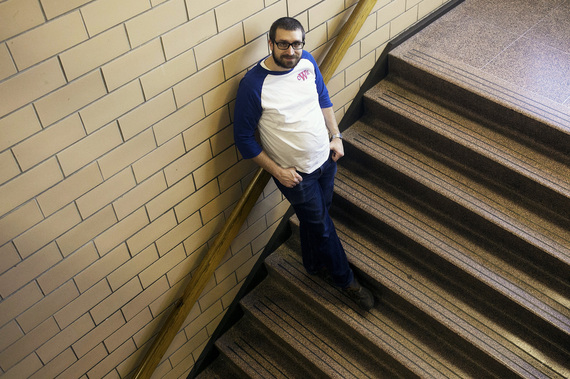 "Sometimes as a teacher, you feel like a punching bag. It seems like we're expected to do more and more each year, with less and less. We had huge cuts this year from our governor in Iowa taking money away and leading to larger class sizes. We have such high expectations and then people say, 'you're lazy' or 'you're protected by the union anyway.' It can really get you down.
I think teachers are put under pressure from a lot of places -- parents, administration, the school board. All we can do is continue to work hard and try to make our classrooms a place where students aren't afraid to ask questions, think outside of the box, or fail so that they can try again in order to succeed."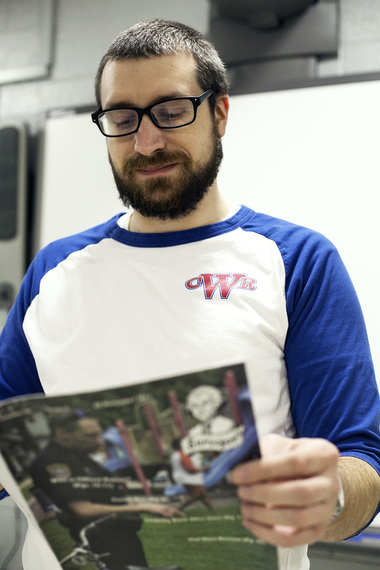 The support system we need.

"It's nice to have colleagues who support each other -- I think teachers really strive to help each other. I am so fortunate because I have a great faculty here. Whether I need a lesson about photography or a good worksheet or just a shoulder to cry on, those people are there to help you.
And without passionate and dedicated teachers in our public schools, what hope does the future have? We are a democracy, and we need an educated population. Teachers are the starting point. We're the ones trusted to make that happen.
If we renew support in public education, we'll be able to work together with government officials to make shifts in the right direction for today's learners. There are a lot of ideas out there and we need to work together with the ones controlling our funding to work on best practices and make changes in the classroom that work. I'm optimistic about the passing of Every Child Succeeds. I hope that the focus on a more well-rounded education will be beneficial to teachers like myself, whose main teaching load is elective courses where kids get to focus on things that interest them -- rather than having to be loaded up with classes that will best prepare them for a standardized test."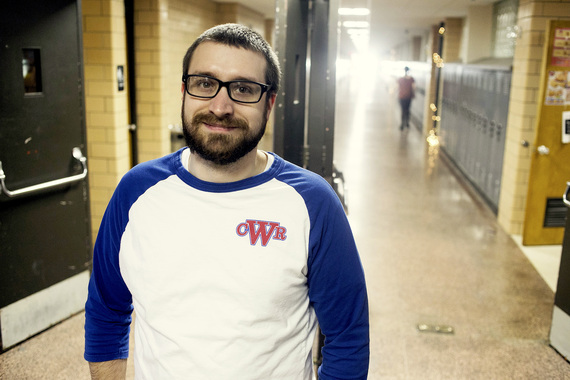 "In October of 2014, I was nominated by my peers in the Iowa High School journalism teaching world and awarded the Rod Vahl Teacher of the Year award. After the state conference ended, the students who attended with me all huddled together for a photo taken by one of the students who I had worked with at the Iowa summer journalism camp. It was a pretty cool moment for me -- having that photo with my students -- because in teaching, whenever you receive an award for doing well, it's always because of the work of your students.
They're the ones that motivate me. My students work so hard -- they're curious and they strive to put out the same quality journalism as you'd expect to see at the city paper. They want to do good work and they know they're working for an audience, so they want to inform them. Seeing them learning and loving journalism -- in a world where there's a lot of it out there, some better than others -- is what keeps me going."
Calling all HuffPost superfans!
Sign up for membership to become a founding member and help shape HuffPost's next chapter