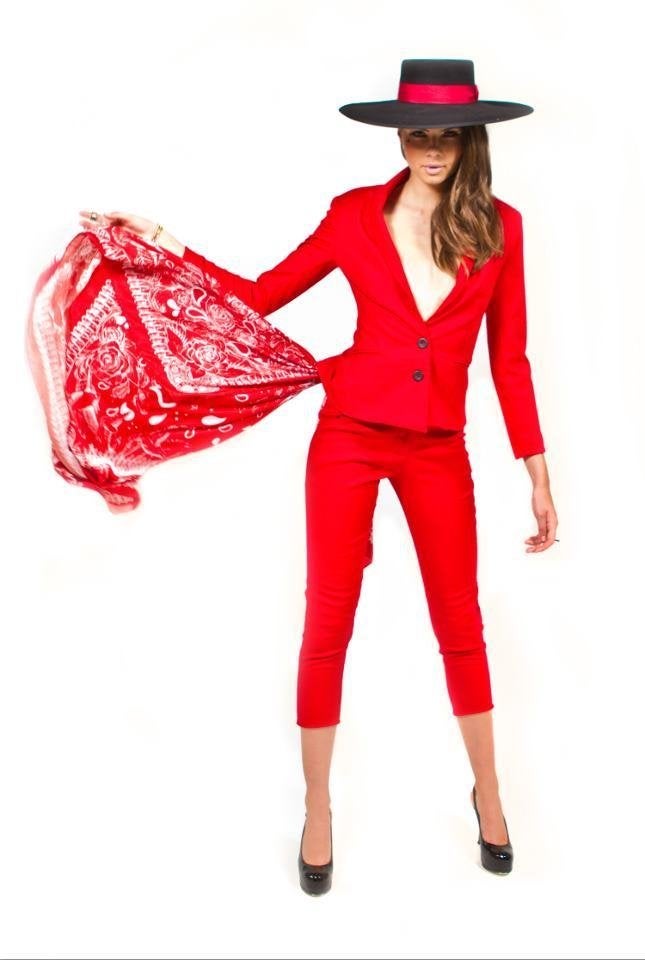 This Spring clothing line is making us cringe -- and not just because of its outlandish prints and clashing colors.
The debut collection by Colorado native Kyle Svendsen, called "Made in America," draws inspiration from some of Los Angeles' darkest days: the Bloods vs. Crips gang wars.
Svendsen, who grew up "idolizing" inner-city culture and listening to Ice Cube, incorporates imagery like bullets and gun holders into his mostly blue and red collection, notes Racked LA. And of course, it contains oversized silk scarves printed to represent red and blue bandanas -- perhaps some of the most overt symbols of gang affiliation.
"When I went to do my first collection, I wanted to do something that I strongly believe in," explained Svendsen to Racked LA at the launch party last Friday. We reached out to Svendsen to find out more about the beliefs that inform his collection, and will update the piece if he responds.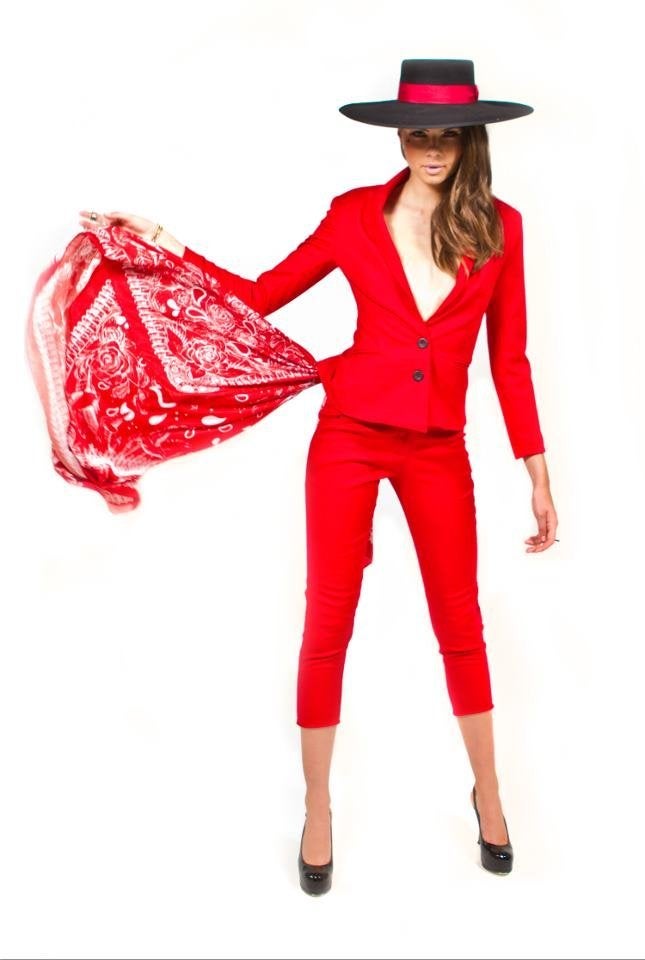 Kyle Svendsen's "Made In America" Collection
Fashion plays a huge part in gang culture, splitting communities along different color lines and affiliations. Leaving the suburban appropriation of inner-city culture aside (taking all of the flash, none of the burden), the collection is troubling in a number of other ways. Namely, the implicit glorification of gang culture and the fact that colors and garb are still very much at play among LA's gangs.
This passage from a 1988 New York Times story illustrates the precautions parents had to take with their children's clothing at the height of LA's gang wars:
The rivalry is carried to extraordinary lengths. A Blood will not ask for a cigarette because the word begins with a ''C,'' as in Crip; ''bigarette'' is preferred. Crips refer to Bloods as ''slobs.'' Parents carefully dress their children in brown, yellow or other ''neutral'' colors, and avoid buying British Knights brand sneakers because the initials have come to mean ''Blood Killer'' - a sign of disrespect in a Blood 'hood.
Of course, while LA's gang wars have petered out over the years, the city is still home to 450 gangs and 45,000 gang members. Gang-related violence is still very much a part of daily life in some parts of LA, and the recent murder of a 14-month-old boy shows that one can still be caught dead wearing certain pieces of clothing.
In June, Angel Mauro Cortez Nava was fatally shot while in the arms of his father, who was standing outside their home in Watts. Relatives told the Los Angeles Times that just before the shooting, they had asked father Mauro Cortez, 24, to remove his purple shirt because it could be misconstrued as a gang affiliation for the Barrio Grape Street gang. Fifteen-year-old Donald Ray Dokins, allegedly part of the Fudgetown Mafia Crips, was charged with the baby's murder.
UPDATE 9:31p.m.: We reached out to Kyle Svendsen to learn more about his "Made in America" collection. Here is our Q&A, reposted in full:
HP: What exactly inspires you about the Bloods and the Crips?

KS: The collection was not inspired by focusing on Bloods and Crips, I drew my inspiration from listening to 90's southern Californian hip-hop, and how rappers dressed. I wanted to explore a way to translate this into a bold, elegant and wearable collection for women. Thus the oversized shorts, oversized shirts, draped bandana and tank top dresses.

HP: Is this collection insensitive to the victims of LA's gang wars?

KS: If any offense has been taken, I apologize and stress that was not my intention. This collection may reference the associated 'gang colors' however, I do not intend to glorify or condone violence in any way.

HP: How do you hope Angelenos will respond to your collection?

KS: Thus far, I have had an overwhelmingly positive response to the collection as a whole. I hope that it is recognized for what it is: a contemporary Womenswear collection focusing on adapting stereotypically male shapes and oversized silhouettes to feminine, bold and elegant garments.
Popular in the Community