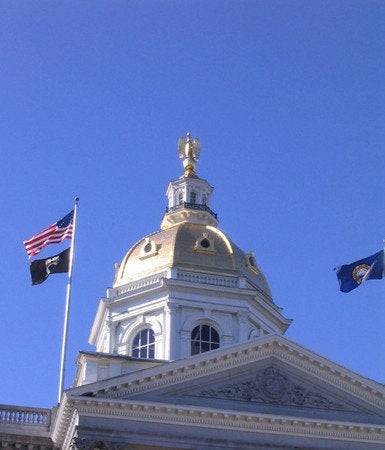 A Republican member of the New Hampshire House of Representatives who once posted a comment on Facebook about shooting at police officers accidentally dropped one of his guns on the floor at the start of a committee meeting Tuesday morning.
State Rep. Kyle Tasker (R-Nottingham) explained to onlookers that he had donated blood that morning and the effects caused him to drop his gun at the start of a House Criminal Justice and Public Safety Committee meeting. The committee was meeting to amend an abortion bill pending in the Legislature. The gun did not fire.
State Rep. Steve Shurtleff (D-Concord), a member of the committee, said that he was sitting three seats away from Tasker in the committee room when he heard "a clang" and saw that the gun was on the floor. Shurtleff said Tasker routinely wears two guns in a shoulder holster to legislative meetings.
"I was glad it was his blood that he was giving and not someone else's," Shurtleff told The Huffington Post.
Reporters in the committee room confirmed the account. Josh McElveen , a reporter for WMUR posted on Twitter that Tasker had said the blood donation left him "loopy." Tasker has not returned a call for comment.
The incident comes a year after the Tea Party-controlled House voted to allow guns in the Statehouse and the nearby Legislative Office Building. Shurtleff, a former deputy U.S. marshal, said he has been told that as many as 45 legislators, more than 10 percent of the full 400-member House, carry firearms to sessions.
"There are a couple of other members of our committee, about three or four, who are armed at any time," Shurtleff said.
The criminal justice panel was meeting to amend an anti-abortion bill, passed last week by the full House, to remove a felony provision. The original text said that a doctor who willfully does not follow the law's provisions -- which includes telling a woman that abortion causes breast cancer -- could be charged with a felony. The committee passed an amendment downgrading the crime to a misdemeanor.
Last year, Tasker came under fire for a post on the House Republican Caucus' Facebook page about the state's deadly force bill that involved shooting at police officers, a statement which he said was taken out of context.
"When a police officer points his firearm that's not gonna make me feel threatened? If I've been trained to respond to that with force am I justified in blowing a cop away because I'm quicker on the draw, and he already pointed his firearm at me? Police are just citizens with badges and all laws should apply equally," Tasker wrote, according to WMUR.
Tasker later issued a statement saying that it was part of an "intellectual discussion" of the bill and that he does not advocate shooting police officers.
Legislators who carry guns to work are not limited to New Hampshire. Last year, an Arizona state senator received media attention when she carried a small gun in her purse on the legislative floor two days after the shooting of former Rep. Gabrielle Giffords (D-Ariz.) in Tucson. The senator also pointed the loaded weapon at a reporter during an interview about the gun.
Popular in the Community