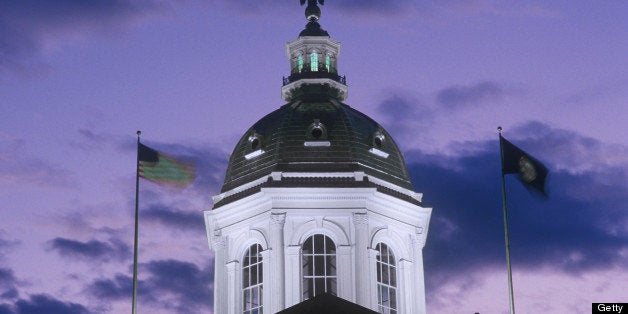 A Republican state legislator in New Hampshire is saying that he does not believe black women are unfit parents, despite his recent posting on Facebook.
State Rep. Kyle Tasker (R-Nottingham) said he posted a YouTube video from controversial Atlanta radio host Tommy Sotomayor on Facebook because it included footage of a black woman having an argument on a bus, then throwing her baby to someone before tackling another passenger. In the post, Sotomayor says after the footage that "black women are the worst stewards of children on the planet. They are the worst mothers by a long shot."
Tasker said he was not interested in that part of the video, which Sotomayor, who is black, originally posted in April and which Tasker placed on his Facebook page on Monday.
In response to a question from state Rep. John Burt (R-Goffstown) about whether Sotomayor is racist, Tasker responded with two back-to-back answers. "He thinks black women are the least fit people on earth to rear children," Tasker wrote in the first response, followed by "so not really" in the second.
Tasker explained to The Huffington Post on Tuesday that he does not believe black women are unfit to raise children. He stressed that his interest was solely in the woman tossing her child and not in anything Sotomayor said during the almost 10-minute video.
"I gave a non-definitive answer. I don't think he's a racist since he's black and has a problem with other black people. I think he's more sexist," Tasker said. "I am more interested in the first two minutes of the video, the woman throwing her baby against the wall."
Tasker said he does not believe the woman in the video represents all black women.
"I think that one particular woman is the least fit to raise a child," he said. "I don't think age, sex, or socioeconomic background have any correlation on parenting ability. I would think that one incident is a horrific example."
Although Tasker has explained that he does not agree with Sotomayor, New Hampshire Democrats were quick to pounce on him and demand that state GOP leaders, including U.S. Sen. Kelly Ayotte denounce the second-term lawmaker.
"Representative Tasker's comments are offensive and shameful; he is an embarrassment to the New Hampshire House of Representatives, to his constituents, and to the entire state," state Democratic Party spokesman Harrell Kirstein said in an email. "Sadly this is not an isolated incident. The NHGOP has become synonymous with the tea party's radical extremism, and Kelly Ayotte, Peter Bragdon, and Jeb Bradley have done nothing to halt the epidemic of shockingly inappropriate behavior by their fellow Republicans."
This is not the first time Tasker has raised questions with his comments on Facebook. In 2011, he posted on the House Republican Caucus' Facebook page a hypothetical question asking whether he should be blamed for shooting a police officer who pointed a weapon at him. At the time, a deadly force bill was pending in the state legislature, and Tasker later said that he was provoking an "intellectual discussion," not advocating shooting police officers.
In 2012, Tasker made headlines when he dropped one of the two guns he was carrying to the floor during a legislative committee hearing. He said that he was feeling "loopy" after he gave blood and that caused the gun to fall out of his shoulder holster.
Calling all HuffPost superfans!
Sign up for membership to become a founding member and help shape HuffPost's next chapter
BEFORE YOU GO
PHOTO GALLERY
Racist Remarks Made By Politicians