A little over a month ago, I went to the beach, put my resume in a bottle and threw it into the Pacific Ocean. No, I hadn't seen an ad on Craigslist from Poseidon looking for a new assistant; I felt that this attempt might be my only chance of becoming gainfully employed.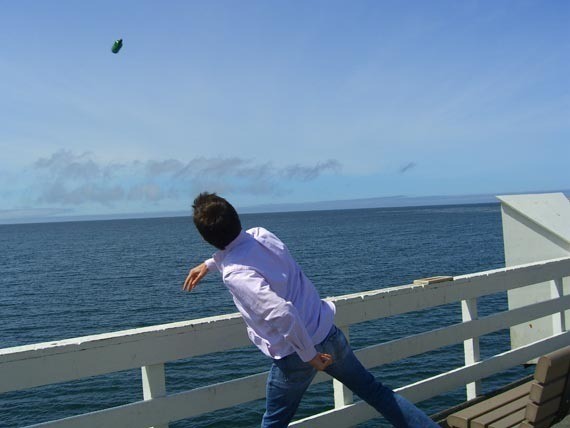 I never imagined that I would find myself at the end of a pier with my last hope of finding work floating off to the horizon. After graduating from one of the nation's top public universities, UCLA, with a degree in political science, I pictured myself beginning a successful career. I hadn't expected that I would land the most interesting or highest paying position. Still, no one goes to college these days with the hope that he or she will end up watching daytime TV on a regular basis.
I spent my time at UCLA preparing for the outside world. I had internships in congressional offices, political action committees, non-profits and even as a personal intern to a successful venture capitalist. These weren't the run-of-the-mill office internships; I worked in marketing, press relations, research and analysis. Additionally, the mayor and city council of my hometown appointed me to serve on two citywide governing bodies, the planning commission and the open government commission. I used to think that given my experience, finding work after graduation would be easy.
At this point, however, looking for a job is my job. I recently counted the number of job applications I have sent out over the past year -- it amounts to several hundred. I have tried to find part-time work at local stores or restaurants, only to be turned away. Apparently, having a college degree implies that I might bail out quickly when a better opportunity comes along. In the meantime, I have kept myself afloat working various odd jobs when friends and family need an extra hand.
It seems that often, my age and experience are doomed to fail me. I once drove more than 400 miles for an interview, only to meet with a manager who complained for more than an hour about why he doesn't like hiring recent college grads. It wasn't until he finished his tirade that the official interview began. And trust me, that wasn't my only ill-fated foray into the world of interviews. I was once invited to interview at a boutique financial services firm. After I spoke with four different individuals regarding the position, I was asked to sit down with the managing director. As it turned out, the firm only invited me to come in hopes of gaining an introduction to the venture capitalist that I had interned with over the past three years. When I did not provide the introduction they sought, I was told I would not be offered a position.
It takes a great deal of effort to remain optimistic after receiving a litany of emails from employers stating that their hiring needs have changed, positions have been canceled or filled, or the company has decided to hire someone with years more experience for an entry-level position. It is now clear to me that it might take more than a few months to find work, a luxury I cannot afford.
At this point, the best thing I can do is persevere. I have realized that getting frustrated will not get me anywhere but that continuing to press forward will. These are difficult times and I am not the only one in this situation. I will always have that far off dream where my bottle washes ashore on Richard Branson's private beach...still, I feel I have a better chance of finding a job the old fashion way.