I can't say that I keep up with the Kardashians (and Jenners), but I do hear about them often. From what I have seen and heard, I would have to say that Kendall was my favorite, because she never did too much. However, this week she, as well as Pepsi, did entirely too much.
Pepsi released a commercial starring Kendall Jenner. The commercial shows Ms. Jenner in a blonde wig modeling for a photo shoot on the sidewalk as protesters march past her. The protesters are people of all different ethnicities, religions, orientations who are passionately marching, dancing, and photographing. One guy nods at Kendall, which encourages her to rip off her wig and join the march. Of course after having been in the crowd for less than 20 seconds, she makes her way to the front, just in time to offer a police offer a nice, cold Pepsi.
Wow, suddenly every societal ill is fixed. All thanks to Kendall Jenner and Pepsi.
Except, that's not the case at all. This commercial just encourages more problems rather than helps solve any. To begin with, the photo used for this article is much too similar to this photo of Ieshia Evans, a Black Lives Matter activist.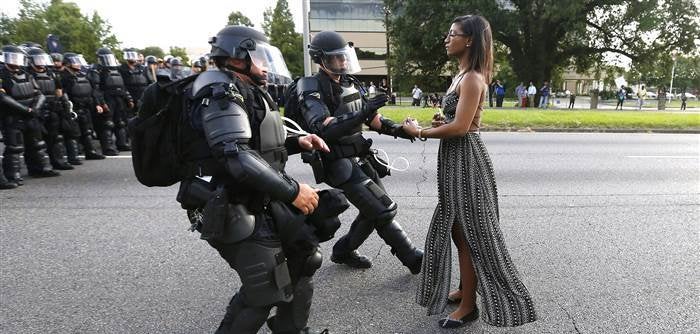 Unlike Kendall, however, Ieshia was arrested. Pepsi's use of the likeness to this image is an insult to Ieshia, and other black women like her, who put their freedom and their lives on the line to proclaim that black lives matter.
On a larger scale, this commercial is an insult to all Americans who are marginalized and mistreated, especially now with the fear and anger building up in the midst of this 45's presidency. The only thing that Pepsi cares about in regards to the current struggle this nation is facing is how they can capitalize off of it. People are not out here marching and protesting day and night so that a mega corporation can make money off the aesthetic. They are doing it because they have real fear, real anger, real sadness, and real passion. The fact that Kendall is the star of the commercial is just further evidence that Pepsi does not care about the political activism portrayed in the background, but rather that a marketable young star is opening a can of their soda.
If only it all were as easy as being a pretty woman, walking up to a police officer, and offering him a can of soda. But social change is never that easy. It is time that corporations like Pepsi realized this, and stopped trying to monetize the struggle. Put some respect on the names and faces of all the people who have put in hard work to make a positive difference.
Popular in the Community