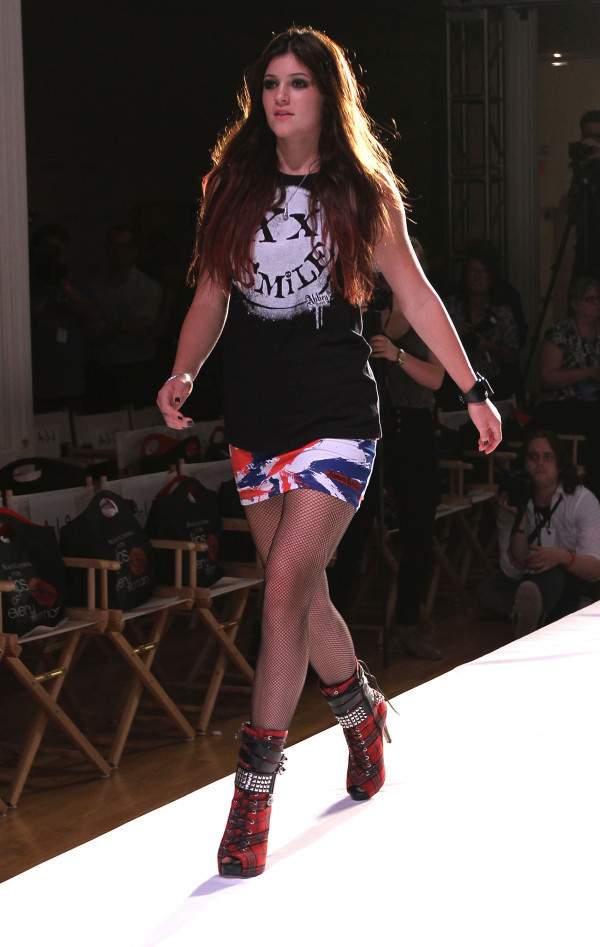 The youngest of all the Kardashian girls, Kylie, may only be 14, but that isn't stopping her from landing modeling gigs. The brunette teen walked in New York Fashion week for Avril Lavigne's new line, Abbey Dawn yesterday evening - Lavigne happens to be dating half brother Brody. It is no surprise that she knew how to work the runway: older sister Kendall Jenner has been busy landing gigs with Forever 21 and more for over a year, and Kim, Kourtney and Khloe all have experience in the modeling business.
Kim and Kourtney sat in the front row with Kendall, Kim's new husband Kris Humphries and Brody Jenner to support Avril and Kylie. Brody shared a few special moments with Avril during the show's rehearsal while holding hands and cuddling, her 2002 hit, "Sk8er Boi" played in the background.
Kylie not only closed the runway show, she received a standing ovation from her family members who threw flowers at her. Don't worry, Avril wasn't completely upstaged- she received flowers as well. And she walked the full length of the runway.
Earlier in the week, it was rumored that it would be Kendall making an appearance at Abbey Dawn, and the media erupted at the idea. The CFDA now requires models who work at New York Fashion Week to be at least 16-years-old. What loophole did Kylie and the Kardashian gang find that allowed Kylie to walk?