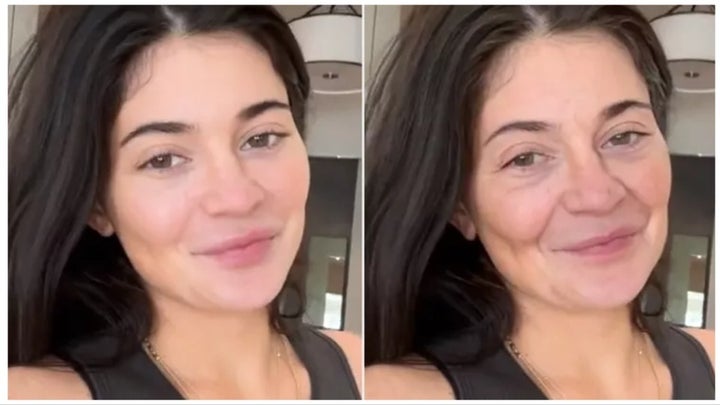 Twitter users are giving Kylie Jenner the side eye after she complained about her shocking results from using the viral TikTok aging filter.
"I don't like it, I don't like it at all," the reality star said in a clip posted Monday on the video platform, as she watched in awe, shaking her head in disapproval after the filter applied wrinkles, sagging skin and under-eye bags to her now-25-year-old face. "No. No."
The TikTok aging filter, which shows a split screen of the user's current face and an aged AI-generated image of the user with wrinkles and thinning hair, has been making the rounds across the app, appearing on videos that amassed more than 10 billion views.
After Jenner appeared startled by her results, fans began pointing out to the beauty mogul that she can afford any procedures to change her appearance if she's unhappy with it.
"You can afford to fix it so you'll be ok," one user commented on the star's post.
One user wrote, "Don't worry you have money," to which another person added, "That's so true."
Other TikTok users accused the reality star of previously undergoing cosmetic procedures.
"You have fixed it before, you can do it again!!!" one person said.
Some fans stepped into the comments section to defend "The Kardashians" star, complimenting her looks.
"You still look good, don't be scared to age," one wrote.
Another dished out encouraging words, writing, "Babe u look good both ways."
The Kylie Cosmetics founder later switched up her vibes about the photo in the comments, writing: "Jk i love her she's cute lol 🏻"
Back in 2019, Jenner openly discussed getting fillers, but shut down rumors about plastic surgery, calling them "completely false."
"They don't understand what good hair and makeup and, like, fillers, can really do," she told Paper Magazine.
"[Motherhood has] made me love myself more. I see my features in my daughter and my son now, but you know, my daughter looks like me. I get to see my beauty in her, and it's made me love myself more for sure," the mom of two said.
Jenner shares her 5-year-old daughter, Stormi, and 1-year-old son, Aire Webster, with rapper ex Travis Scott.
The beauty entrepreneur also opened up about getting lip fillers, adding that she's never regretted getting them.
"I think a big misconception about me is that I've had so much surgery on my face and that I was some insecure person, and I really wasn't!" she said. "Yeah, I love full lips and wanted full lips, but growing up I was always the most confident person in the room."
Support HuffPost
The Stakes Have Never Been Higher
Popular in the Community