Votive tablets at Kyoto's Yasaka Jinja send love wishes on their celestial flight path. Photo by Gail Nakada.
History and beauty are not the only reasons Japanese choose which of the hundreds of temples and shrines to put on their Kyoto to-do lists. Lonely hearts believe a visit to Kyoto's famous love shrines might just give their own personal cupid a nudge in the right direction.
In the first part of Kyoto Kiss and Tell on Huff Post I introduced Jishu Jinja on the grounds of Kiyomizu Temple. That's not all Kyoto has to offer in matters of the heart. Serious romantics get off the Shinkansen at Kyoto Station and head not only for Jishu Jinja, but Aioi-Sha at Shimogamo Shrine and Yasaka Jinja as well.
I'm not saying a visit to these shrines will change your fortune and bring you either luck or love, but as a Shinto priest told me, "Well, you know, it couldn't hurt either!"
Aioi-Sha Shrine, Shimogamo Jinja
On the grounds of two-thousand year-old Shinto Shimogamo Jinja, a World Heritage site, is little Aioi-Sha shrine. Think of this shrine like Star War's Yoda - don't judge the place by its size. Japanese have believed for centuries this tiny place broadcasts powerful love juju.
Aioi-Sha is dedicated to the Shinto God of Good Marriage and Engagement. The shrine's sacred symbol is an entwined holly tree - two boughs springing from one - called the Renri no Sakaki tree. The living holly symbolizes strong bonds in love and stands within a sacred compound behind its very own torii gate.
The Shinto religion is all about renewal and there have been several generations of entwined hollies at this spot. Shrines used to be torn down and rebuilt in regular cycles. Shimogamo still maintains that tradition, as does the Grand Shrine at Ise.
Visitors come to pray at the little altar, then stop to pray again at the trees.
Shimogamo, the main shrine, has a fascinating history. This is one of the two oldest shrines in the city. According to legend, the Shinto God of the Sun transformed into a three-legged crow and led the first emperor of Japan to this spot. If you're a soccer fan, you'll know the crow as the symbol of the Japan National Soccer Team.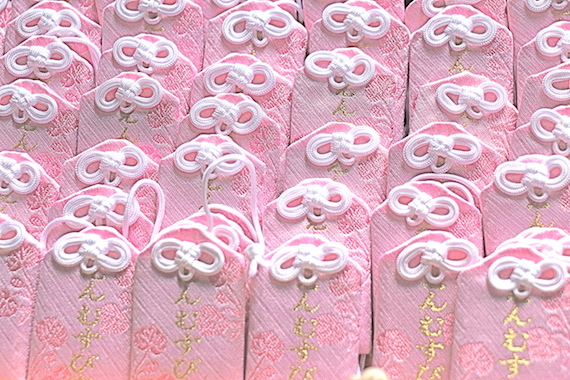 The enmusubi omamori love charms at Aioi-Sha are famous among Japanese looking for a spiritual boost in matters of the heart. Photo by Gail Nakada.
What to buy: An omamori love charm is a must. There are several to choose from priced from 500 to 1000 yen. Japanese visitors invariably take their chances with a colorful omikuji fortune-telling paper. Fortunes for the omikuji at this shrine are constructed with lines from the Tale of Genji. A little ironic, considering Prince Genji was something of a serial cheater.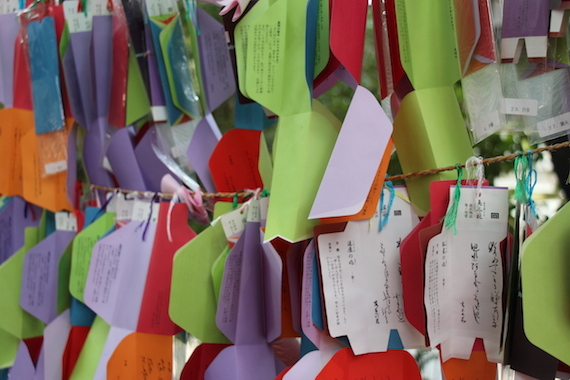 Colorful omikuji, fortune-telling papers, contain enigmatic lines from The Tale of Genji. Photo by Gail Nakada.
Access: From Kyoto Station take the No. 4 bus line. Get off at Shimogamo Jinja Mae. There will be an announcement in English. It's about a 20-30 minute ride. This is the closest approach to the shrine but brings you in at the side entrance rather than the main gate. Walk through the Tadasu no Mori, the famous woods surrounding Shimogamo, proceed through the shrine, and when you're ready, out the towering main gate on your right.
The love shrine is about twenty yards ahead on the right. No need to go back through the main shrine to catch the bus, just go out to the street from this side of the forest. There's a bus stop for the No. 4 nearby
Hours: 9-5.
Website: Shimogamo Jinja has a good English website including the history of the love shrine.
Yasaka Jinja and the Enmusubi no Kami (god of the love bond)
Standing right at the entrance to the Gion, Kyoto's famous shopping, dining, and entertainment district, it's impossible to miss Yasaka Jinja's towering vermilion gate. There has been a shrine in this spot for around 1350 years. This is where Kyoto's most famous festival, the Gion Matsuri, kicks off every July.
One reason Yasaka Jinja is considered a powerful shrine to pray for love and marriage is because the valiant Shinto God Susanoo-no-Mikoto is enshrined here along with his wife and many children. Their lifelong bond is supposed to give strength to visitors' wishes for love and companionship.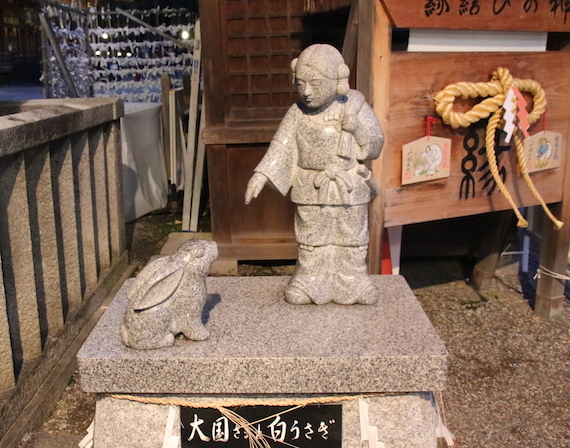 Kindly love god Okuninushi and his spirit animal, the rabbit, greet worshippers at the enmusubi shrine inside Yasaka Jinja. Photo by Gail Nakada.
The place lovelorn visitors head for at Yasaka is the small Okuninushi shrine to the left of the main gate. Look for the stone statue of a man and his happy rabbit. The kindly god Okuninushi helped the rabbit when it was in agony and, in return, the rabbit guided him to his true love. The little rabbit became this Shinto god's spirit animal and they are often pictured together. (You can read about them at Jishu Jingu as well). At Yasaka Jinja, their statue is placed in front of an oversized wooden ema votive tablet with knotted straw cords. The calligraphic sign proclaims him the enmusubi kami - god of the love bond. Enmusubi means to 'tie together' and the knotted cords symbolize love, much like the heart in the West. Young women and men line up here to pray for lasting love.
Shrines that are strong in love luck sell ema (small wooden votive tablets) with an enmusubi symbol - red and white knotted cords painted on them, or a stylized couple symbolizing husband and wife. Here at Yasaka, the enmusubi ema is heart-shaped, making it very clear exactly what visitors have come for. You don't have to leave the ema at the shrine with your wishes. These make great souvenirs and many Japanese write their wish at the shrine but bring the tablet home with them.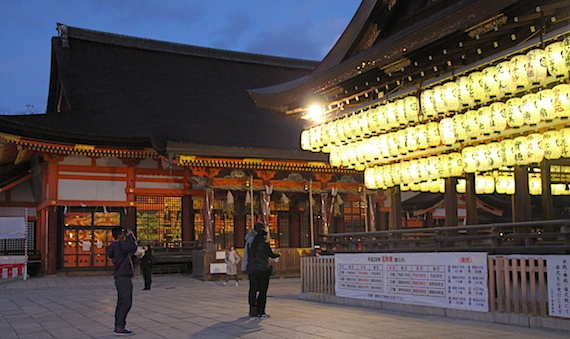 Brightly lit every night, Yasaka Jinja is a perfect stop on your evening exploration of Kyoto. Photo by Gail Nakada.
Most shrines and temples turn off the lights at dusk in Japan. Not Yasaka. This is a great place to visit in the early evening as it is brightly lit, including hundreds of paper lanterns.
What to Buy: Love charms, enmusubi omamori in Japanese. One of these makes a nice gift for a couple to symbolize their bond. Please note the lights stay on after the shrine store has closed. If you wish to buy a charm, get there before five p.m.
Access: From Kyoto Station take the 206 or 100 bus and get off at Yasaka Jinja. Go up the stairs through the towering gate. The love shrine is a very short walk just to the left of the main gate.
Hours: 10-5.
English website.
There are other love shrines around town if you care to hunt them down. They include: Nonomiya Jinja (website Japanese only); Kataoka Noyashiro on the grounds of Kamigamo Jinja (website Japanese only); Choboshi on the grounds of Rokkaku Do (website Japanese only); Ichi Hime Jinja (website Japanese only).
Not planning a trip to Kyoto? You can still have a try at some of that Japanese love luck in Tokyo at Imado Jinja Shrine in Asakusa and Tokyo Dai Jingu near Iidabashi Station. Check out the info in my Huff Post article here.