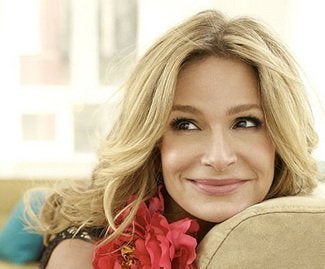 Kyra Sedgwick covers the July/August issue of More, and in the interview the actress, 44, talks about struggles with her weight, her kids with Kevin Bacon and losing their money to Bernie Madoff's Ponzi scheme. Here are some excerpts:
On her weight:
"Food has never been easy for me," she tells writer Meryl Gordon, adding that the catalyst was a role in the 1985 film War and Love, for which she was required to lose 20 pounds to play a Holocaust survivor. "I came back from that, and it triggered something," she says. "I ate everything in sight. My weight went up and then too far down... I'm so grateful that I don't get on a scale because it's never going to be the right number."
On her 18-year-old daughter Sosie going off to college this fall:
"I set my alarm to wake up so I can see her. I don't make plans on weekday evenings in case I can spend time with her. It's pathetic; I don't care."
On the conception of her 21-year-old son Travis on her honeymoon with Bacon in 1988:
"We were like, Let's just not use birth control. I didn't think it was going to happen so fast. I got pregnant in two weeks."
On losing investments in the Madoff scheme:
"I laughed. I just couldn't believe it. It's awful, and it's really sad and infuriating. And there are a lot of people who are so much worse off than we are. He's a sick man. . . . You know what it's shattered my trust in? The government taking care of us. The S.E.C. knew--they knew."