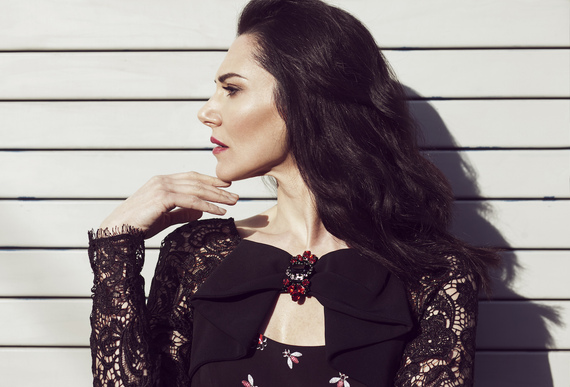 Kyra Zagorsky of Helix Tells Us Her Greatest Fan Moment - Were You at Comic Con? Kyra's Twitter: @KyraZagorsky , Visit Kyra's Website. Photo by Liz Rosa
Oh Helix fans! You know who you are. No hiding. Especially if you want to see what Kyra Zagorsky just told me! Is Kyra the hottest doctor or what?!
It doesn't take much to make Kyra happy. See if you get a big smile from reading her answers to my questions below.
You play the female lead character Dr. Julia Walker on SyFy's series Helix. Tell us about that.
Julia is an accomplished scientist and one the top virologists in her field. She's adventurous, worldly and brave and she's a bit of a lone wolf. She functions best when she's helping other people but she's a complete mess in her own relationships. In season one she discovers that she is immortal and now she is trying to navigate through this new existence.
You're also a writer, having written the screenplay Chained. Where / how did you learn to write a screenplay? Did you have a collaborator?
I spent many years in drama school so I have an understanding of story structure. I bought Final Draft and started playing with it. CHAINED is a passion project that I am still working on. We filmed a short of the big piece that I have written and a lot of my professional friends volunteered their talents and time because they were excited about it. It's based on the Greek myths and it's a story about Athena becoming Queen of the gods. My husband directed it and it was the first of many projects that we have going within our own creative film community.
What was it like transitioning from theater to TV and film?
I love this question. Honestly, acting is acting. In my MFA program, I had an incredible acting teacher named Richard Brestoff who taught the on-camera classes. After training with him, I knew every job on set and what each person meant to the film making process. So when I walked on set for the first time I knew what was going on and how to adapt. For me, it's really about understanding the technical differences. What I discovered about my personal process is that on-camera work is a physical and visual medium for me. It's like a dance. I still do theatre because it frees me up creatively and there are so many plays that inspire me. It actually helps my on-camera work. Both are exciting. But there is something about being able to live through the momentum of the entire story from start to finish in theatre that is pure magic for an actor. There is no "second take" as a safety net on stage, and that is very exciting.
Tell us about your experience at Comic-Con International 2014.
Comic-Con was so fun and crazy. Sci-fi fans are just the best! It was the first time I got to connect with Ron Moore so that was something that I had been looking forward to for a while. I didn't expect that the world of Comic-Con took over the whole area of the city! Everyone along the streets is in costume. Even the cars are in costume. I saw an amazing Ghost Busters car outside the hotel. There was a point after our panel where we ran into all of the fans and that blew my mind. I really saw that our show had touched people in some way.
Oh wow. I was born in NY. My family is from there so I feel a deep connection. I love going to see theatre there and I would love to be there if I had a gig. But you can't beat that L.A. sunshine. I could do both, no problem.
Which restaurant has the best guacamole?
Guacamole! That depends on the area you are in. In some cities you have to look for it. While shooting Helix in Montreal, I found this great spot in the Old Port where they make it fresh at your table. The secret is cilantro, the right amount of chopped jalapenos and lime. I've actually learned to make pretty good guacamole myself since I love it so much.
How do you stay in shape?
I juggle between Barre classes, Pilates, and Yoga on a regular basis. Depending on what I'm working on physically, I will train in something specific as well. As far as food goes, I just eat well for the most part. I eat clean and I eat what makes me feel good.
What is your best and worst fan story?
The best is from Comic-Con. There was a 15 year- old girl with her Mom who asked me to sign a picture of me that she had. She talked about how much she loved the character of Julia and her Mom said she'd been waiting all day for us to come through. I will never forget that. It was a great moment to see a young girl get so inspired by this well written powerful female character that is about so much more than her love relationships or what she looks like. It made me happy. I don't really have a "worst" fan story. Without the fans, we don't have a show.
Anything else you'd like to say?
My next project is a feature I can't say much about. But I'm a very stylized, dark character and I'm having fun stepping outside the box and taking risks with this one.
Calling all HuffPost superfans!
Sign up for membership to become a founding member and help shape HuffPost's next chapter