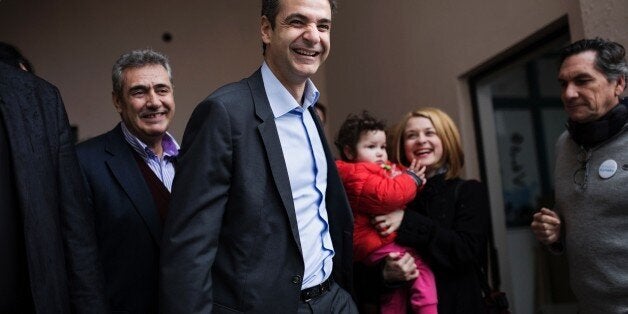 Every obstacle leads to something positive! This Greek saying has been proven true-- at least for Kyriakos Mitsotakis.
If November's election had not been such a fiasco, it is very likely that the second round would have entailed a showdown between Meimarakis and Tzitzikostas. The delay gave Kyriakos the time to bolster his candidacy, to present himself as the bearer of a banner of renewal, to pull people to the ballot boxes, and to develop a momentum that had been evident from the first round. If the electoral list was open, if more voters could have registered on that second Sunday, the victory would have been much easier.
Now, with the given electorate, he has had to face two obstacles. One obstacle was the average age of the electorate: Would voters, aged between 55 and 60 years, trust a man who is either their same age or even younger? The other obstacle was the Mitsotakis family name, and the risk it had of drawing opposition from Karamanlis supporters.
The obstacles were actually less problematic than they seemed. A few hours before the ballots were to be cast, I found myself in a typical village in Serres. I found that in an environment of older people who would typically identify with Karamanlis, Mitsotakis actually managed to achieve a small lead against Meimarakis. It was evident that while the Meimarakis camp expected a 65-35 victory, the election was actually completely up for grabs.
"I believe that the key to Mitsotakis' win was that he has consistently expressed the people's desire for an alternative solution to today's governmental majority."
It turned out that the rampant rumors about Meimarakis being Karmanlis' and Pavlopoulos' chosen one (two men who are supposed to be "in cahoots" with Tsipras) was a higher obstacle to overcome for the candidate. Because the basic motive that brought citizens to the ballot boxes --at numbers higher than expected-- was the eagerness to signify to the government that their tolerance was fading. They also wanted to express their hopes for SYRIZA 2.0-- for the government to become a new Nea Dimokratia, that would express something more than the traditional structure and offer a truly alternative solution.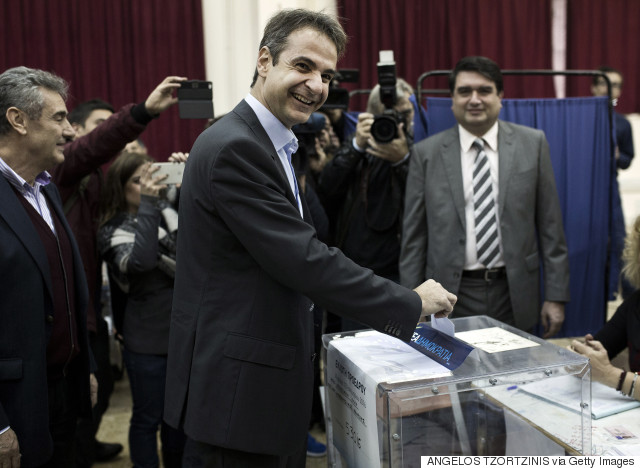 Kyriakos Mitsotakis casts his ballot at a polling station in Athens on January 10, 2016.(Angels Tzortzinis/AFP/Getty Images)
I believe that the key to Mitsotakis' win was that he has consistently expressed the people's desire for an alternative solution to today's governmental majority. That's what made his candidacy strong. It may, however, also prove to be a big problem the morning after, if the anger of some of his constituents traps him in frontal opposition, and if it stops him from moving flexibly or with consensus.
Mitsotakis' challenge is to express the voice of the people who are not represented-- the almost two million voters that took part in elections until 2009, and have since stopped voting in disappointment. These voters, who have been absent from previous electoral showdowns but remain, in effect, voters, are not the same as the fanatics with extreme convictions. The fanatics continue to vote. People who choose not to vote place themselves in the center of the political spectrum, or have a "lukewarm" relationship to politics. These are the ones that Mitsotakis must win over, so that the electoral body of 2015 (5.5 million) may match the electoral body of 2009 (7 million) or 2004 (7.5 million). And of course he is not going to persuade them by adopting extremely polarizing discourse, but by renewing his party.
The election of Mitsotakis is also a challenge on the level of government. Tsipras' first reaction seems to be defensive and polarizing. But in reality, a reconstruction of the centre-right gives SYRIZA the motive and the opportunity to accelerate its own slow-moving ideological reconstitution. It pushes its transformation into that which members such as Pitsiorlas or Papadimoulis have been heralding-- a new, reformist, anti-statist, European progressive "center-left" (for lack of a better term).
An optimist would say that Mitsotakis' election has invigorated political life once again. It has also blurred the longstanding line between the reformers and the anti-reformers, yielding a more creative playing field.
This post was originally published on HuffPost Greece. It has been translated into English and edited for clarity.
Calling all HuffPost superfans!
Sign up for membership to become a founding member and help shape HuffPost's next chapter