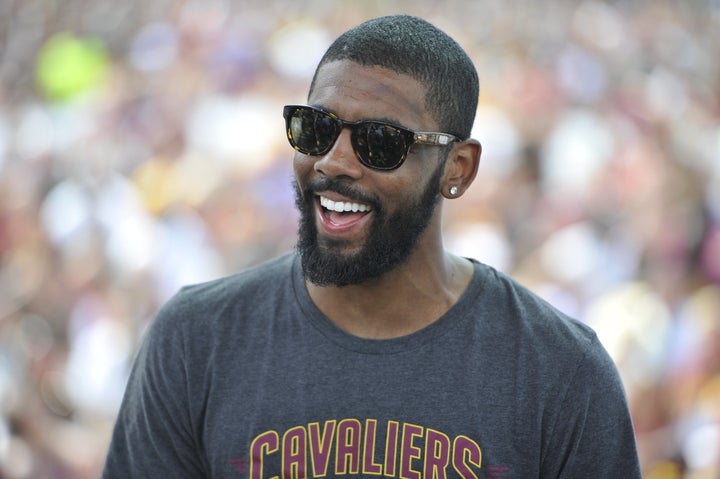 It's now been almost a week since Irving's purported "no black girls allowed" party, and on Wednesday, he took to Facebook to defend himself against a smattering of racial- and gender-based criticism:
Irving's apology addressing his alleged all-white party feels genuine -- he lost his mother at a young age, and his father helped raise him, along with his older sister and his aunts. So while his post is appreciated, he's also missing the main point, which is at the heart of Kanye's flippant "Gold Digger" lyric.
His apology dismisses the anger from many black women who feel that Irving's party is a reflection of how black women are historically marginalized and treated as lesser citizens in the United States, even by men of their own race. Irving could never imagine his party would conjure such concrete analysis and repulsion from black women, because simply put, he's a black man who, culturally speaking, can't quite grasp the gripes against him. 
Irving's lily-white celebration was a reminder that when some black men feel like they've arrived, their symbol of success isn't a woman who looks like their mother or sister but, rather, a white woman, while the black women who were loyal when that same black man struggled are discarded as if they're valueless. Irving's boat party was yet another example of a black man who, when he gets on, "he leave your ass for a white girl." Black men don't really know that particular brand of rejection.
Women -- black or white -- aren't mannequins standing around to make men look more powerful, influential and cool on video. And it's unfair to levy absolute judgement on a person based on a crudely shot 29-second video. But the image it represents is indeed part of a larger cultural conversation in the black community, and one worth continuing, especially when an NBA star is the catalyst.  
Calling all HuffPost superfans!
Sign up for membership to become a founding member and help shape HuffPost's next chapter
BEFORE YOU GO
PHOTO GALLERY
Epic Shots From The 2016 NBA Finals