While Kyrie Irving made an early exit from the NBA Playoffs, we have nonetheless been #blessed with some great Kyrie Irving news: He happens to love "Friends" as much as we do, and he has a tattoo to prove it.
Speculation around the ink erupted Wednesday after the Cavaliers point guard appeared at a press conference and the sharp-eyed Jack Moore noticed the possible ode to the 90s/early aughts sitcom.
For reference, as if we needed it:
Could this be any more awesome?!?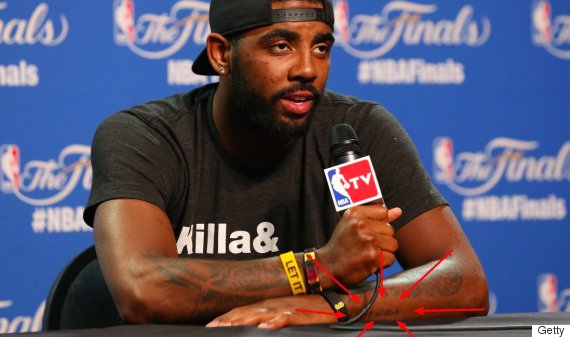 I'll be there for youuuuuuuu.

Naturally, the Internet lost it (as did we, even reaching out for confirmation and explanation). Then Kyrie took to Instagram late Wednesday to let us all know that yes, it's a "Friends" tattoo.
"I mean what can I say lol I'm a fan of the show," the basketball player wrote, including lyrics from Whodini's 1984 song "Friends" (which was also re-recorded and remixed by Bone Thugs-N-Harmony).
But now we have so, so many questions. Like, what does Kyrie's teammate (and tattoo aficionado) J.R. Smith think of it? And, as Kyrie was born in 1992, is he a late-season fan? Or did he got caught up in a syndication omnibus? Or a Netflix binge?!
And most importantly, does Kyrie think Ross and Rachel were really on a break?!
Calling all HuffPost superfans!
Sign up for membership to become a founding member and help shape HuffPost's next chapter