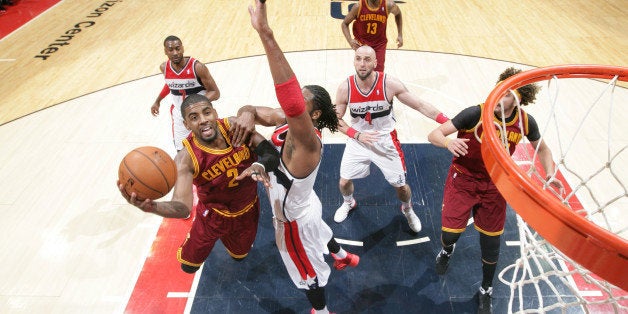 During his three-year NBA career, 22-year-old Kyrie Irving has assumed a role as one of the NBA's premier point guards and most dynamic playmakers. Irving, the first pick in the 2011 draft by Cleveland, earned Rookie of the Year honors. Last season, he averaged 21 points and a career-high six assists while making his second All-Star game (and earning the All-Star MVP). He was promptly rewarded with a sparkling new five-year, $90 million contract extension. Most recently, the Duke product led Team USA to a gold medal in the FIBA World Cup while anchoring point guard responsibilities and earning the tournament's Most Outstanding Player.
Irving caught up with The Huffington Post during the FIBA games to discuss his love of music, his work with Coach K, and his thoughts on LeBron James, who recently said: "I believe Kyrie can be the best point guard in the league very soon."
When I was younger my dad took me around a lot of old school music, whether it was church music or R&B. ... Then as I got older, I just started becoming interested in country music. I mean, I just have a true appreciation of it because of the way someone can express themselves through a beat and instruments and words is truly inspiring. I just have a true passion for it.
What kind of music do you listen to before games?
All types, man. Some playlists I have some "Frozen" songs on it from the Disney movie, "Frozen." Just everything, you know.
Hey, that's a good movie, man.
Are there a few favorite artists that stand out for you?
One of my good friends is Chris Brown, I've been onto him for the last few years. Then J. Cole, Nas, Jamie Cullum, the pianist. A little bit of George Winston -- he's a pianist as well. Those are my favorites.
How is playing under Coach K for the national team different from your experience working with him at Duke?
It's not a big difference. He just expects a little bit more out of me than he did at Duke. Our relationship is always looking each other in the eye and always telling each other the truth, and that's how our relationship has been since I met him.
The international game seems to fit your skills so well in the open floor. Give me a sense of how comfortable you are right now with your game, especially with the FIBA style of play.
It's definitely an adjustment, especially in the open court. That's where I excel, so I try to do that as much as possible and just try to make everybody better as well. We have so many weapons, so many guys that are playing on this team. This is fun. It's really fun.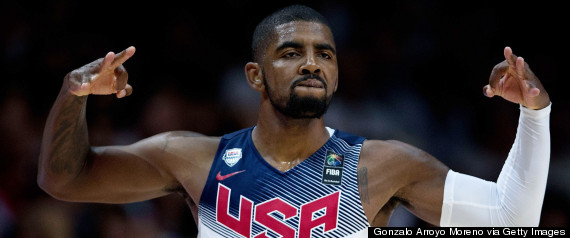 With that in mind, what you can extract from this experience that you can take to the NBA to help take you to the next level?
I've had a chance to play with a lot of players, but every time I get the chance to play with the best of the best, it's such a unique opportunity that I feel honored to get. My role is totally different with the Cavs than it is with [Team USA], and I'm completely OK with that, just because I know the game is that much easier and that much more fun when you have guys that are basically at the peak of what we do.
What do you learn about yourself when you're in a different country with all of these guys playing basketball against international competitors? Do you feel like it makes you more mature, off the floor as well?
As far as a basketball standpoint, you learn from everybody who's on the team and the coaching staff, everybody. And you can build relationships on and off the floor. That's what I'm really about. Obviously when I'm on the court I take care of business, but off the court it's about building relationships you never thought you could develop. Just being a human outside of the game. The game is what it is, it's going to be what it is, and I gotta keep living my life no matter what, and that's what I do.
With your new contract, how excited are you to get out and show that you really are the best point guard in the NBA? How does the contact make you look at the game differently?
I'm just looking forward to the amount of space and the amount of plays there are gonna be. The easy job of just showing up every night but knowing that everybody's ready to go to war. Not to disrespect any other time that we've had, but this is the best team I'm going to be a part of, and I see it as that. Being part of a great team. We're a good team right now, but we want to become a great team eventually. Coming into this season, that's the biggest thing in my mindset, doing whatever possible to win and try to win a championship.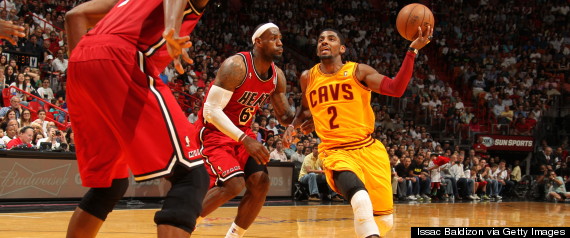 That combination of you and LeBron -- talk about the open floor. That really is going to be incredible. What was your first reaction when you found out he was joining your team?
I was excited. Obviously one of the best players coming back home is something that is monumental, and I think in NBA league history, to have three All-Stars on one team ... I mean it's happened before.
That's what I'm saying. We only have five guys returning from the team last year, so that's crazy in itself. Of course, we have Mike Miller, James Jones, Matrix (Shawn Marion). We have a chance to do something special, so now we just gotta make it happen.
At what point will you start to talk with your guys, whether it's the returners or LeBron or Kevin Love? Or is that something that just happens on the floor during camp?
Who knows? Honestly, I have no idea. It can happen the first day I get back, it can happen end of the season, mid-week in the season. We just have to develop an identity. I think that's the most important thing is find out who we want to be, and exactly what we want to accomplish. The ultimate goal is to win a championship but the journey is what's going to be the biggest part in how we try to devise this. A lot of people are going to be going for us, but it's something you want as a competitor.
What has been the reaction from all the Uncle Drew ads? Because they're incredible, everybody seems to love them and they've even developed a cult following.

I'm just thankful that everybody loved it. I get joy out of it, watching other people enjoy it as well. It's more or less something we all can connect to, because we all know that old guy that comes to the park, and either he's good or he's terrible. I just wanted to do something that people could connect to, and we're all part of it. It wasn't just me making it, but everyone joining in on the experience and being part of something bigger than all of us. It's a role that I played; I didn't know it was going to become that big but I'm just really excited that everyone enjoyed it, and I continue to make it because it puts smiles on people's faces.
Let's talk about Kevin Love for a moment. Where do you see him being the best asset to your two-man game? Pick-and-roll, pick-and-pop, transition?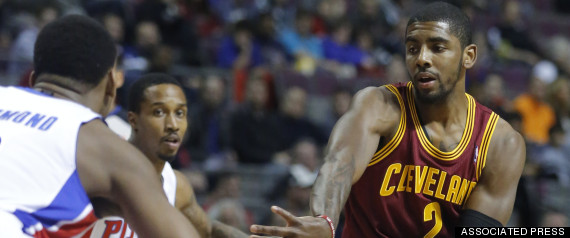 What's crazy is that LeBron and K-Love have been in the top 10 in scoring the last three years. And I'm in the top 20 my last two years. We all come from our respective places where we were before and we all had different roles, but one thing I don't want them to change is the way we play. And that's just making plays. It's not just all about scoring, but just making plays and playing off one another. Me and K-Love playing pick-and-roll, either the point guard is going to go with the two, or he's going to try to fight over and it's going to be one-on-one with the big and someone has to help on the back side. You just start thinking about basketball plays and the basketball knowledge that I have, and seeing the play ahead. And I'm already getting excited, because what are teams going to do? You're going to have to decide who you're going to guard and how you're going to guard us, and that's going to be tough.
With that in mind, is Year 1 championship or bust for the Cavs?
No, I don't see it that way. Winning a championship -- either it can happen right away, it can happen in one year, two years. It takes time. Me and K-Love haven't even been to the playoffs, so it's not more or less championship or bust, we just gotta figure it out. That's basically what it's going to boil down. It's not about what everyone else thinks, what everyone else is predicting. Either we're going to be really, really good or we're going to suck. Everyone's kind of jumping ship or they're staying on with us -- honestly I really don't care.
What have you learned from the Spurs and some of these other teams that have been there year in and year out?
Every team has their own identities. I don't think one team should try to emulate what they do. The Spurs, one thing they consistently do is play hard. You can never take that away from them. But they're also talented as well, do things the right way, and their system works for them. Then we have the Heat last year, which is guys playing around the perimeter, four guys, one in. Pick-and-rolls dominate the offense, LeBron and [Dwyane Wade isolations]. Teams play different ways, and if you find that way to win and it works, then I don't think you should change it. So we just have to find our identity, and that's what I've learned. When you find out how to win and the way to win, that's when you start getting on a roll, and things become that much easier.
And that identity comes just from playing with one another?
Yep, just finding consistency, that's all. Once you find consistency in this game, then day in, day out you have a legitimate chance at winning. And that's how I want to feel, that every single day we have that consistency, and knowing that we have a great chance at winning tonight against any team.
This interview has been edited and condensed for clarity.
Email me at jordan.schultz@huffingtonpost.com or ask me questions about anything sports-related at @Schultz_Report and follow me on Instagram @Schultz_Report. Also, be sure and catch my NBC Sports Radio show, Kup and Schultz, which airs Sunday mornings from 9-12 ET, right here.
Calling all HuffPost superfans!
Sign up for membership to become a founding member and help shape HuffPost's next chapter