PHOENIX ― Democratic Rep. Kyrsten Sinema didn't have to think about her answer. She was holding a press conference focused on health care at the Crescent Ballroom, a music venue on the outskirts of this city's downtown, when an unsurprising question came.
"Do you support 'Medicare for all'?"
"I do not," Sinema responded quickly to the reporter, later giving the same answer to a question about whether she supported adding a public health insurance option to Obamacare.
"I've been laser-focused on supporting realistic proposals that help Arizonans get access to affordable coverage," she said. She went on to talk about her work with Republicans to delay a tax hike included in the Affordable Care Act and to increase the number of employees a small business must employ to 100 (instead of 15) before it is subject to the act.
Sinema is her party's nominee for U.S. Senate in this state. It's a former Republican bastion ― home to Barry Goldwater, the founder of the modern conservative movement ― that is slowly turning into a swing state. She's in a tight race with GOP Rep. Martha McSally, one of the first American women to fly in combat, in a race Democrats must win to have a chance of taking back the U.S. Senate.
If the contest here has been about one thing, it's health care. More than 1 million Arizonans have a pre-existing health condition, and Sinema and Democratic groups have relentlessly hammered McSally for her votes to repeal those protections in the Affordable Care Act. (McSally has responded by claiming to have "led the fight" to protect people with pre-existing conditions. She actually profanely encouraged other GOP members to vote for Obamacare repeal.)
But if the race has been about two things, the second thing is Sinema's past and ideology. National and state Republicans have relentlessly portrayed her as a far-left extremist, typically citing her work as an anti-war activist in the 2000s and early parts of her time in the Arizona State Legislature. They've noted she danced with witches (yes, witches) and wore a pink tutu at an anti-war rally. They've circulated videos of her calling Arizona's GOP-led legislature "crazy." The attacks culminated when McSally ignored a question about climate change at a debate and instead accused Sinema of "treason."
There's no doubt Sinema once identified as a progressive. She began her political career as a spokeswoman for the Green Party. She told a radio host back in 2006 that she was the most liberal member of the Arizona State Legislature. She called herself a "former socialist" at the Netroots Nation conference in 2006. In a 2002 letter to the editor of the Arizona Republic, she wrote that "capitalism damages [the] livelihood" of the "average American" and railed against the World Trade Organization and NAFTA. Even on health care, Sinema's website for her 2002 run for Phoenix City Council promised she would "work towards a system of universal health care" and wanted to remove "the profit-making element" from health care.
McSally has relentlessly used this record to portray Sinema as a radical. "She's extreme and out of touch and out of the mainstream," McSally said Friday night on Fox News' "The Ingraham Angle." "She is in the liberal witness protection program right now."
But that's not who Sinema is anymore. Or if it is, she's been hiding it for more than half of her career in elected office. She's now the type of moderate more likely to punch a hippie, metaphorically speaking, than to dance with them. A look at her record, combined with interviews with Democrats and progressives in the state ― many of whom didn't want to go on the record criticizing their party's best chance to win statewide office since Janet Napolitano's gubernatorial victory in 2006 ― show a politician who is willing to buck progressive wishes and sometimes seems to go out of her way to aggravate the left.
While other Democrats in heavily diverse Sun Belt states ― Stacey Abrams in Georgia, Andrew Gillum in Florida and David Garcia in Arizona ― are trying to juice up minority turnout and expand the electorate, Sinema is equally focused on wooing independents and Republicans, while hoping progressives stay in line.
Her allies argue this approach reflects what the majority of Arizonans want in a senator. "They've called everybody a liberal, and it doesn't work. Voters trust Sinema more than these Republicans who are calling wolf all the time," said Rep. Ruben Gallego, a progressive Democrat who represents a district adjacent to Sinema's. "She's the one who's passing legislation and is working across the aisle." They just might be right.
So far, Democrats feel confident the strategy is working. Democrats believe Sinema, who has aired multiple ads on Spanish-language televisions and speaks the language fluently, is turning out the Hispanic voters she needs to win. And while Republicans still lead in early ballot returns, their margin is down to just under 8 percentage points. The GOP usually has about a 12-point edge in midterm elections, according to the Arizona Republic.
A Shift In Focus
Figuring out exactly how and why Sinema went from left to center isn't easy. Her campaign turned down a request for an interview. A 170-page book she wrote in 2009, titled Unite and Conquer, explains her embrace of deal-making, if not quite her embrace of centrism.
In the book, Sinema writes she entered the state legislature in 2004 as a "bomb-thrower" and spent her first two years in office frustrated, accomplishing little. She opted instead to start working with Republicans, even hard-line ones, to pass legislation.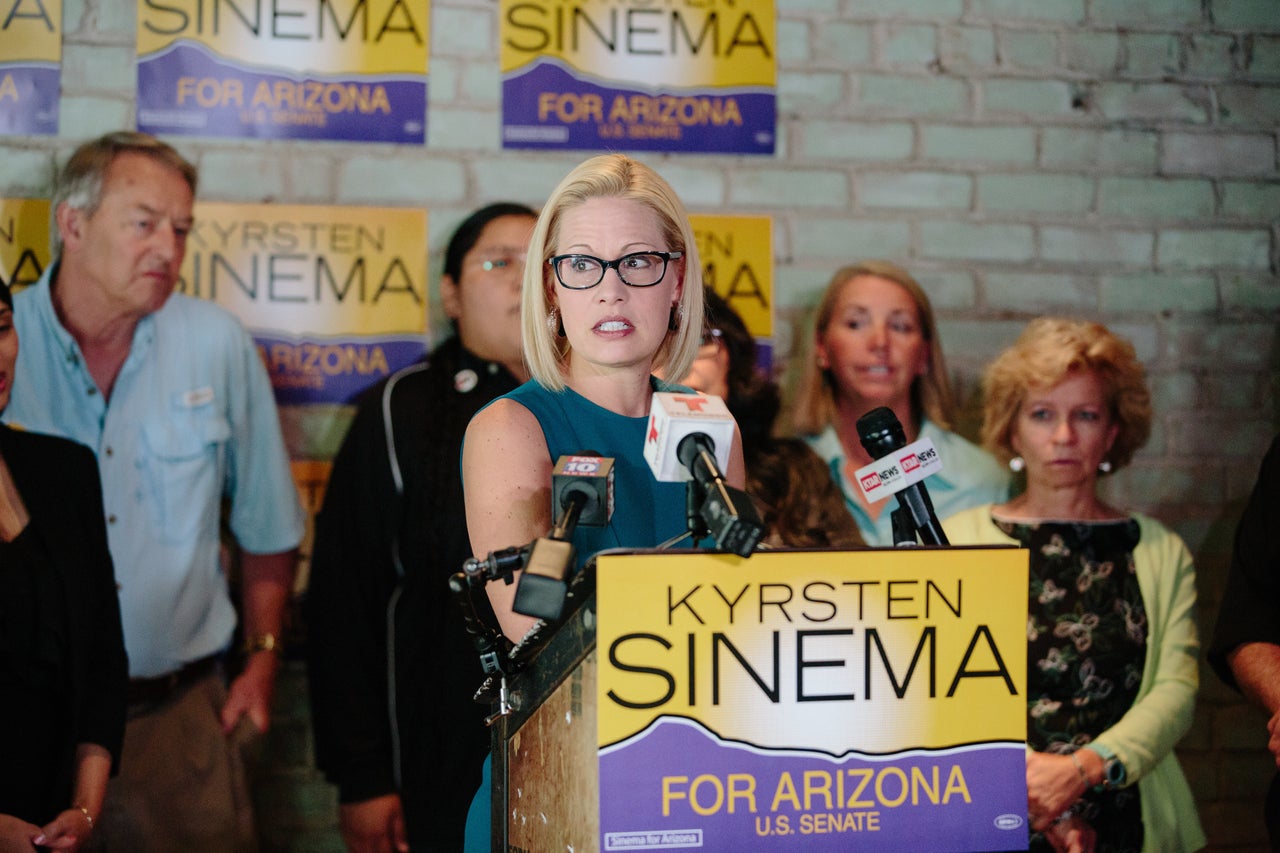 "I'd spent all my time being a crusader for justice, a patron saint for lost causes, and I'd missed out on the opportunity to form meaningful relationships with fellow members in the legislature, lobbyists, and other state actors," she wrote. "I hadn't gotten any of my great policies enacted into law, and I'd seen lots of stuff I didn't like become law. It was just plain sad."
Gallego, who served in the legislature with Sinema, said the future congresswoman was just finding a way to get things done. "You have to work with Republicans to pass anything in Arizona, and that's what her constituents demanded of her," he said in a phone interview.
And that's what happened. She notes she was able to pass legislation protecting breastfeeding mothers from indecent exposure charges ― something Democrats in the state had sought to do for years ― by teaming up with a Republican legislator and by framing the bill in a conservative-friendly way.
"The framing was perfect," she wrote. "Rather than talk about breast-feeding as a 'woman's rights' issue (which Democrats had done for years), they talked about a mother's need to take care of her baby (which Republicans can understand and connect with.)"
The experience, she writes, made her realize she enjoyed passing legislation more than she enjoyed attacking her political opponents.
"I do love to give fiery speeches," she wrote. "But I also love people. I love talking with people, working together, and making friends."
Syrian Refugees, A Letter And A T-shirt
By the time Sinema was elected to Congress in 2012, she was a full-fledged moderate. She became a favorite of House Minority Whip Steny Hoyer (D-Md.) and an annoyance to his more liberal boss, House Minority Leader Nancy Pelosi (D-Calif.). She joined the Blue Dog Caucus, a shrinking group of conservative Democrats, and the New Democrats, a group of pro-business members who mostly hail from suburban areas. She earned the endorsement of the U.S. Chamber of Commerce in 2014. Since the beginning of President Donald Trump's administration, she has voted with him nearly two-thirds of the time.
A few weeks before launching her Senate bid, rumors began to swirl that Trump was going to pardon the state's notorious former Maricopa County sheriff, Joe Arpaio, who was convicted for criminal contempt of court. In August, a letter asking the president not to pardon Arpaio was signed by every Democratic member of the Arizona congressional delegation ― except Sinema. Despite this, multiple progressives in the state noted Sinema's campaign has sent out dozens of online fundraising missives invoking Arpaio. (As recently as last week, a Sinema email noted Vice President Mike Pence was visiting Arizona. "The last time he was here, he attacked Kyrsten and praised convicted criminal Joe Arpaio!" the email read.)
A number of Democratic eyebrows also shot up after Sinema released the first digital ad of her campaign. In the spot, meant to highlight her independence, as well as her support for law enforcement and veterans, her brother Paul is clearly wearing a T-shirt with a "Blue Lives Matter" logo. The Blue Lives Matter movement, which aims to make attacks on police a hate crime, is seen as a countervailing force to the progressive Black Lives Matter movement.
The biggest issue, though, is her voting record: Sinema, like many other moderate Democrats, voted for the rollback of some Dodd-Frank banking regulations. In 2015, she voted for a tougher screening process for Syrian and Iraqi refugees. In September, she was just one of three Democrats who voted to make parts of the Republican tax cut permanent. She was just one of 12 Democrats to vote to expand access to health savings accounts, which the GOP has pushed as an alternative to Obamacare. And she's voted for Trump-backed legislation that increased penalties for people who re-enter the country illegally.
A Notable Non-endorsement
The evening before Sinema's health care press conference, Vermont Sen. Bernie Sanders held a rally at Arizona State University for David Garcia, the Democratic candidate in the gubernatorial race. A who's who of Arizona Democratic activists and officials took the stage, but they never mentioned Sinema.
And there's good reason for that: She hasn't endorsed Garcia, who has run as an electorate-expanding progressive in favor of increasing education spending, abolishing Immigration and Customs Enforcement and enacting "Medicare for all." In many states, this would cause no shortage of political howling. For Sinema, it's standard operating procedure ― Democrats noted she never endorsed Democratic Rep. Ann Kirkpatrick's 2016 Senate bid against Republican Sen. John McCain.
Democrats have downplayed the dispute. "It only comes up when folks like you ask about it," Garcia told HuffPost. But the lack of outcry also shows how progressives are mostly swallowing their medicine and supporting Sinema, despite their grumbles.
"We'd rather stand with someone who stands with 50 percent of our values than none of our values," said Brianna Westbrook, a former Democratic congressional candidate in the state who's working with the Working Families Party of Arizona to turn out voters for Garcia. But she added: "She's really alienated a lot of voters, especially in our black and brown communities."
Before Garcia won the primary in August, both he and his opponent, state Sen. Steve Farley, predicted they wouldn't have any difficulty running alongside a more centrist candidate like Sinema.
"She's doing what she thinks is important for her strategy, and I've got to respect that, because I've never met anybody more ambitious," Farley said.
A few hours after her Phoenix press conference, Sinema was at a coffee shop, where she was launching a "Teachers for Sinema" canvass. Educators in Arizona have exploded in activism this year, storming the state Capitol as part of a movement dubbed #RedForEd.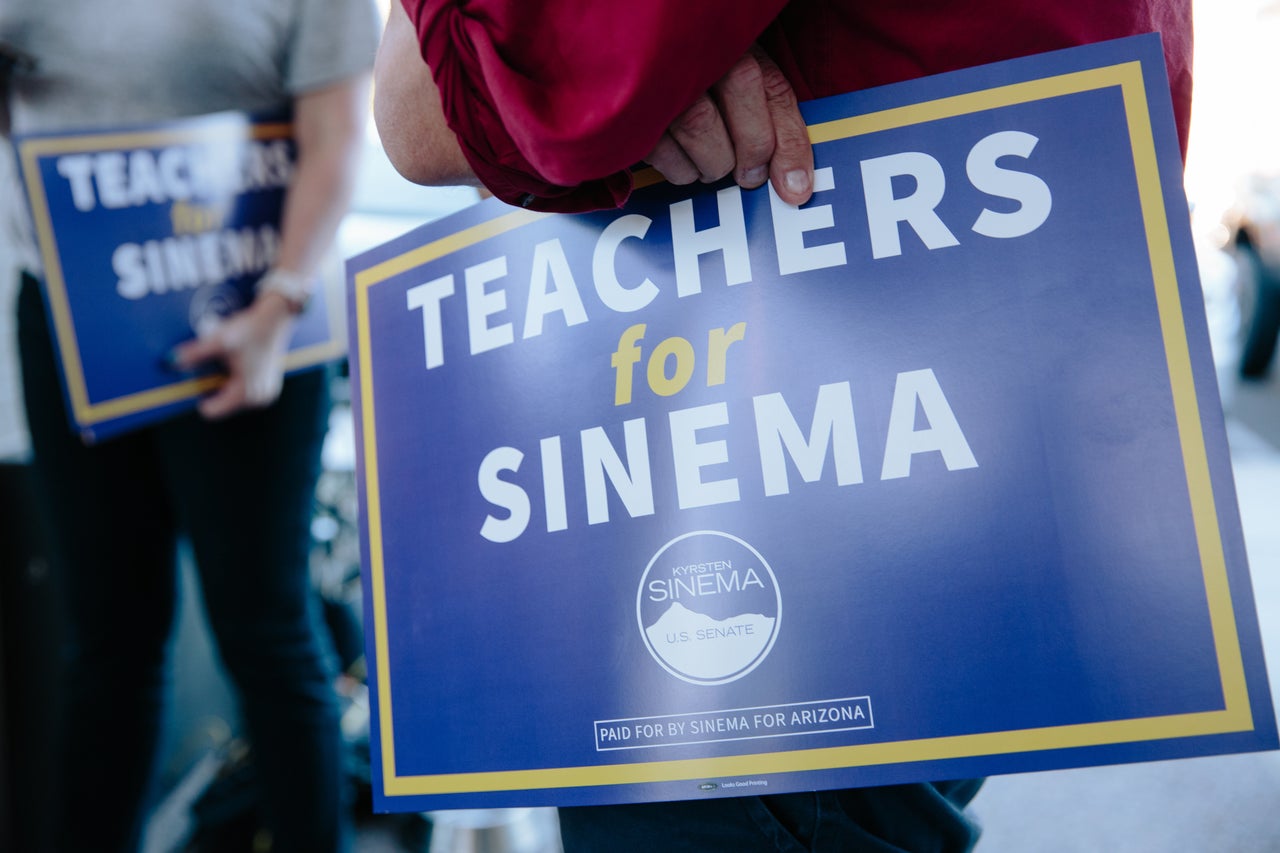 The top goal of the #RedForEd movement? Ousting GOP Gov. Doug Ducey. But in a radio interview earlier this month, Sinema declined to reveal whether she voted for Ducey or Garcia. (Asked if she was proud to be a Democrat, Sinema responded: "I'm not sure that people are even proud of parties anymore, because I feel like the parties are not doing a good job. So I would say that I'm a proud Arizonan.")
But despite her disagreement on their main goal, the teachers in attendance raved about Sinema, noting her life story ― she grew up in poverty and graduated from high school at age 16 ― matched that of so many of their students. While some allowed they would prefer a more liberal candidate, they would take what they could get.
"We're so lucky to have somebody on the ballot who will fight for us on health care and education," Marisol Garcia said to a round of applause from the gathered teachers. (Sinema, who started her career as a school social worker, was once a member of the union. She's since earned a law degree, a Ph.D. in justice studies and an MBA.)
Republicans have tried to exploit the gaps between Sinema and the left wing of her party. Over the last weekend of the election, they sent out mailers tying Sanders to Angela Green, the aptly named Green Party nominee in the Senate contest. The mailers, which noted Green's support for "Medicare for all" and legalized marijuana, looked like a clear attempt to draw progressive support away from the Democratic nominee.
A Sanders spokesman never addressed whether the Vermont senator supported Sinema. "Bernie Sanders has been traveling the country visiting 13 states to try and end one party rule in Washington by electing Democrats up and down the ballot," spokesman Josh Miller-Lewis wrote in an email.
Democrats in the state say there's no evidence of mass liberal defections during the state's extensive early voting period, and Sinema hasn't made any adjustments to her strategy, continuing to portray herself as above petty partisan squabbles.
"I know together we will elect an Arizona senator who will be a voice for all Arizonans, not just one political party," Sinema told the teachers.
And in the end, Arizona progressives will take a post-partisan over a staunch Trump ally like McSally.
"It frustrates a lot of people," Westbrook said of Sinema's moderate politics. Still, she held out some hope Sinema could be persuaded: "Once she's in office, we'll be able to push her."
This story has been updated with information on Hispanic voters and early ballot returns.
CORRECTION: A previous version of this story mistakenly indicated Joe Arpaio went to prison for his conviction.
Support HuffPost
The Stakes Have Never Been Higher
Popular in the Community