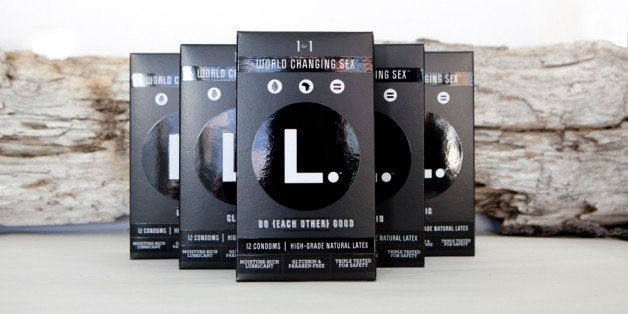 It's a dreaded scenario. You reach for a condom and -- horror of horrors -- you realize that you don't have one. It's late at night and the options are limited: head out under cover of darkness to whatever brightly-lit drug store happens to be open, or ditch your efforts at intimacy for the evening.
You'll never find yourself in this dilemma again if L. Condoms has its way -- the relative newcomer to the condom industry is delivering eco-friendly, socially responsible ultra thin condoms via one-hour bike messenger, 24 hours a day.
While the service is currently only available in San Francisco and Manhattan, the company has its eyes on expansion.
"People are definitely using the service." L.'s founder Talia Frenkel told The Huffington Post. "And, surprisingly -- or maybe not so surprisingly -- they're using it at all hours."
Frenkel never expected to start a condom company -- she was a photojournalist working for NGOs when she witnessed first-hand the devastating effects of HIV in developing communities.
"As a photojournalist, I saw a lot of suffering but none as preventable as HIV," Frenkel said. So she decided to start a one-for-one condom company, meaning for every condom purchased, another condom is donated to health partners in sub-saharan Africa who distribute them in communities of need and educate about the importance of safe sex.
"But it's more than just one-for-one," Frenkel said. "I wanted to make a condom that people would be more likely to use."
L.'s condoms are made of high-grade natural latex and they are glycerin and paraben-free. The bike messenger delivery is part of that same mission -- making safe sex easy, accessible and fun.
L. is clearly doing something right. The company reports that their sales have increased by over 500 percent in the past year and in the last month alone, sales have tripled.
"It's pretty crazy to think that our marketing has been primarily word of mouth," L.'s founder told The Huffington Post. "Our customers have become our biggest ambassadors -- they really care about what we're doing and they want to be a part of it."
In the interest of journalism, we decided to test the 1-hour delivery service out for ourselves.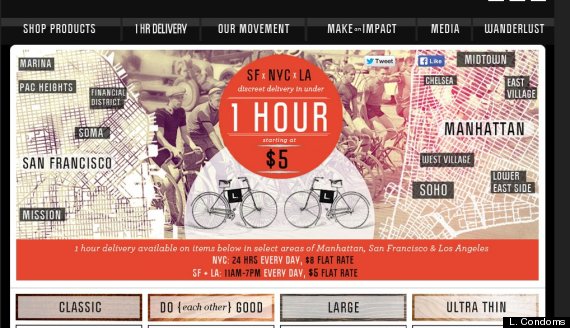 After selecting the products we wanted and entering payment info, we selected the 1-Hour 'shipping' method and submitted our order. And then we waited.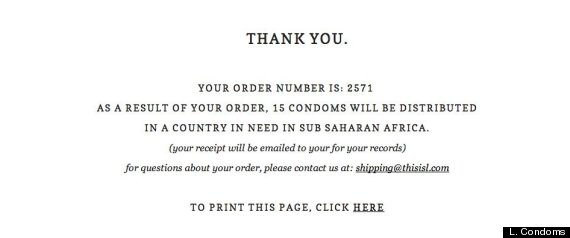 Sure enough, the phone rang within the hour and we headed to the front of the building to meet the man who had so speedily delivered our order, concealed in a sleek and subtle black bag. His name was Darell Smith and when asked how he felt about delivering condoms, he promptly responded, "condoms?!"
The contents of his delivery was clearly news to him. "I'm a bike messenger," Smith explained. "I only know what I'm delivering if the client tells me."
The anonymity is a nice touch. You won't have to go through an awkward exchange as somebody hands you a pack of rubbers at 3 a.m. on a Tuesday.
All the same, we still wanted to know how Mr. Smith felt about the fact that he had been peddling condoms around Manhattan.
"Proud!" Smith exclaimed without hesitation. "I'm delivering safe sex! And I'm getting paid for it."
Popular in the Community