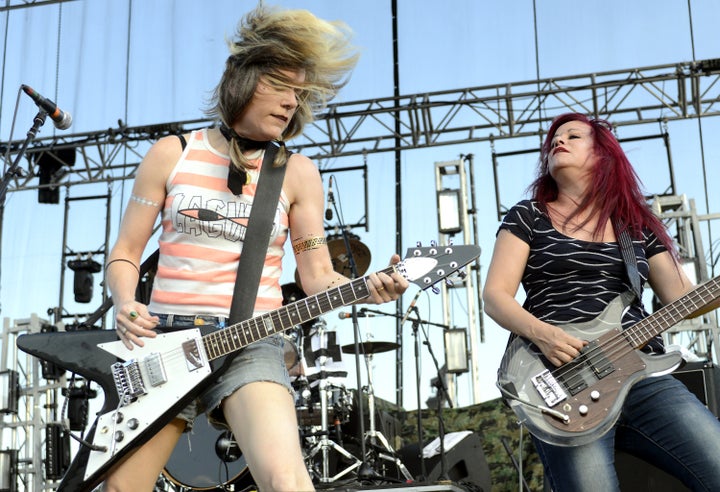 Everywhere a music fan turns these days, it feels like a band at their height in the '90s is reuniting -- and the quality of the ensuing musical output has varied widely from inspired to "why?!"
But there have been few reunions met with as much exuberance of critics and fans alike than that of L7, the explosive all-female Los Angeles grunge-punk outfit fronted by the effervescent Donita Sparks and known for their trashing, high-energy songs like "Shitlist" and "Shove."
it all started a couple of years back when Sparks began curating the band's Facebook page, posting photos, fliers and other band ephemera she was in the process of digitizing. In that process, Sparks also came across many hours of videos the band had shot during their original run. She showed them to filmmaker Sarah Price and the group decided to pursue the creation of a documentary using the newly discovered footage, launching a successful $130,000 Kickstarter campaign to fund it. 
The fan response to the Kickstarter and Facebook posts was so deafening the band, whose original lineup had last performed together in 1996, decided to give live shows another go, playing their first show in almost two decades together in LA in May. They followed that show up with a run of 11 shows in Europe and are in the midst of a mini-tour of 15 U.S. cities, playing Riot Fest in Chicago earlier this month.
The response to L7's resurrection, especially from fans so young they weren't alive when the band's most recent album was released in 1999, came as a surprise to Sparks, she admitted shortly before taking the stage in Chicago's Douglas Park. Her band is a good place, she said.
"A lot of people are like, 'L7? Who are they? Who cares?' And other people are like, 'Oh, my God, it's fucking L7!'" Sparks said. "We're kind of in this cool, weird spot that we dig. We don't have to be known by the masses, we just want to be known by the cool people anyway. We don't have to convince the squares that we are a decent band."
Decent doesn't even come close to doing the band justice. Sparks and her bandmates -- Suzi Gardner, Jennifer Finch and Demetra "Dee" Plakas -- ripped through 13 songs from their catalog over the course of a taut hourlong set that felt like one of the packed weekend's loudest and most-anticipated. One would have never guessed they were watching a band that "peaked" some 20 years earlier.
Closing with the thrilling "Fast and Frightening," the band delivered on a request they made of the stage's sound tent earlier in the set: to "melt off their balls and titties, in a nice way." 
As much as the shows have represented a family reunion of sorts for L7, the Riot Fest set was also a literal homecoming for half the band's lineup, as both Plakas and Sparks were born in Chicago.
Growing up in the Chicago area, Sparks said she turned to bands like the Ramones, Blondie and the B-52s, all of whom represented a level of eccentricity and unapologetic weirdness that provided solace from her "square" suburban surroundings.
After high school, she spent a year working in downtown Chicago as a foot messenger for a photo lab to save up money to move to Los Angeles, where she launched L7 with Gardner in 1985. The hotel the band was staying at while in Chicago actually overlooked the office building where Sparks delivered artwork on foot to advertising agencies. 
In Los Angeles, the band worked to develop their signature sound, a fiery blend of punk, metal and grunge elements, and were signed by Sub Pop, the label known for breaking artists like Nirvana and helping create Seattle-style grunge.
L7 didn't quite breakthrough to the mainstream until their third album, 1992's "Bricks Are Heavy." They were even featured in a John Waters film, playing the part of a band called "Camel Lips" alongside Kathleen Turner in 1994's "Serial Mom."
They went on to influence a whole generation of women-fronted bands associated with the riot grrrl movement not only because of their music but also because of their politics. The band founded Rock for Choice, a decade-long series of feminist, pro-choice women's rights benefit shows.
Sparks has stated in other interviews that she can see the need to revive the Rock for Choice series. Still, she admitted that she is disappointed in what she perceives as a lack of younger artists today who are embracing political activism at a time when many of the same pressing questions that prompted benefits like Rock for Choice remain unanswered today.
She is particularly concerned about environmental issues and though she said she was thrilled by the Supreme Court's decision this year on marriage equality, she quipped, "If we're all underwater, who cares if you're gay [and] getting married."
"I scratch my head and wonder why aren't these younger bands doing benefits, I mean, are they? Are any of them organizing?" Sparks said. "We fucking built [Rock for Choice] from scratch. The Beastie Boys built the Free Tibet series from scratch. Are any young bands stepping up because I don't know, they should be. I don't get it. It's needed now more than ever. Basically we're the fucking Titanic sinking on every issue that we can think of. Millennials, get it together. Step up!"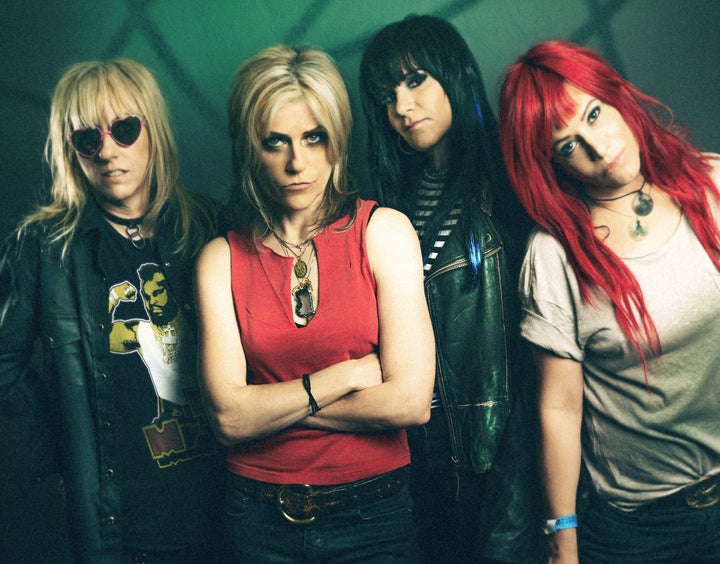 While Sparks is happy to see more popular artists embracing the term "feminist" she added that she would like to see more action in that arena as well.
"They probably are feminists but I don't know how much that is speaking to teenage women, I really don't. I mean, rock and roll women," Sparks said. "If I were a teenager I'd be looking for ways to get my aggression and frustration out. I'd really just want to scream and yell at a concert because there's a lot of stuff to be pissed off about."
As for L7's future past a string of shows on the west coast in November, Sparks said there are currently "no plans" for the band to create new music and that they have been exclusively focused on the live shows and the forthcoming documentary. Beyond that, she added, "you never know." 
"We're not being salespeople to get people to like our new album," Sparks said. "We don't care. We're playing shit that's 20 years old that people really like and they want to hear. It's been a love fest."
Calling all HuffPost superfans!
Sign up for membership to become a founding member and help shape HuffPost's next chapter